Understanding informational text features and how they are used will help your children become better readers and writers.
This collection of resources is designed to help children learn about informational text features.
Use these as you introduce and practice these tools.
This is another free resource for teachers and homeschool families from The Curriculum Corner.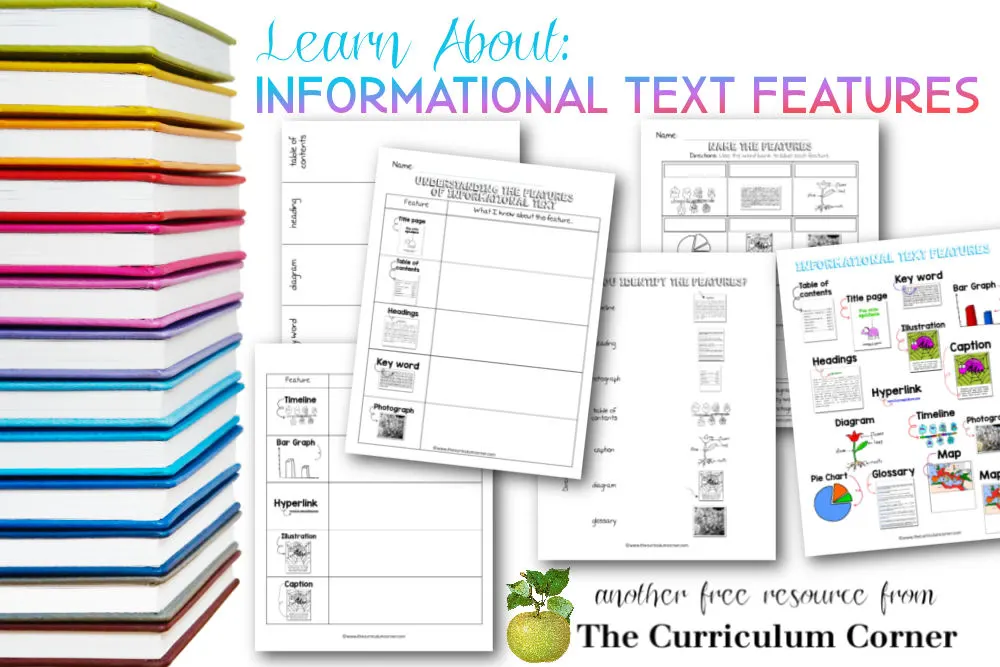 What are text features?
Text features are elements readers encounter in nonfiction. They can be found in books, magazines, newspapers and even online articles.
They are a tool readers can use to find the information they are looking for.
This is important because when reading informational text, students might be searching for a specific piece if information. The text features make it easier to locate that needed information.
Each of the text features has a specific purpose when helping readers access information.
Some of the common text features are the table of contents, headings, key words, photographs, captions and the glossary.
We hope you enjoy these resources for informational text features! Simple click on the underlined headings below. (As this is an older post, each item is an individual download.)
If your students have previous experience, a great way to start this unit is by having each of your students search for a nonfiction book in your room. When everyone has found one, gather in your meeting spot. Talk about each book and why it does or does not fit into the category of nonfiction. This is a way to get your kids talking about nonfiction and discussing the features of nonfiction texts.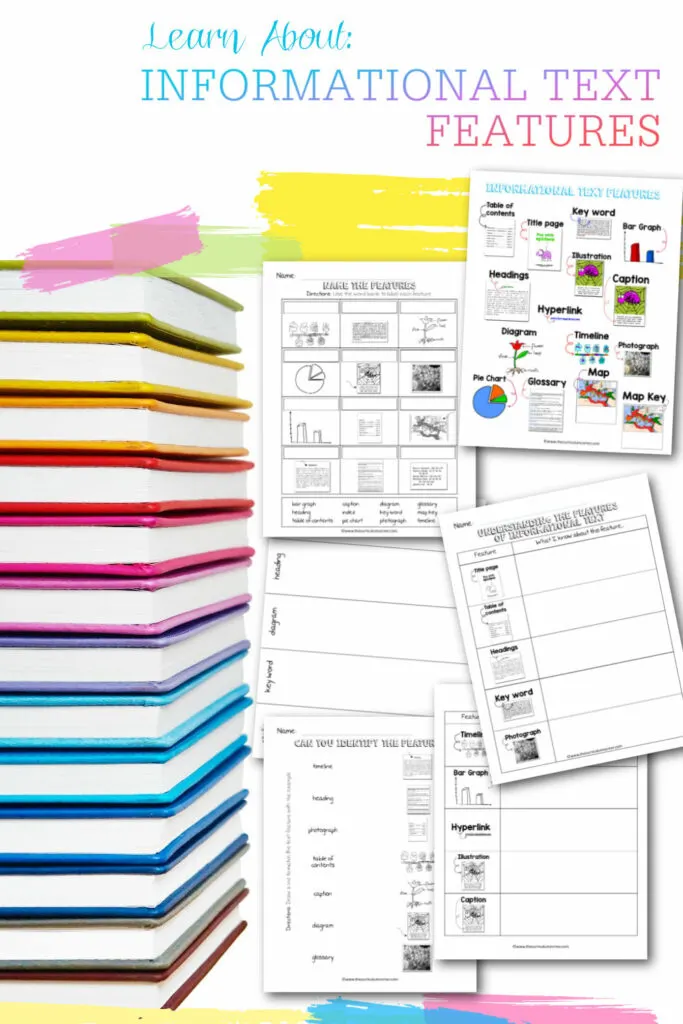 About these informational text features resources
Within this collection for nonfiction reading you will find the following:
Text Feature Anchor Chart You can enlarge and print this visual as a poster or add to a reading folder for student reference. This anchor chart includes the following features: table of contents, title page, key word, bar graph, headings, illustration, caption, hyperlink, diagram, timeline, photograph, pie chart, glossary, map and map key.
Understanding Text Features These three pages provide an example along with the name of each feature. Students are provided with room to describe each feature. As you spot features in books, talk about each and have students record what they learn.
Matching Students will show their understanding by drawing a line between each name and example.
Name the Features Children will use the word bank to label each feature.
Bookmarks Print these pages on colorful cardstock, laminate and cut apart. As students explore nonfiction books, they can mark features they find with bookmarks. This can be a whole class or even a center activity.
You can download this free reading resource here:
You might also like: Close Reading: Focus on Text Features.
As with all of our resources, The Curriculum Corner creates these for free classroom use. Our products may not be sold. You may print and copy for your personal classroom use. These are also great for home school families!
You may not modify and resell in any form. Please let us know if you have any questions.