Add this reading informational text unit of study to your reading workshop resources for your primary classroom.
We have created this informational text reading unit of study to help guide students through reading informational text.
This download contains graphic organizers, anchor charts and more to help your students learn.
This is another free resource for teachers and homeschool families from The Curriculum Corner.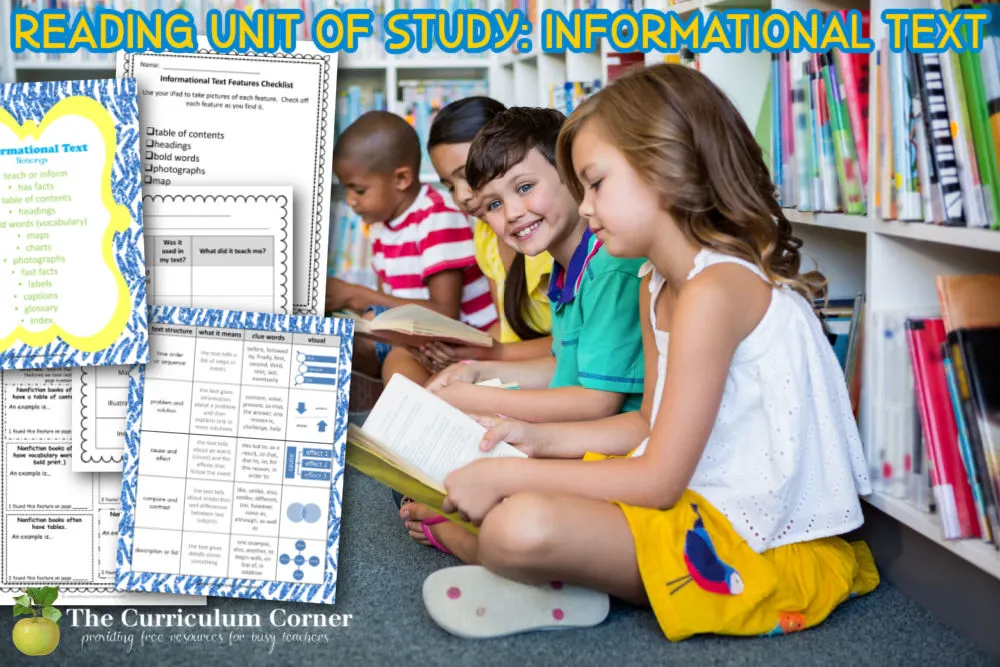 About this unit
The goal is to help students view informational texts in a much different way than the way they do literature.
Students will begin to realize that reading an informational text is much different than reading a story. They will work on building skills needed to understand informational text.
Getting Started with Informational Text
Immersion – Noticings
A great way to begin this unit is to compile a large collection of informational text – pull together books, articles and magazines. Put students in pairs or small groups and give them one or two books and a small stack of Post-It notes.
Tell students to begin looking through their text to see what they notice. They will use post-it notes and record their observations about the text features. This process is called noticings.
Our resources include an Informational Text Anchor Chart. Here you will find suggestions for what students might notice. You can use this as a reference in your classroom.
There is also a blank chart in case you would prefer to write as your students share.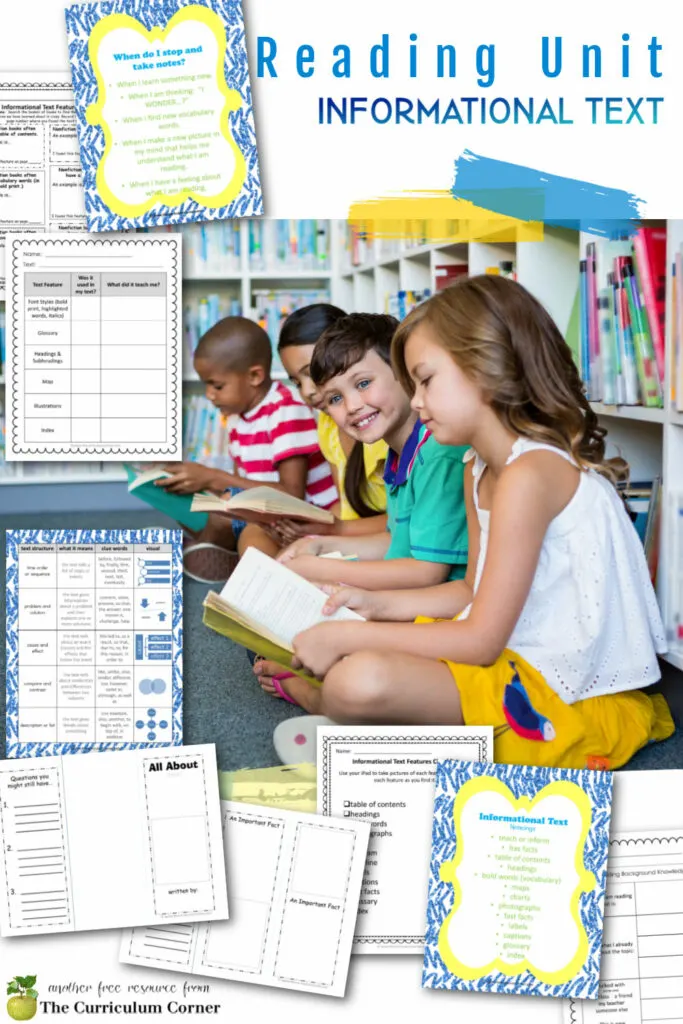 What's Next?
Once you have given your students the opportunity to explore a variety of informational text, you are ready to move on. Below we are sharing our ideas for lessons.
Author's Purpose
We want students to recognize the purpose that authors have for writing informational text. Again, we suggest pairs of students look at informational text to try to determine the author's purpose.
We have created a simple Author's Purpose half sheet page for students to write their thoughts.
We have also created an Author's Purpose Anchor Chart you can use during your lesson.
Text Structures (Close Reading)
A part of Close Reading instruction includes a study of text structures.
We have created several Text Structure Resources for you to use in your instruction. They address the following text structures: cause/effect, problem/solution, compare/contrast, description, sequence.
You will find two anchor charts and a visual to help your students understand informational text structures. There are also eight additional graphic organizers your students can use for practice.
Helping students identify and understand text structures will take multiple days and revisiting. You may also reteach in your small groups.
Text Features
Students need to understand that much can be learned from informational texts even if the text isn't read from beginning to end (as they would a piece of literature).
We want to help students learn about text features. These include tables of contents, headings, bold words, photographs, maps, diagrams, time lines, labels, captions, fast facts, glossaries and indexes. All of these features provide an avenue for learning more about the topic.
We suggest looking through informational text books and discussing the features.
After that, students can practice finding and thinking about these features in other informational texts. We have provided an Informational Text Features Search which can be used as a center. We have also included a Text Features Checklist that has students using their iPads to take pictures of these features. (Using these student pictures in a visual display is also a great visual reminder about them!)
In addition, we have included three more graphic organizers. You may find these useful in helping students to become familiar with the various text features that informational texts might have.
Try this additional material for working on Text Features.
Previewing Text
Teach students that previewing a text and making some predictions is a great way to begin their reading of a new informational text.
There are many ways to do this – from using Post-Its to partner shares to one-on-one conferencing.
If you prefer that students write down their thinking, we have also provided I CAN read informational text! as a place where they can record their ideas.
Building Background Knowledge
As with many of our lessons, we want students to access their background knowledge about a topic before beginning a study.
In this day and age of information technology, many students already have a significant knowledge base about a range of topics.
This graphic organizer provides a place where kids share what they already know on the topic. It is designed to be used alongside a class discussion or after allowing children to talk with each other to help build their knowledge base.
Main Idea & Details
Model for students how to determine the main idea. Show students how to pull important details from the text.
Use these graphic organizers first in your mini-lessons and then allow students to use them independently.
Additional ideas: Main Idea During Small Group Instruction
Taking Notes
Beginning note-taking can be difficult. We have created a When Do I Stop and Take Notes? anchor chart you can share with your students.
We also included a set of bookmarks that students can use. Children can mark spots in their reading where they feel they may need to take notes.
During reading conferences, you can talk with students about where they placed their bookmarks. This set of bookmarks includes five specific bookmarks and three that say "I marked this page because… " for students to write on with Vis-a-vis markers.
You might also find some other helpful note-taking organizers in our post Graphic Organizers for Informational Texts. This post includes 45 graphic organizers that can support your teaching of informational text.
Biographies
We created a Reading Biographies graphic organizer for students to record their learning from that genre of informational text as well, but we also have so much more to address biographies here: Biographies Unit of Study for Reading.
Reading Magazine Articles
If you want to include magazine articles in your study of informational texts, you will find graphic three graphic organizers designed to help students pull important facts out of magazine articles here: Graphic Organizers for Magazine Articles.
These are designed to make it easy for you to differentiate for your students.
Student Sharing
Encourage your students to share their favorite texts at the end of independent reading time.
You might also use the brochure template we have created. This will allow students to share the facts they learn in their reading.
For even more resources that can help you address informational texts in your small guided reading groups, 45 check out our Informational Text for Small Groups post!
You can download this free unit of study here:
Take a look at these Text Features Anchor Charts & Card Sort.
Looking for a similar unit for writing workshop? Try this one:
As with all of our resources, The Curriculum Corner creates these for free classroom use. Our products may not be sold. You may print and copy for your personal classroom use. These are also great for home school families!
You may not modify and resell in any form. Please let us know if you have any questions.