This moveable pieces November digital calendar is designed to help you with calendar time during your virtual instruction.
This November digital calendar was created during a time of virtual learning. However, I will continue to update the work so that teachers can use it on their SmartBoards and computer stations.
I have updated these resources in November of 2023.
This is another free resource for teachers and homeschool families from The Curriculum Corner.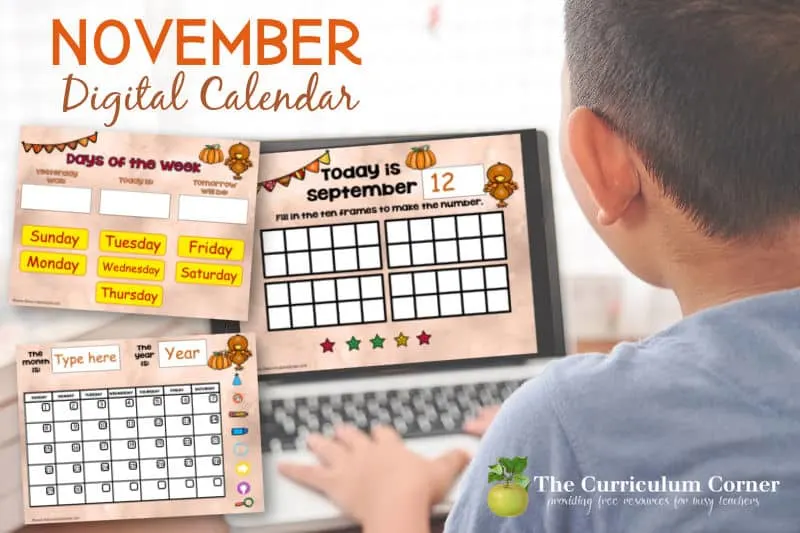 You can download this free November digital calendar to help you plan for your distance learning instruction.
This new calendar set contains turkeys and pumpkins along with fall colors.
This set will be a great addition to your November morning calendar time.
If you have been searching for the just right calendar set for your virtual instruction, be sure to start here!
This free download will help you with planning a daily calendar time with your students during your morning meeting.
Our goal in creating these slides was to include a range of activities that you might normally do during your normal calendar time. Hopefully these pages resemble what you would typically do in the physical classroom.
We will continue to add the other months throughout the year. So far we have created August, September and October.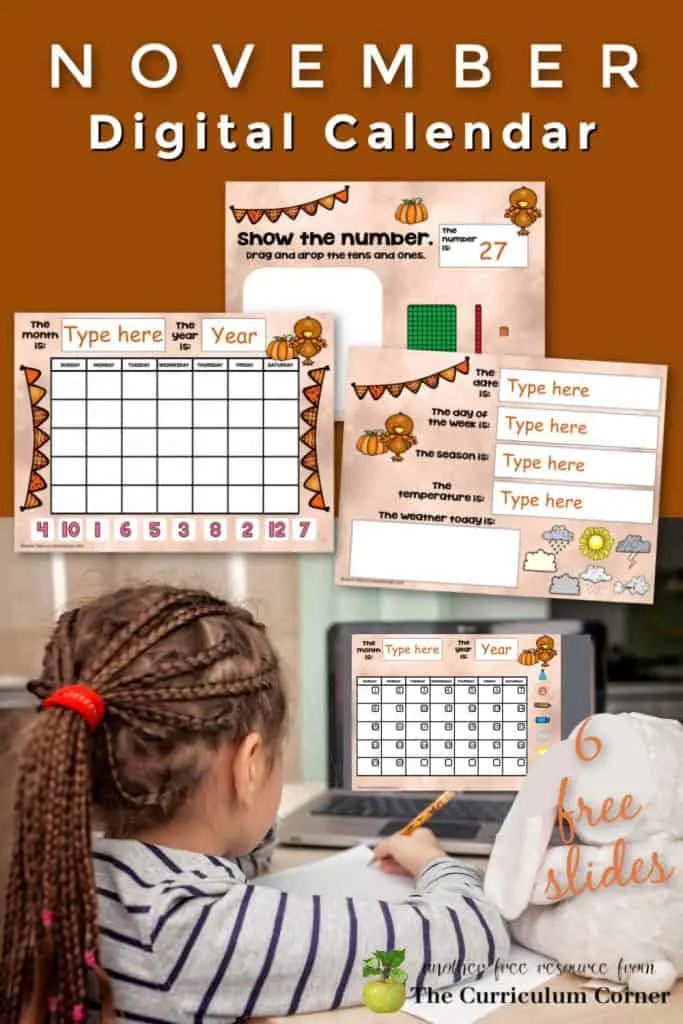 This November Calendar Set contains the following activities:
Build a calendar – children will drag and drop the tiles to create a calendar
Add the symbols – you can drag and drop the symbols to add birthdays, game days and other activities
Days of the week
About today – students can identify the season, temperature and weather
Fill the ten frames – add the date to the top, students can fill the ten frames with the stars to create the number
Show the number – add the number of the day to the box. students can create the number using the tens and ones
Many of the slides are created with editable text and moveable pieces. Due to copyrights of the clip art that is used, we are not able to farther unlock any of the slides.
Remember, please be sure to save the original and then make a copy so that you can reset your calendar each day.
If you do accidentally save over your original, you can just return to The Curriculum Corner and download a new copy.
If you will be using the PowerPoint version, you must have PowerPoint installed on your computer.
**** Using the Google Slides version? You do not need to request access to use the Google Slides version. Simply save as a new file to your Google Drive.
Download this free calendar set here:
Need the Google Slides Version? Get it here: 2023 Google Slides.
Looking for addition virtual instruction options for fall? Try these:
Thank you to EduClips, Hidesy's and Whimsy Clips for the clip art:
As with all of our resources, The Curriculum Corner creates these for free classroom use. Our products may not be sold. You may print and copy for your personal classroom use. These are also great for home school families!
You may not modify and resell in any form. Please let us know if you have any questions.