These Goldfish Snack Toppers are a great addition to an end of the year or back to school snack. Add to a snack bag of Goldfish Crackers and you have a fun treat!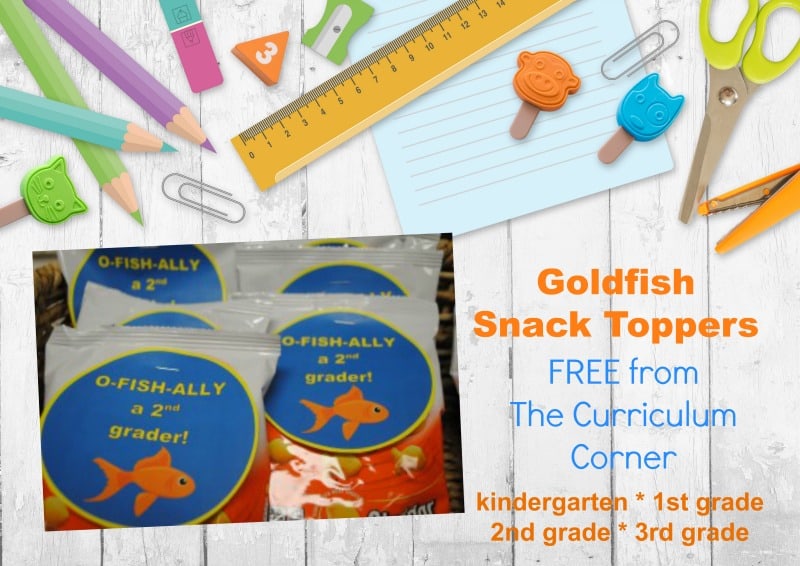 Looking for a fun end of year or back to school snack? We have a great freebie for you!
On the first teacher day at school one year, another teacher asked for help making "O-fish-ally in 2nd grade" treat toppers.
She had seen these snacks all over Pinterest and thought the idea was cute. However, none of the pictures included a free download link for the printables she needed.
She had already purchased the crackers but was in search of the labels.

She wanted to be able to just click and print. So, we worked together to create our own.
These are a very simple printable. After printing in color, cut out the circles and staple to the bags. If you want to get fancy, you could hole punch the tags and use a ribbon instead of a staple.
We like the idea of these being a simple to assemble snack, we all know that while we think the extras you add are adorable, most kids tend to be more excited about the snack! They tear off the label and eat their treat before parents even see the work you put into making them special.
We've includes the free toppers for kindergarten through third grade.
These can also be used as a goodbye gift at the end of the school year.
You can download these free printables for a fun back to school snack below.
Click on each grade level to access the freebie:
**Contains Amazon Affiliate Link** If you are looking for the Goldfish crackers in small bags, we have found some here: