Offer your students suffix practice using this free collection or word part resources for your word work time.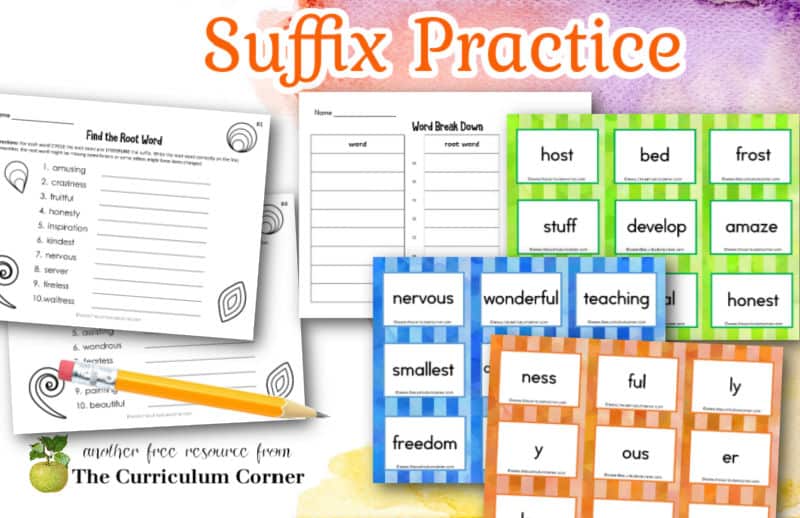 This is another free resource for teachers and families from The Curriculum Corner.
As you work to integrate suffix practice into your word work block, this download will help you get started.
This download was created to help children work on word analysis skills.
The work has an emphasis on suffixes.
We have found that many of our students may understand the meanings of words with suffixes. However, when asked to take the word apart and separate the root or base word from the suffix, they sometimes struggle.
The materials we have created will give students practice with this task.
These resources are newly updated. You will find a single download at the bottom of the page.
Also, the cards are provided with a colorful background as long as a plain white background.
You will find new recording pages for students to use.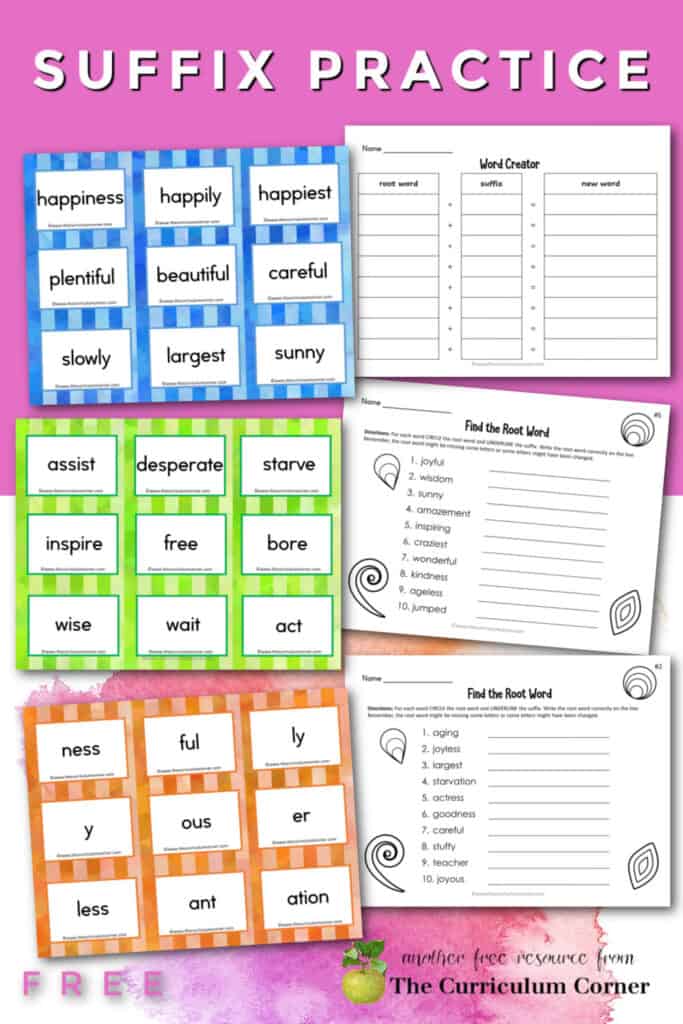 About this suffix practice collection
Blue cards These cards contain words containing suffixes.
Green cards This set of cards contains base or root words only.
Orange cards This set of cards contains suffixes only.
You can provide students with the blue cards only. Children will then identify the base word and the suffix.
Another option is to provide students with the orange and green cards. Students will then put the cards together to find new words that contain a base word plus a suffix. This task is a little trickier because students will need to determine any spelling changes.
You will find four different recording pages that can be used for these tasks.
Next, you will find five worksheets that can be used for practice.
To complete these pages, students will find the root and suffix for each word given.
You can download this free word work set here:
Looking for other free word part resources? Try these freebies we have created:
As with all of our resources, The Curriculum Corner creates these for free classroom use. Our products may not be sold. You may print and copy for your personal classroom use. These are also great for home school families!
You may not modify and resell in any form. Please let us know if you have any questions.