Rosie Revere, Engineer will be a great addition to your classroom library – your young engineers will be encouraged to keep trying after failure through a reading of this book.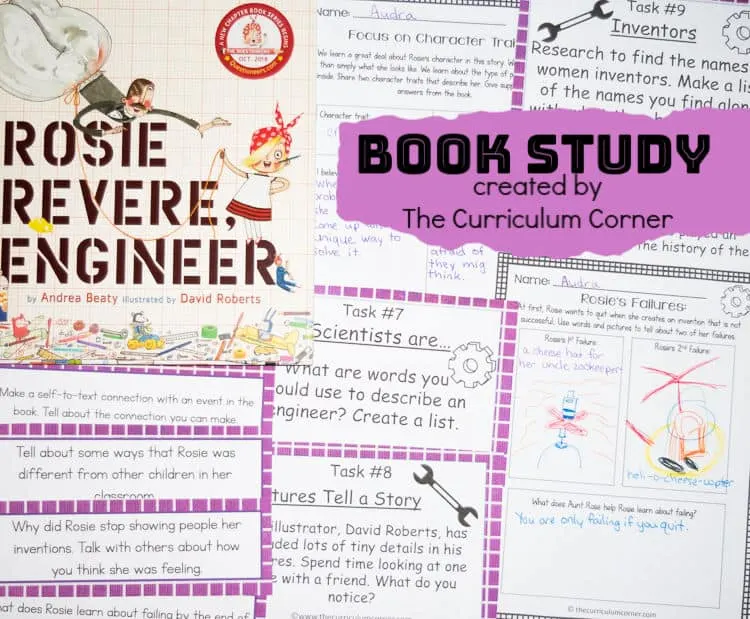 If you are not familiar with the science based books authored by Andrea Beaty, I suggest you give them a look. They are fun books with rhyming words that get your students thinking about scientists by telling an engaging story.
For this collection, I am focusing on Rosie Revere, Engineer.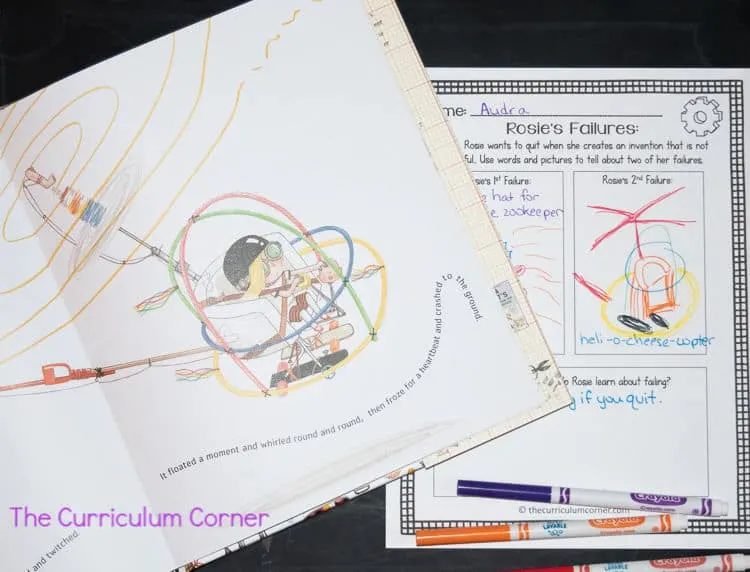 In this story, Rosie Revere is a young girl who loves to invent. When she was younger she would share all of her inventions. Once her uncle laughed when an invention failed and she stopped sharing as she created. Her Aunt Rose dreamed of flying one day and she decided to help her reach her dream. When her first try failed, her aunt encouraged her to keep on trying. She helped Rosie learn that failure is an important part of inventing.
To help you create a literacy center focused on this book, I have created a free set of resources.
I highly recommend reading the book aloud before placing at a literacy center. Enough activities have been created that you will have a range of learning materials plus you will be able to switch the focus of the center throughout the week.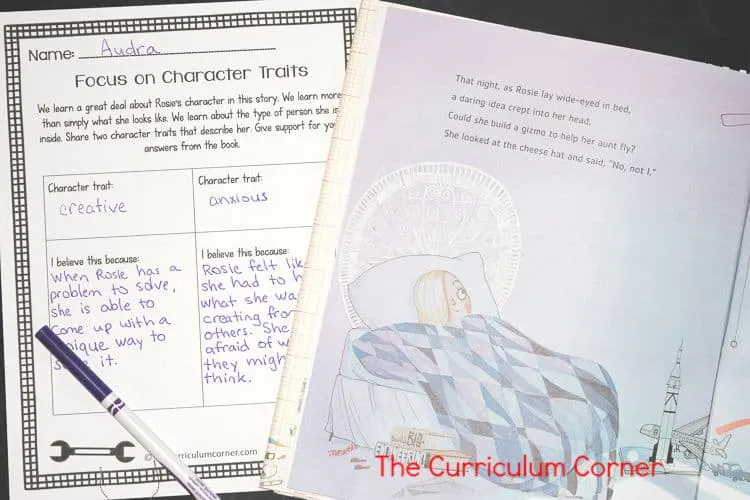 Within this Rosie Revere, Engineer collection, you will find the following resources:
Reading Task Cards
I have created a total of 12 task cards. You can place the card with the task for the day at a center. Some will require printable pages which are included at the end of the collection. For some classes you may choose to offer multiple tasks and allow students to choose the task that matches their abilities and interests.
Question Strips
These question strips are referred to in one of the task cards. You can cut these strips apart and allow students to talk about their answers with their group.
Graphic Organizers & Response Pages
There are a variety of pages that are designed to fit the book study. The intent is not for students to simply sit and write about the story. If you need students to write about their reading, we encourage you to choose the page or two which will add the most value to their learning.
Rhyming Words
A set of 32 cards containing rhyming words from the book has been created. You can have students play a card game using these rhyming word cards.
Research Focus: Rosie the Riveter
This graphic organizer is designed for children to learn about Rosie the Riveter. The pages are open ended so students can choose their own words and pictures to share their learning. You can provide students with books or a tablet for researching. As Rosie the Riveter is a fictitious character, it is important to remind students that their research might turn up different information about who she is.
Blank Pages
One blank page and one page containing lines are included. These can be used as recording pages for the task cards or in other ways as needed.
My Book of Inventions
Students can create their own invention journal using these pages. Encourage students to ask questions about the world around them. They can record their creations and illustrate their thinking.

You can download this free Rosie Revere, Engineer Book Study below:
We have a coordinating set for another book in the series here: Ada Twist, Scientist
(contains affiliate links)


You might also be interested in the following books (contains affiliate links):

Your young scientists might enjoy these activities: 25 Free STEM Activities
Our Katherine Johnson book study is another good free resource for you to check out.