Give students practice with the skill of skip counting by 2s, 5s and 10s with these skip counting worksheets.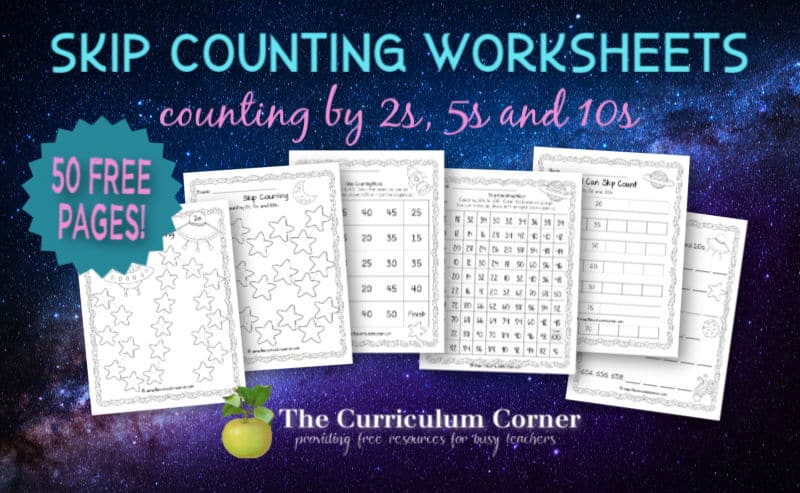 This is another free resource for teachers from The Curriculum Corner.
These free skip counting worksheets will give your students the pen and paper practice they need when reviewing skip counting skills.
Skip counting is a part of building number sense. Once students can count to 100, they can move on to practicing counting by 2s, 5s and 10s.
This skill might be introduced in kindergarten or first grade depending on your students.
You will find the skills practice pages we have created will also fit into 2nd grade and 3rd grade classrooms.
Be sure to look through this full collection of 50 practice pages to find the pages that fit what you need.
How Should I Teach Students to Skip Count?
These free skip counting worksheets are not intended to be the first step in helping students master this skill.
Before you are ready to have students do any written practice, make sure students have had many hands on opportunities to explore the skill of skip counting by 2s, 5s and 10s.
Our Skip Counting Unit of Study is a good place to start. This unit will give you a range of games, practice mats and class activities to introduce and practice the skill.
Once you feel like your students have a clear understanding of the concept, you can allow the students to share what they know with the use of our worksheets.
Skip Counting Worksheets Included
We have worked to create 50 new worksheets for your students to practice.
You will find a range of practice pages – we want you to be able to find just right pages for each of your students.
These pages are not intended to be worked through as a work packet. The levels of the pages will allow you to give each of your students practice.
We like to make sure students who have already mastered the skill are not completed practice pages as busy work. If students already know how to skip count, have them complete one page as an assessment and then move on to the next skill.
This set of free skip counting worksheets has a fun space theme.
Download your free skip counting worksheets here:
Add these resources from Amazon to your practice. Contains affiliate links.
---
As with all of our resources, The Curriculum Corner creates these for free classroom use. Our products may not be sold. You may print and copy for your personal classroom use. These are also great for home school families!
You may not modify and resell in any form. Please let us know if you have any questions.