These Spanish 2-syllable puzzles can be used to help your ELL students with beginning words in English.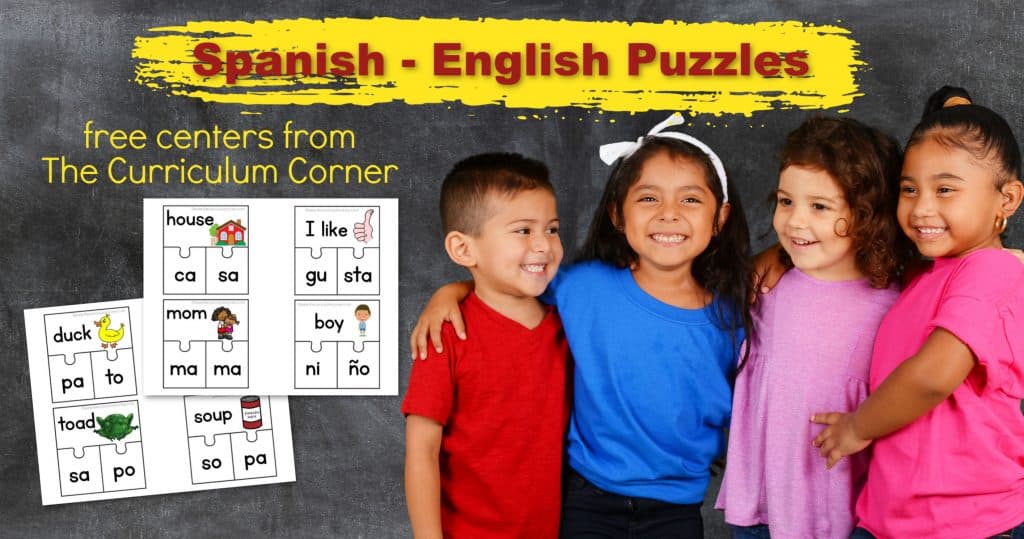 This is another free resource for teachers from The Curriculum Corner.
Use these Spanish 2-syllable puzzles as you work to help your ELL students fluent in Spanish.
Each puzzle contains a 2-syllable Spanish word. The students will then match the word with the English word. You will find a picture to help students match the words.
Thank you to Anna Agirman for the idea. If you work with ELL students and have additional requests, we would love to hear them!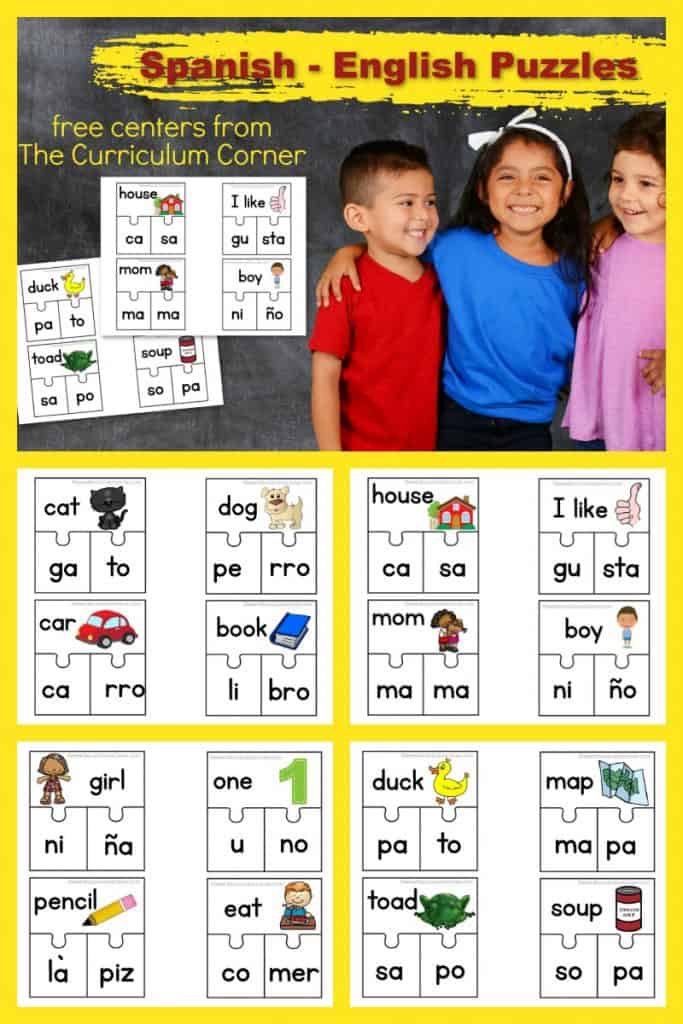 Creating Your Spanish 2-Syllable Puzzles
Begin by printing on card stock – we like to use a heavier card stock to make the puzzles a little sturdier.
Laminate to ensure durability.
You might color code the backs with marker dots for easy self-checking.
Cut and place in a container.
If your students use interactive notebooks, these puzzles might be a fun addition to these. Instead of printing on card stock, print on regular paper. Cut apart the puzzles. Students can then glue the puzzles into their notebooks.
You can download these free Spanish 2-Syllable Puzzles here:
ELL Puzzles
Again, we are working on adding additional ELL resources to our site. Please help us out by sending us your ideas! We want to make sure the centers and other materials we create meet your needs.
**We do not claim to be fluent in Spanish or any other language. All of the materials we are able to create in other languages require the assistance of the teachers who are fluent. We also work closely with a teacher using the resources during the creation process. If you find an error, please let us know and we will make the correction.
You might also like these cards to help your Spanish speaking students begin to learn classroom words:
English & Spanish Classroom Cards
Thank you to the following for the clip art:
Educlips, Kinka Art, TaDoodles & Hidesy's Clip Art