These Spring Fry Fluency Sentences have been created to be a free sight word resource for your classroom.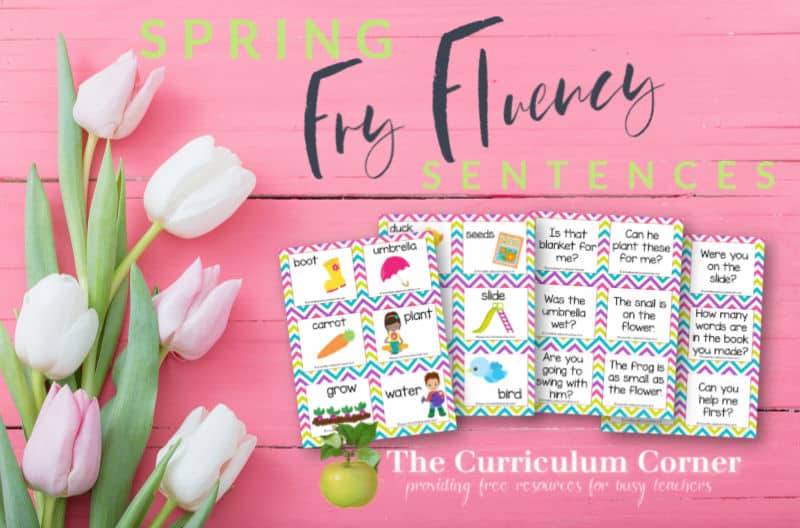 This is another free resource for teachers from The Curriculum Corner.
Add these Spring Fry Fluency Sentences to your literacy centers for engaging fluency practice.
We created these Fry Fluency Sentences using the first 100 Fry Words.
There are three parts to this collection.
Here is what you will find:
Spring word cards – there are 24 words with a spring focus. These words are in the sentences along with the first 100 Fry words in the fluency sentences.
Color word cards – we have created 6 color word cards
Fry Fluency Sentences – these fluency sentences include all 100 of the 1st 100 Fry Words. Also used are the color words and spring words. We have limited the use of other words as much as possible.
Along with the sentence and word cards, we have provided additional lined pages with flowers.
Half Page Booklet – the half page booklet will encourage students to write their own spring stories using the spring words from the cards. Or, you can have students pick sentence cards to record and illustrate. When they complete the task, they will have their own book to read.
Full Pages – students will use these pages to record a sentence. They will then illustrate the meaning behind the sentence they choose.
You can place the cards and recording pages at a center to create your own engaging literacy centers. For students who need additional materials added to their book baggies, you might place some of these fluency cards on a ring.
You can download this Spring Fry Fluency Set here:
You might also like:
As with all of our resources, The Curriculum Corner creates these for free classroom use. Our products may not be sold. You may print and copy for your personal classroom use. These are also great for home school families!
You may not modify and resell in any form. Please let us know if you have any questions.