Wondering how you can help your students learn the Fry Words?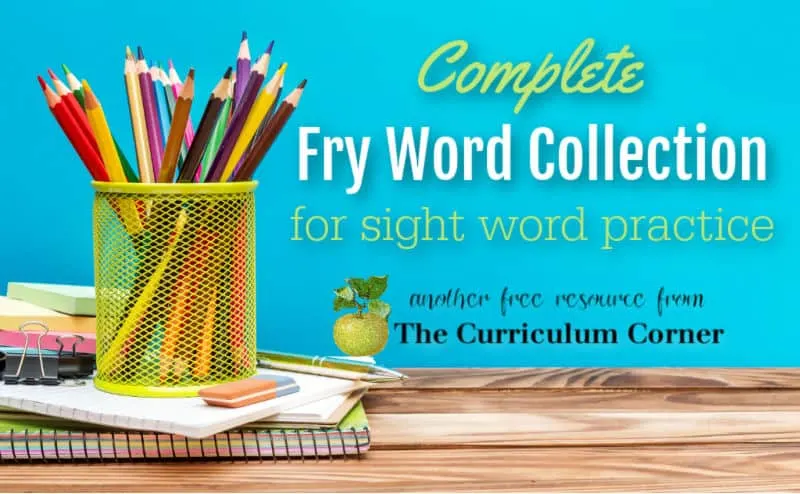 You've found The Curriculum Corner's complete collection of Fry Word resources.
Use these free Fry sight words resources to help with students sight word mastery in the classroom or at home.
This collection includes resources for assessing, tracking and practicing Fry words in the classroom.
Our goal is to provide a complete collection of resources for your sight word instruction. Throughout this post you will find links and explanations to help you get started.
Feeling a little overwhelmed and not sure where to start? We are happy to help! Please send us your questions.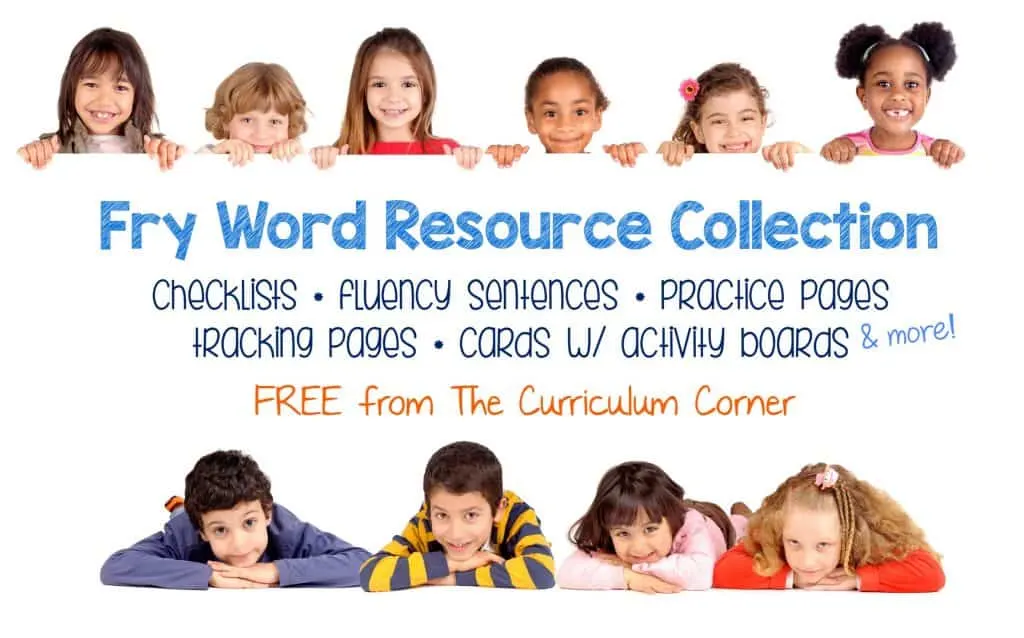 ---
What are Fry Words?
For those of you who are unfamiliar, Fry words are the most common words in the English language. They are a common list of sight words teachers use in classrooms.
They are listed in order of frequency. These high frequency words are commonly used in reading, writing and spelling.
They are sight words that should be instantly recognized by readers in order to achieve fluency.
The Fry words are grouped in sets of 100, beginning with the most common and basic words.
We have had great success focusing on Fry word mastery with some of our lower readers. Helping them build a mastery of these sight words can make it easier for students to advance their reading.
Why we like a Fry Word focus…
We love working on Fry words because it is something very easy to differentiate for your students.
Not all students need work on the first one hundred words. We don't like requiring students who have mastered the first hundred words to continue repetitive practice.
We want our students engaged – working over and over on mastered skills seems like busy work.
Some students might have mastered these words and can begin by practicing the second or third hundred words.
We've also had students in our classrooms who do not need targeted Fry word work.
If a student is in second grade and has mastered the first 500 Fry words, it does not seem to be necessary to offer the student Fry word practice. The mastery shows that the student is acquiring the words on their own.
We are big believers in not having students complete Fry Word practice just because. We like to meet students where they are.
With the range of activities we have created, our hope is that you are able to find resources to fit the needs of each of your students.
Getting Started with a Fry Word Focus
If you are just beginning to implement a Fry word focus in your classroom, start here!
First, we suggest printing off Fry Word checklists. These can be helpful in determining where you students are and making a plan for where you want them to end up. Also, they can be used for tracking growth.
You will find these progress lists here: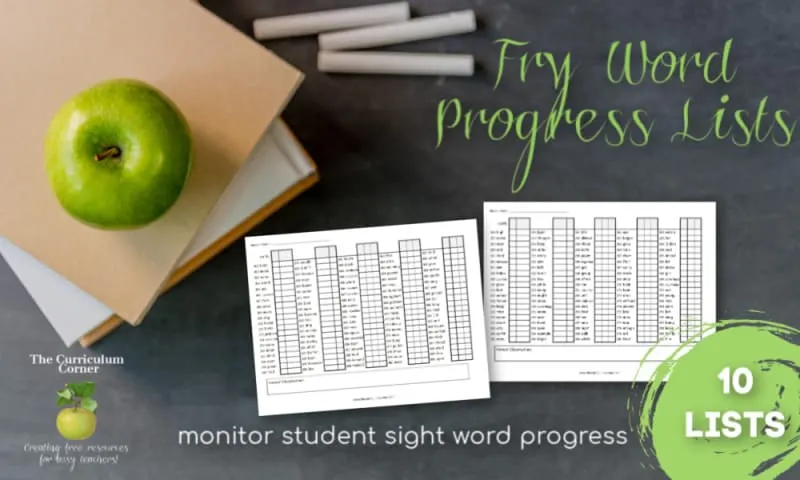 We like these checklists for documenting student growth – they are great for adding to student data folders!
Next, take a look at our Fry Word Stacks strategy to help those students who need extra help: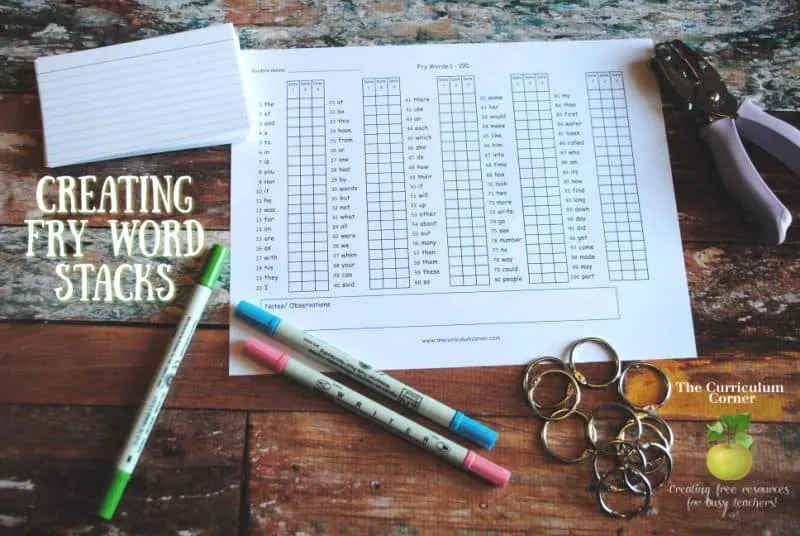 We highly recommend the Fry Word Stack strategy for helping your students who need help mastering sight words. It's simple and easy to implement. Plus, we have found it to be a very effective strategy.
We have seen success with students just beginning to learn English. This approach has also helped many of our students who are native English speakers but have not found an effective way to learn sight words.
We love that parents can easily be taught this approach if they are looking for a way to help.
Looking for step-by-step tutorials for creating Fry Word Stacks? You will find them here:
Where can I find sight word flashcards?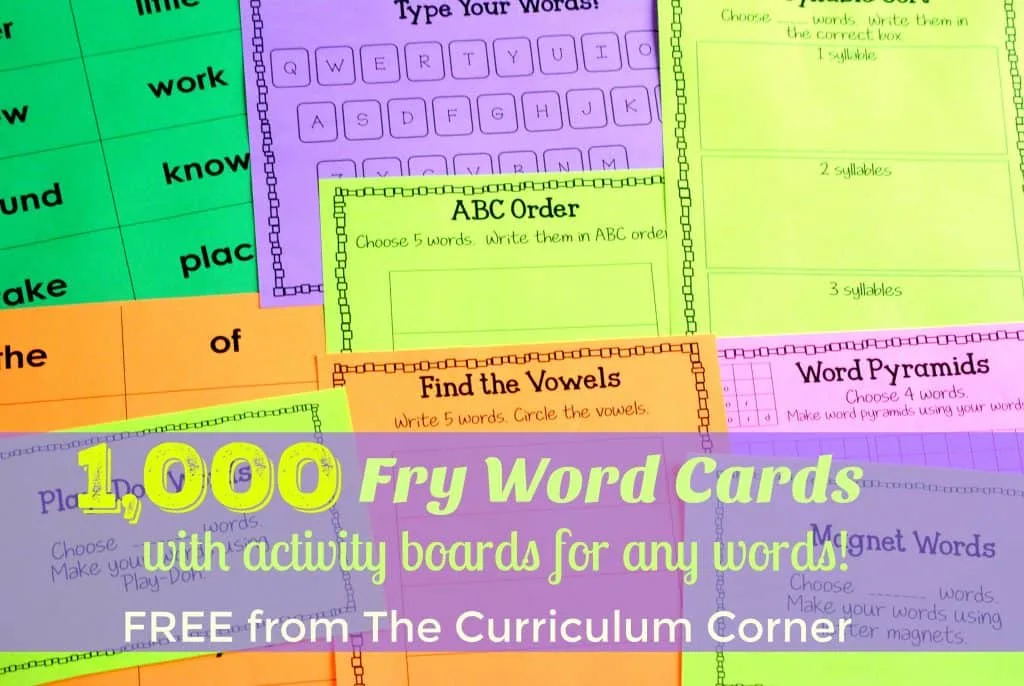 This set of cards can be printed on colorful card stock. It also includes activities that can be used with any words.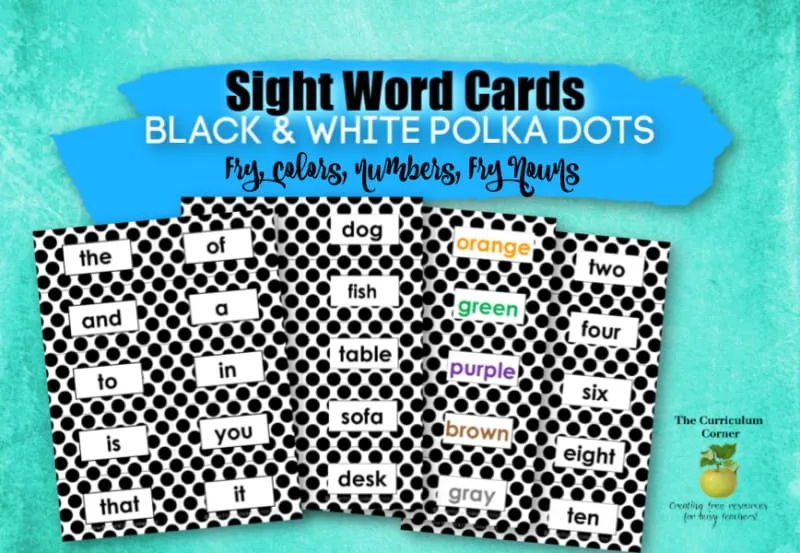 These cards include all 1,000 Fry words plus other common words. (You will also find a full set of classroom decor to match.)
Looking for additional resources?
Other tools that might help you to make an overall Fry Word plan in your classroom can be found here:
Working on reading fluency?
Try these Fry word sentences and fry word phrases to help your students improve their reading fluency.
We like adding these cards to baggie books for students who might find reading a book overwhelming.
To add meaning to the sentences, you can encourage students to illustrate their card. This will help students work on sight words, fluency and comprehension all at once!
Hidden & Color Key Practice
We've heard that students love these as a fun, calming activity. Hidden Fry words can be an easy way to expose students to sight words.
Fry Word Fun Booklets
These simple booklets cover the first 200 Fry words. They include basic skills designed to introduce students to the sight words.
You will find these resources on The Kinder Corner
Be sure to check out our complete collection of seasonal and themed Fry resources! We are always adding new printables. This is the place to stop and check to see what's new.
Find all of our Fry word resources here:
Everything Fry from The Curriculum Corner
As with all of our resources, The Curriculum Corner creates these for free classroom use. Our products may not be sold. You may print and copy for your personal classroom use. These are also great for home school families!
You may not modify and resell in any form. Please let us know if you have any questions.