Use these tally marks worksheets to help your students practice reading and writing tally marks during math class.
Download these free tally marks worksheets for practice during math workshop.
These pages can be used after the children have been introduce the skills of reading and writing tallies.
This is another free resource for teachers and homeschool families from The Curriculum Corner.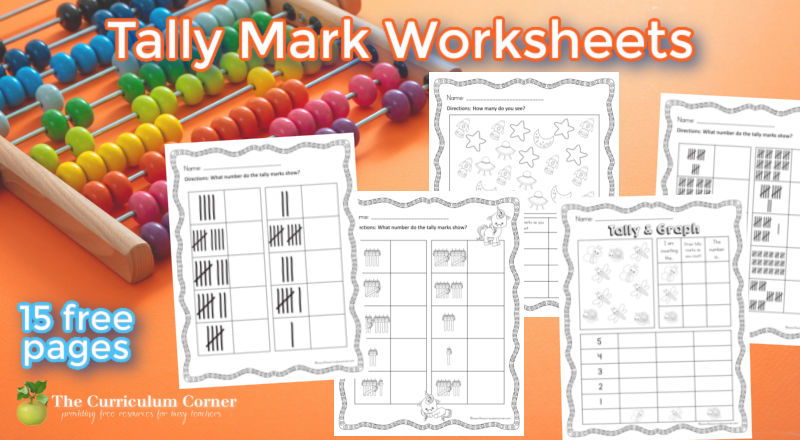 What are tally marks?
Tally marks are sometimes referred to as hash marks.
They are used to help children when they are counting or tallying a group of results.
These symbols can be used to help keep score during a game or when counting a group of objects.
Before children use tally marks for tracking results of a survey or of a game, they need to know how to read and form tallies.
To practice, give students counters. Have them practice placing the objects into groups of five. Model how a group of five is written using tallies.
Give different groupings of counters and work with students to tally the amount.
For students to understand the concept, it is always important to provide hands-on practice with manipulatives.
You can then give children the opportunity to share what they know by completing a worksheet.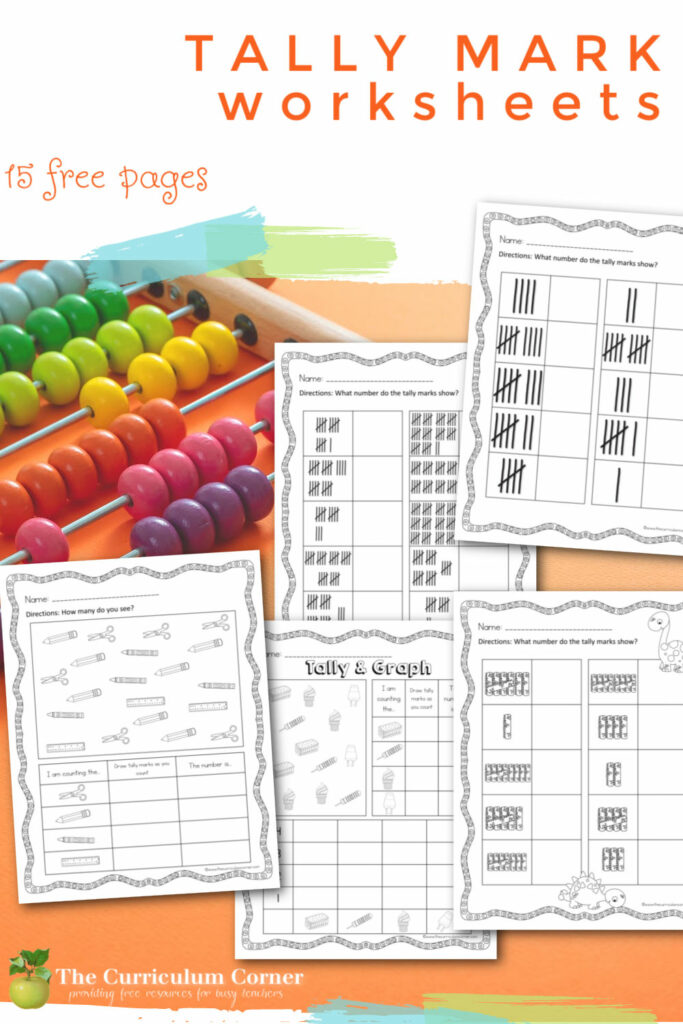 About these math worksheets
This download contains 15 free pages for practice.
You can use these worksheets after children are familiar with the concept of tally marks.
Completing these pages will provide students with practice reading and writing of hash marks.
There are a range of pages so you can choose the ones that fit your students.
These pages might fit into your kindergarten, first grade or second grade math classroom.
Tasks include simply reading and writing tally marks. A couple pages contains dinosaurs and unicorns for a little extra fun.
Children will also count objects and tally as they count.
On two pages, students will be asked to turn their tally count into a bar graph.
The final two pages provide students with practice counting larger groups.
These pages provide beginning practice with this skill.
You can download these free math worksheets here:
As with all of our resources, The Curriculum Corner creates these for free classroom use. Our products may not be sold. You may print and copy for your personal classroom use. These are also great for home school families!
You may not modify and resell in any form. Please let us know if you have any questions.