Download these free informational text vocabulary graphic organizers to help your students explore new words.
This collection of informational text vocabulary graphic organizers will help your students learn and apply new words.
These pages are designed to fit any word list – many styles are included along with a word map.
This is another free resource from teachers and homeschool families from The Curriculum Corner.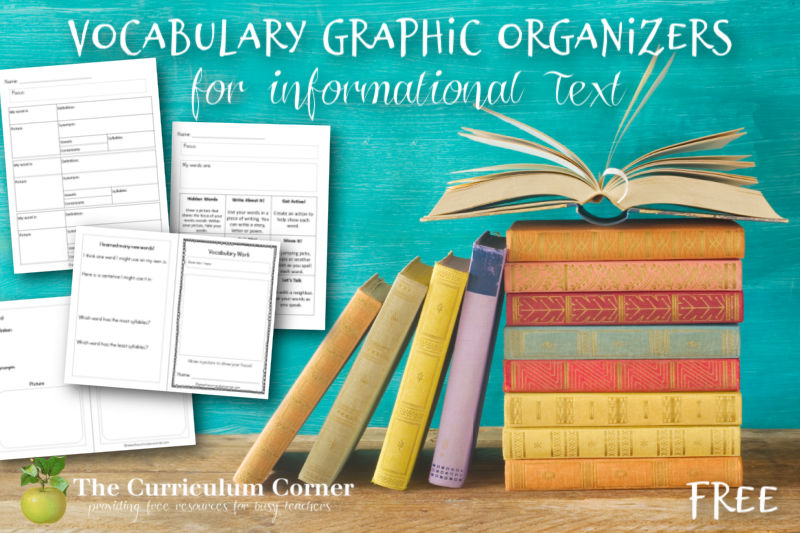 How can I help students learn vocabulary words?
As children are adding new words to their vocabulary, it is important to introduce different learning methods.
While some students learn best by writing and copying, many others benefit from activities involving movement.
It can be fun to have children act out words. You can have the class determine and action for a new word. As you add more words, you can practice as a meaningful time filler.
While students are waiting in line before special area or lunch, you can give them a word and they will show the action.
Why is practicing vocabulary an important task in the classroom?
Helping your students expand their vocabulary as you introduce a new topic can have an impact on their learning.
As you work to help your students create an understanding, they are expanding their schema on the topic.
This will help them more fully understand as they are learning.
Of course, we now understand that simply copying definitions is not the best way for all students to learn.
Because our thinking on vocabulary instruction has evolved, we are sometimes on the hunt for new methods to help with our vocabulary instruction.
Whenever possible, we like the idea of instruction involving real objects, movement and use of the words in a real context.
About these vocabulary graphic organizers
Sometimes we know that pencil paper options are needed.
When creating this vocabulary set, we worked to make items that did not simply involve copying and memorization. (Although you will see that we did leave on option on our choice board involving copying words and definitions. Some people do learn from copying so we wanted to leave this for those students who know this about themselves.)
We wanted students to understand the true meaning of words and wanted them to be able to apply this understanding. Students will explore synonyms, illustrating words and using in sentences.
There are a variety of resources in this collection – find what works best for you and your students!
Within this informational text vocabulary set you will find the following resources:
Word Clouds
This can be used as a place for students to record notes to show what they are learning about words during your study.
It can also be used as a simple assessment tool.
You write a vocabulary word in the middle of the cloud. Students then fill the cloud and space around the cloud with other words and pictures they remember about the vocabulary word.
This is a great tool for all kids!
In terms of using this page as an assessment tool, begin by entering a word in each cloud. Students will then share all knowledge they have the word. They can use pictures, synonyms, sentences or anything else that shares the meaning of each word.
We love that these are more open ended than a typical vocabulary quiz.
There are two different options with and without a border. You can use a single-sided page or copy front to back.
Vocabulary Work Booklet
Copy these booklets front to back, including the number of pages you would like your students to have.
Next, fold and staple to create the booklets.
Students can create a booklet for each informational text topic you study.
Word Map
You will find an assortment of word maps.
I liked completing these with my class although older kids might complete this page independently.
We would use one word map each day.
As a class we would practice coming up with a definition, finding synonyms and sharing a sentence.
Students were completely engaged in this activity and learned new words as we went.
I was always very purposeful about choosing words that fit into our class focus.
As an extension of the word map, my class would work together to come up with an action to show each word. When we had time in the hallways to fill such as when waiting to go into the cafe or restroom breaks, we would practice our vocabulary words. I would say a word and the students would show me the action for each. This not only kept students constantly reviewing words we had previously learned, it also helped them get a little movement out. Another benefit was that this is such a good activity for your ESL students. My students just learning English could participate while learning new words!
Choice Board
This can be laminated and placed at a word work center. Students can choose an activity from the board that will help them practice their words.
You can download this Informational Text Vocabulary Set here:
As with all of our resources, The Curriculum Corner creates these for free classroom use. Our products may not be sold. You may print and copy for your personal classroom use. These are also great for home school families!
You may not modify and resell in any form. Please let us know if you have any questions.