Use these free tools for think marks to help your students work on reading comprehension skills.
You can help your students develop their reading comprehension skills with the help of these think marks resources.
These free resources will help your students share their thinking as they are reading.
This is another free resource for teachers and homeschool families from The Curriculum Corner.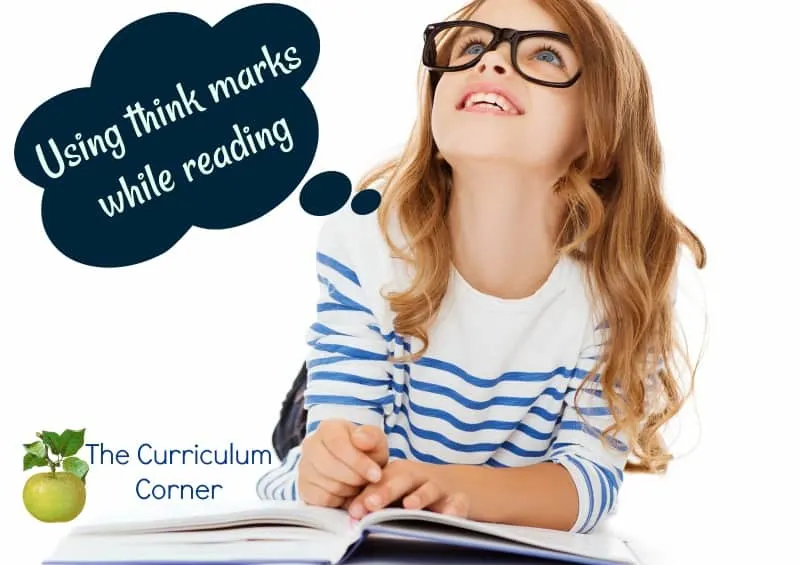 Think marks are a tool for helping your students learn to think as they read. When you are teaching this reading comprehension skill, you are teaching students how to mark their reading with their thoughts.
Why do we recommend think marks?
As we work to help our students become better readers, there are many tools we can use as teachers.
We have found that teaching students to use think marks can be an engaging way to accomplish the goal of getting your students to think as they read.
Think marks can be a piece of Close Reading. In close reading, you are working to help your students look into and analyze the text.
This tool can provide a visual for students as they learn to do this.
In using these, you want your students to show their thinking as they read.
When students do not have reading material they can write in, you can provide them with post-it notes so they can still mark the text.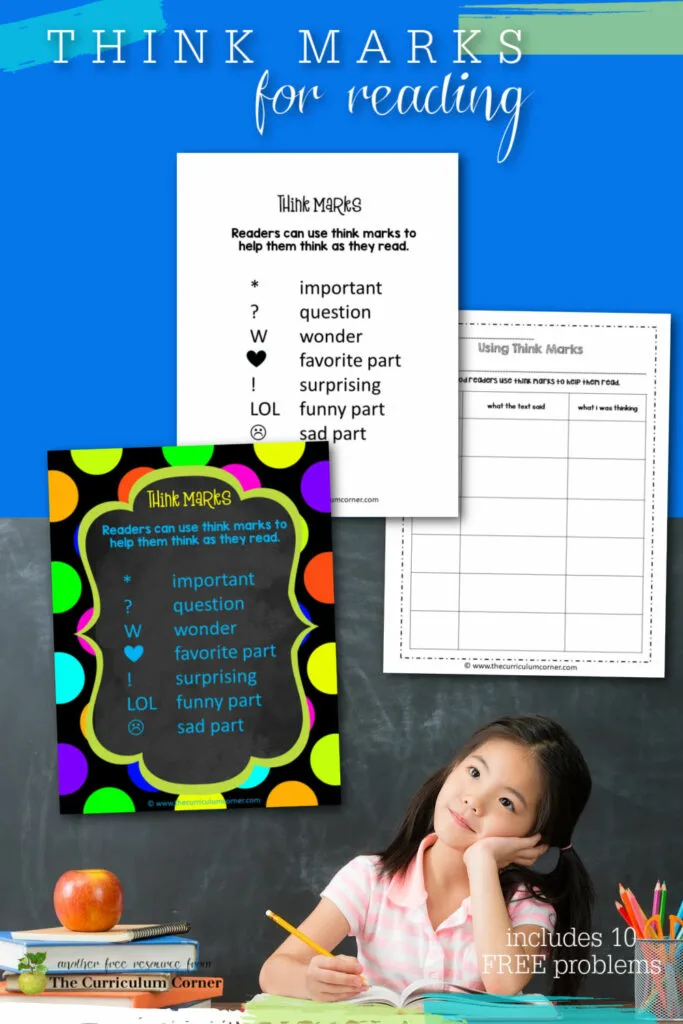 How Think Marks Work
Think marks are used so that students will show their thinking.
As they read, they will place a think mark in the text to match what they are thinking.
For example, if a student is reading an informational text about the weather and something is confusing, the student might place a question mark to signal they are confused.
The Materials We Have Created
We have created an anchor chart that can be printed on a poster or displayed on a smart board. This anchor chart is provided in color as well as in black and white.
You will also find a smaller version of our think marks. These are displayed with four on a page. Again, you will find these in color and in black and white.
These smaller anchor charts can be placed at a center as a reference. You might also choose to have students glue one into their reading notebook as a reference.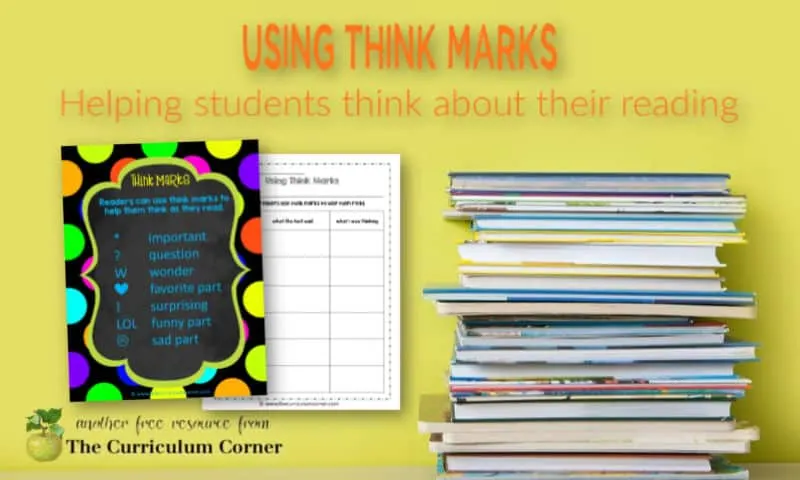 The graphic organizer we have created is for students to use as they beginning understanding think marks.
You can download this free reading set here:
As always, we find it very important to model the skill of using think marks before asking students to complete this task on their own.
You will find additional Close Reading resources here:
Synthesizing Informational Text
Determining Importance in Text
Close Reading Collection for Intermediate Grades
---
As with all of our resources, The Curriculum Corner creates these for free classroom use. Our products may not be sold. You may print and copy for your personal classroom use. These are also great for home school families!
You may not modify and resell in any form. Please let us know if you have any questions.