The Curriculum Corner provides free teaching resources for busy teachers and parents. Includes units of study, centers & more.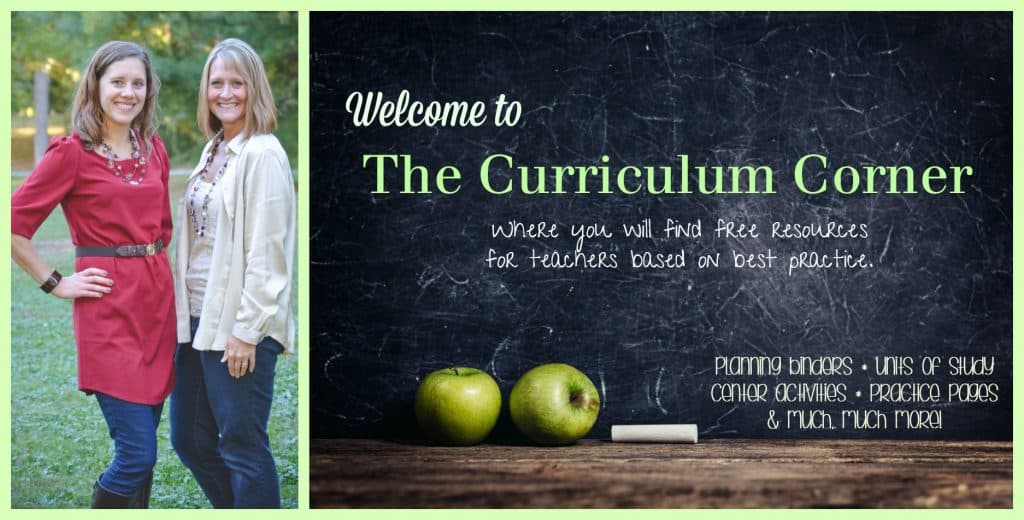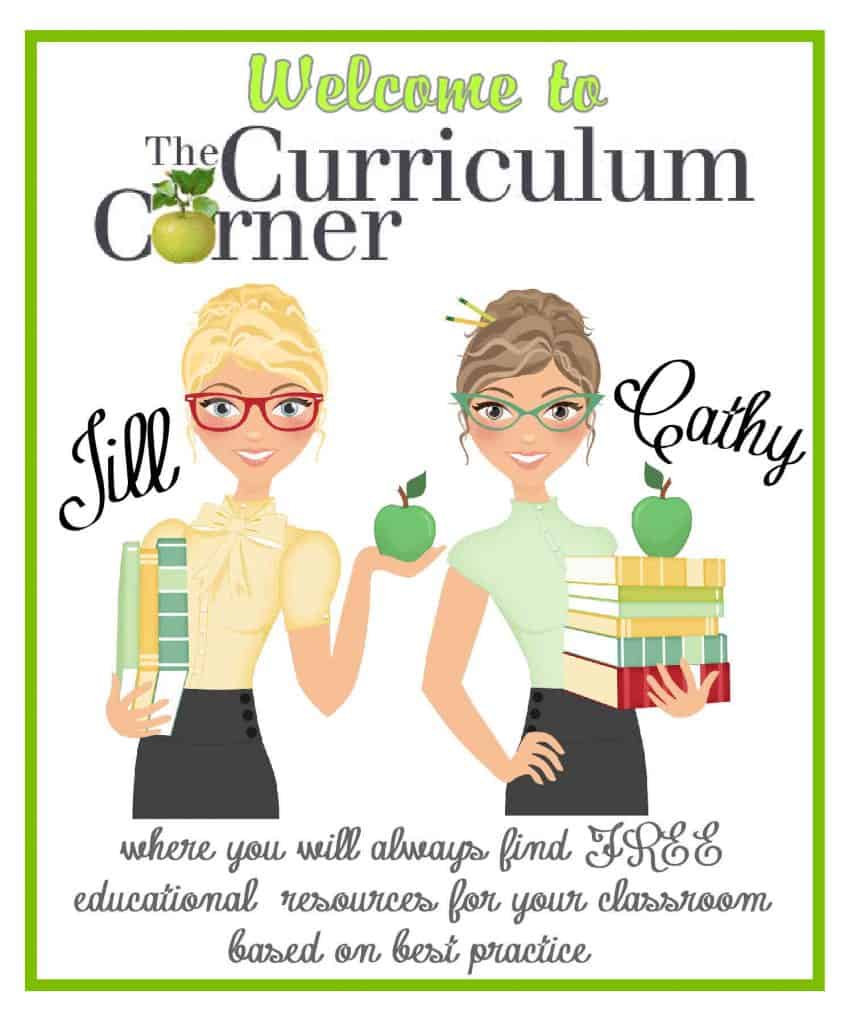 Welcome to The Curriculum Corner! If you found us from Facebook, Pinterest or colleagues, welcome to our site! Below we share links to our most popular posts which include many of our management resources and full units of study. If you are looking for specific items, you might use the search box at the top right of our page. Or, if you are looking for something specific and are unable to find it, please feel free to add a comment below or email us at jillandcathy@thecurriculumcorner.com. We can direct you to the materials you need. In addition, if we have not yet created what you need, we might be able to add it to our list of future resources. Just let us know!
Organization
Teacher Planning Binder Our editable teacher planning binder is designed to help teachers organize their classroom materials. There is room for everything from class lists, special student notes and lesson planning. The entire collection is editable in PowerPoint.
Reading Management Binder These editable pages are designed to help teachers plan each part of their reading workshop. Includes plans for small group instruction, literacy centers and conferencing.
Math Management Binder This collection will help teachers plan their math workshop. Includes printable to help teachers track student groupings and plan whole group lessons. Also included are pages for planning small groups and math centers.
Writing Management Binder This binder is designed to help you organize your writing workshop. Includes conferencing and planning forms.
Everything "I Can" for K – 8 Within this collection you will find our original "I Can" Common Core Statements written to spiral between grade levels. This post includes checklists, students checkboxes, posters, individual statements and even Spanish versions of resources for K – 6.
Student Data Tracking This editable collection includes everything teachers need to create a complete student data folder. Many of these pages are designed to help students be a part of tracking their own growth and setting their own goals.
Launching Units of Study
Launching Reading Workshop Unit of Study Contains 20 mini-lessons, anchor charts, graphic organizers, exit tickets and more!
Launching Writing Workshop Unit of Study Contains 19 mini-lessons, anchor charts, graphic organizers & so much more with a travel theme.
Launching Math Workshop Unit of Study This smaller unit of study is designed to help you teach your students the format of your daily math instruction period.
Reading Units of Study
Reading Informational Text Reading Unit of Study
Elements of Literature Unit of Study
Character Traits Unit of Study
Biography Reading Unit of Study
Responding to Reading Unit of Study (Designed to help students construct short answers responses to literature.)
Fairy Tale Reading Unit of Study
Writing Units of Study
Animal Research Writing Unit of Study
Informational Text Writing Unit of Study
Personal Narratives Writing Unit of Study
Math Units of Study & Resources
Numbers, Counting & Ordering Unit of Study This unit focuses on number sense and is ideal for a beginning of the year focus.
Other Popular Resources on The Curriculum Corner
211 Graphic Organizers for Reading Workshop
Pre-K through 6th Grade Emergency Sub Plans We know that created last minute, quality sub plans can be difficult when you have a sick child at home. use these emergency sub plans to create a "sub tub" so that you are always prepared for that unplanned absence.
Small Group Toolkit Includes everything you need to get your small group instruction you need. You will find organizational pieces, fluency practice, word work activities and so much more.
Fry Resource Collection We have checklists for tracking progress, student tracking pages for goal setting, fluency sentences, practice pages and many more resources.
Reader's Notebook for Students
You will find additional resources on our other sites…
Welcome to The Kinder Corner
Welcome to The Curriculum Corner 456
As always, we love to hear your requests! Feel welcome to share your ideas below or send us a message.