What are the best shoes for teachers? We are always looking for a new favorite pair of teacher shoes.
Looking for new teacher shoes? We just found our new favorite pair of fashionable boots that are also comfortable!
We were provided boots from Taos in exchange for an honest review of the product. All opinions are our own.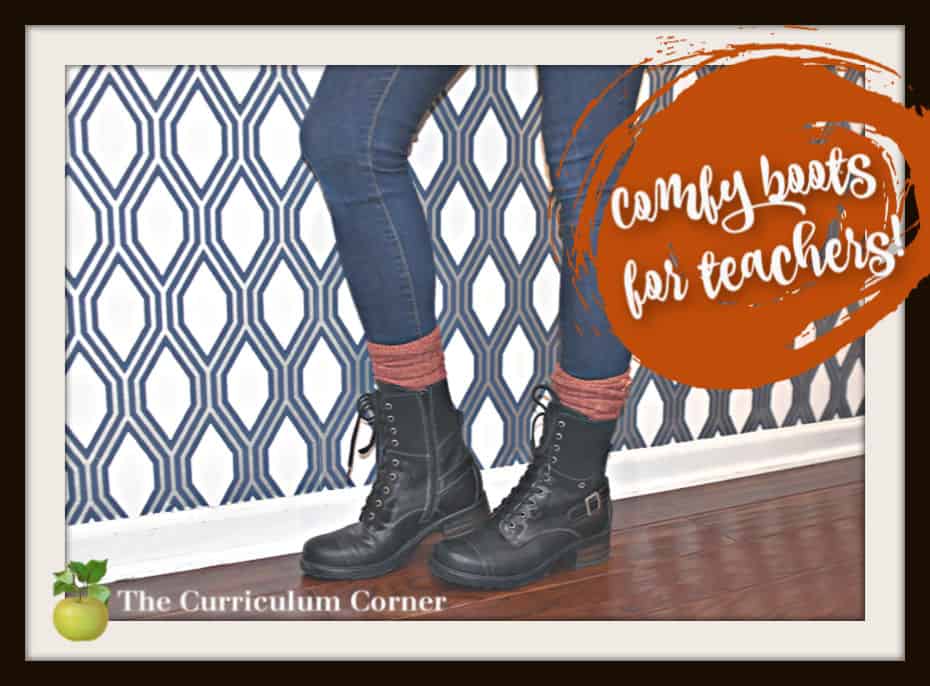 Cathy's Thoughts on Taos
I love shoes! Anytime I am offered to try a new style, I jump at the chance.
While I love trying out new styles and brands, finding a just right shoe is tricky for me.
I broke my knee when I was a teenager and later had surgery. Due to this, I struggle with knee pain. I have found that having a shoe with a good arch and support is key to not ending every day in pain.
In recent years I have cleared my closet of cheap, cute shoes. You know, the ones you pick up at Target for $10 because they are perfect with that new outfit you bought. These shoes no longer are worth the pain they cause.
I'm working to create a shoe collection that is comfy which means the shoes I've been buying cost a little more. I am determined that this collection I am creating is still stylish.
My Taos definitely fit in that category!
I love the look of my new Taos Crave boots. They come in many colors which made it tough for me to choose which pair I needed the most. I opted for black but teal came in a close second.
So while the Taos immediately fit the stylish requirement, I wasn't so sure they would live up to my expectations for the price.
I typically wear a 9 so I went with the size 40. When I first received them, I was worried they were a little too narrow for my wider feet. However, after wearing them two days, I found that they stretched perfectly to my feet.
The arch and support must be just right – I've now worn them at least 10 times and not once have I ended the day with an achy knee. I can't even tell you how rare it is for this to happen! Even shoes that I feel are comfortable typically result in a little knee pain after a day when I am on my feet all day.
I was not familiar with Taos before they contacted us but I guarantee I'll be trying out a pair of their tennis shoes or sandals in the spring (or maybe both!)
Jill's Thoughts on Taos
So in all honesty, I am probably the exact opposite of Cathy. I don't often buy new shoes unless I have a need for a particular style or have a special occasion outfit and need something to match. And once I have those shoes I keep them forever it seems as long as they are comfortable and still look nice.
In the classroom I was all about comfort as well and many times wore tennis shoes if my outfit would allow for it. (Yes…I was that khaki pants wearing teacher that many of us are familiar with. Hey, being on the floor with kiddos for reading & writing conferences or small groups gets more and more difficult the older you get!)
Like Cathy, I hadn't heard of Taos, but I was more than willing to try out their boots to see if I liked them. So glad I did. I not only like them, but will be wearing them so much, especially in the coming months.
When I first unpackaged them I have to admit that I loved the way they looked, but I wasn't sure if they would be something I would recommend to teachers for day to day wear. When I think of boots I typically don't immediately think of comfort.
I wear a size 8 and a half, so I also ordered a size 40 boot but in the grey color. I had a feeling I would be wearing them with thicker socks so I wanted to be safe and they fit really well. (Might also be worth mentioning that I have fairly wide feet.)
The one thing that surprised me most was how comfy they were when I first put them on. I assumed, as with most boots I have bought, that I would need to "break them in" a bit before I could decide whether I truly would wear them. I was blown away by how the soft the inside of the boot felt.
Test #2 for me was how I would feel after wearing them for the good part of a day. Since I am not currently in a classroom, I wanted to be sure I wore them for at least as long as one of you might have them on for an entire day of teaching. I can honestly report that they were just as comfortable later in the day as they were when I first put them on. No blisters. No scrunched up toes. No ankle pain. And no leg or hip pain. (Remember I mentioned that "getting old" thing?)
Cathy and I actually both wore our new boots to our friend Angela's house for dinner last week because we wanted to get some pictures for this post. Another friend of ours, Tiffany, tried mine on and immediately told her husband that was what she wanted for Christmas!
And just this past weekend I wore them to my husband's side of the family for Thanksgiving and two of my sisters-in-law asked about them. 🙂
I truly do love these boots, not only for the style, but also for the way they feel on my feet. I would highly recommend them to teachers and friends!
Hopefully you are as happy with your purchase as we have been. It's not easy to find a pair of shoes that can make it through a long day without hurting.
If you have any questions, please share below. We are happy to help as these are a product we truly love!