Use this note-taking booklet for helping students working on how to write a summary of their reading and learning.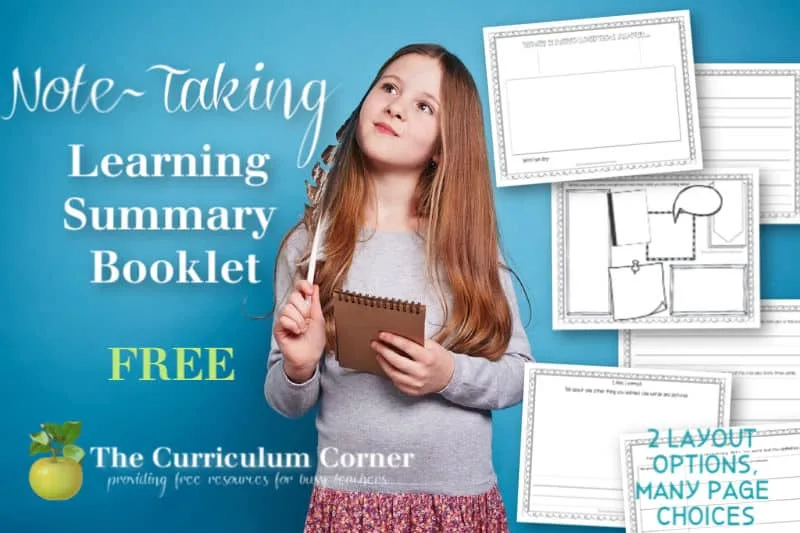 This is another free resource for teachers and homeschool families from The Curriculum Corner.
This note-taking booklet will help your students who are working on writing a summary of their reading and learning.
These booklets can be used for note-taking during reading or even during projects in the classroom.
While some pages are specific to reading a book, others can apply to class discussions, videos or speakers. You will have more flexibility in adapting the book to fit your needs by choosing the full page version.
Activities for students to complete include sharing background knowledge by the students. If the whole class or many students are working on the same topic, you could host a class or group discussion to help with activating schema.
Have students brainstorm who they know who could share more with them. What other books could they read? Where else could they look to learn more about the topic?
You will find a variety of note-taking pages along with other prompts. Students can pull out a main idea and details. They can share facts and opinions.
Also, students can share vocabulary words they are using.
Another option is for students to write a summary about their reading.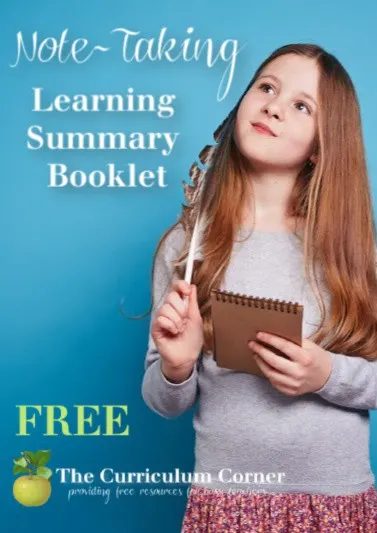 How to assemble this note-taking booklet for learning about summary writing
There are two versions of this booklet.
This first is a half page style. You will need to print front to back, fold and staple.
The second version you will find is a full page booklet. You will find more options in this booklet. There are extra title pages and other options so you will want to only print the pages you need.
Also, because you are printing full pages, you will find more options to modify the booklet to fit your students. You might even provide a selection of printed pages and let students create their own books.
You can download these Note-taking: Learning Summary Booklets here:
---
As with all of our resources, The Curriculum Corner creates these for free classroom use. Our products may not be sold. You may print and copy for your personal classroom use. These are also great for home school families!
You may not modify and resell in any form. Please let us know if you have any questions.