Use this winter 4 corners activity as a fun way to add a little movement in the winter months.
This winter 4 corners activity is perfect for right before winter break or for the cold months when you are stuck inside for recess.
This is another free resource for teachers and homeschool families from The Curriculum Corner.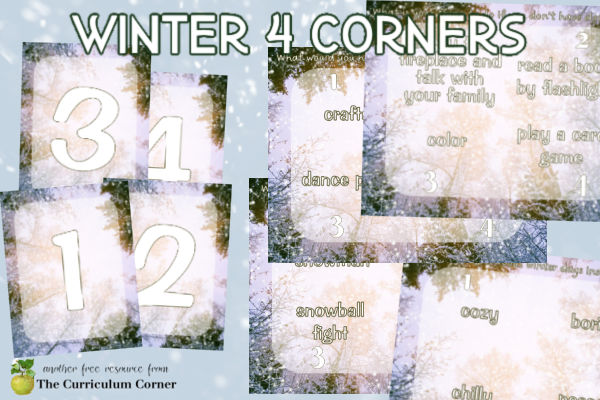 Winter 4 Corners Activity
I created these slides for a fun activity to wrap up the semester. I know my kids will be antsy and ready for break tomorrow so I was hoping to create a little something to get a little movement into our day.
At the beginning of the year, I was not expecting my sixth graders to love the four corners game as much as they did, but it was a hit. Hopefully they also enjoy this one!
My goal was to stay clear of any Christmas themes. This one is filled with snowy day activities and other winter favorites.
How to play
Begin by printing off the numbers and taping one to each corner of your room.
Next, display a slide.
Students then move to the corner number that shows their answer.
You can take a moment to let students chat and share their responses.
You can download this free activity by clicking on the green apples below:

As with all of our resources, The Curriculum Corner creates these for free classroom use. Our products may not be sold. You may print and copy for your personal classroom use. These are also great for home school families!
You may not modify and resell in any form. Please let us know if you have any questions.