You can download these free winter sports scrambled sentences to help you create an engaging center for winter.
Children love these colorful sentences and they are a great way to practice reading.
These are designed to fit into your winter sports theme.
This is another free set for teachers and homeschool families from The Curriculum Corner.
Winter themes in the classroom
There are many options for themes in January and February. Snow is always popular but sometimes it is fun to think of something new.
Winter sports are perfect but other ideas can include hot chocolate or other winter treats.
Sometimes Arctic animals or hibernation can be engaging topics.
If you are going to work on winter sports, be sure to give your students the opportunity to watch videos and look at photos of different examples.
Some sports might be new to them. Ideas for students to learn about beyond the traditional ice skating and skiing can be:
luge
bobsled
snowboarding
ice hockey
curling
speed skating
ski jump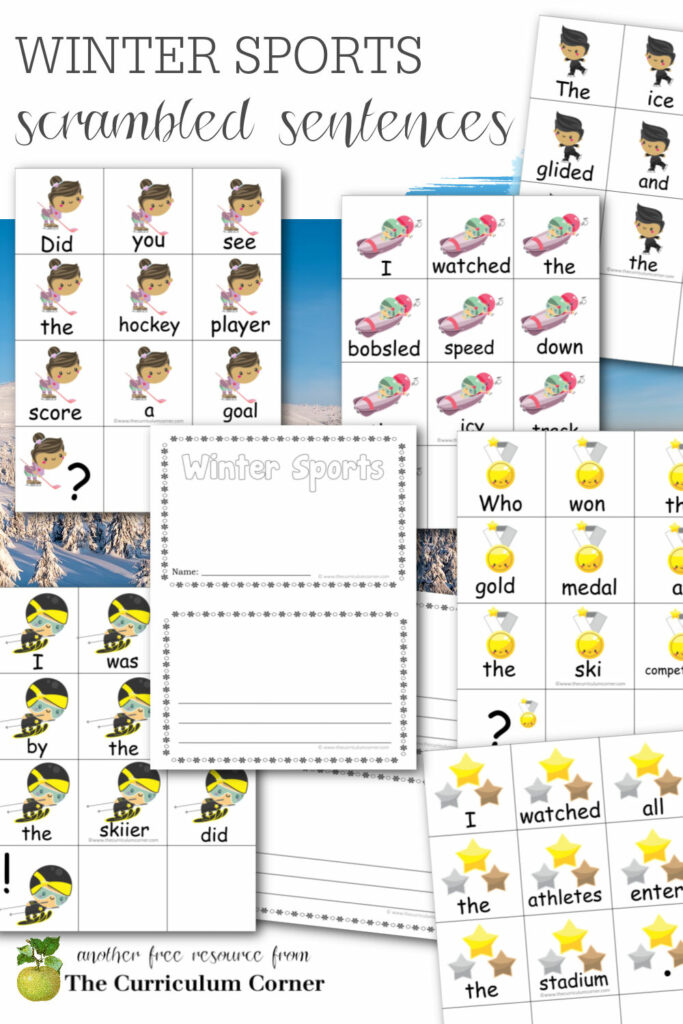 Winter sports scrambled sentences
If you are looking for materials to add to your winter sports focus during the end of January and February, this set is perfect.
To create the materials, begin by printing the cards on heavy white cardstock.
Next, laminate the cards and cut them apart. The pictures on the cards will make for easy sorting when they get mixed up.
Children will choose a sentence. They will then work to unscramble the sentence. They will use all of the words to create a sentence that makes sense.
Before they begin working, it can be helpful to talk about the clues the cards give them. For example, they know which word is first because of the capital letter. They also know that the punctuation mark comes last.
Along with the cards, you will find an assortment of recording pages. It is ok to not have your students write down the sentences. However, if they do need some handwriting practice, you can choose the page that fits your class.
You can download this free winter set here:
As with all of our resources, The Curriculum Corner creates these for free classroom use. Our products may not be sold. You may print and copy for your personal classroom use. These are also great for home school families!
You may not modify and resell in any form. Please let us know if you have any questions.