Download these free winter math and literacy centers to help you create ready-to-go center activities.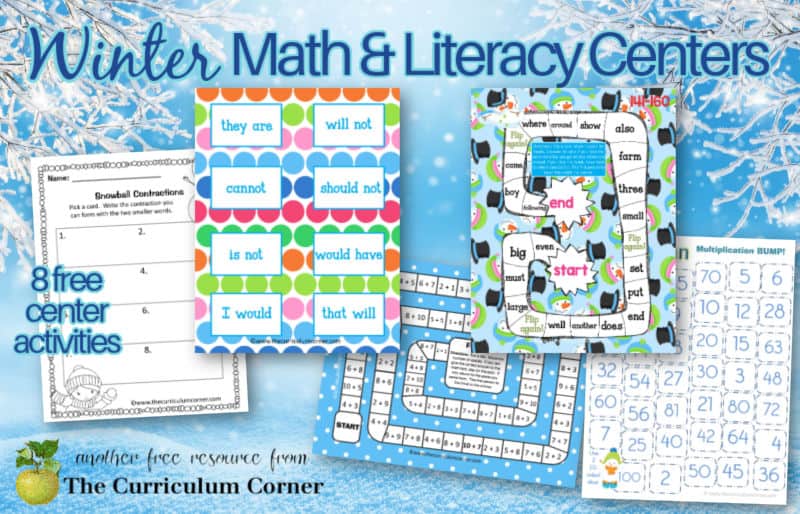 This is another free resource for teachers and families from The Curriculum Corner.
Try these free winter math and literacy centers this January and February!
This collection of winter wonder games will help you keep your students engaged during winter when you are stuck inside due to the cold.
We have included a variety of games that are just right for morning time, math centers or literacy centers.
You can download the collection in a single download at the bottom of this post.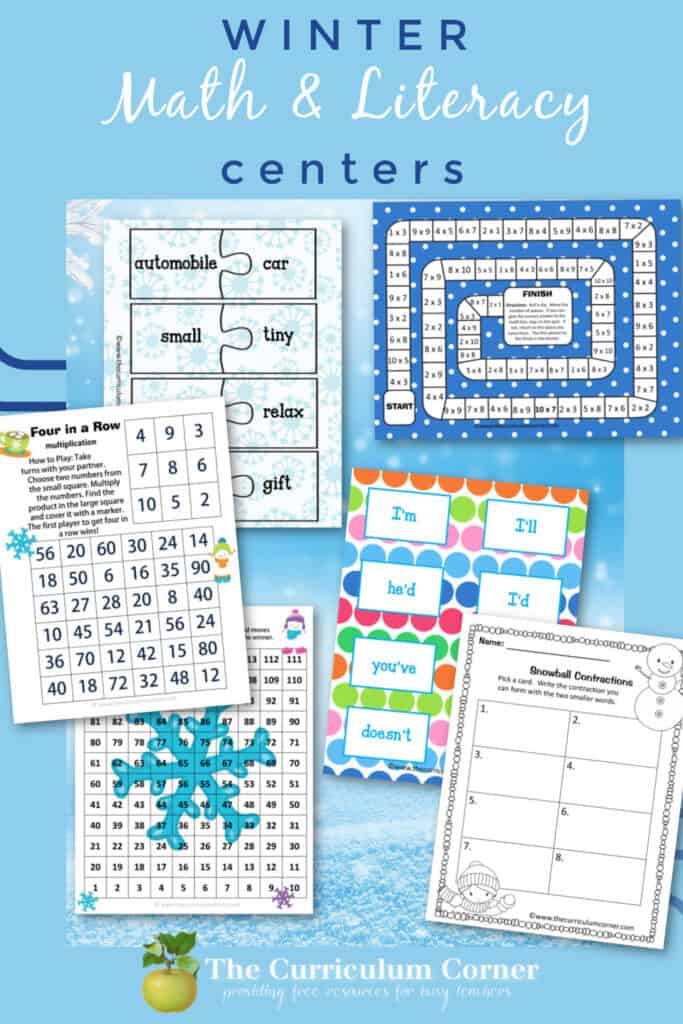 Within this winter math and literacy centers collection you will find:
Polka dot math facts game There are two versions, one with addition facts, the other with multiplication facts.
Multiplication BUMP! You will find two versions, one to play with two regular dice, the other for two 10-sided dice.
Four in a Row Multiplication Game
Skate to the Top This is a two player game. Each student needs a marker. You can have students place with one or two dice. One student rolls and moves that number of spaces. Play continues until the first player reaches the top.
Fry Word Snowman Games Work on sight words with these fun games. You will find 10 different board covering the first 200 Fry words.
Snowball Contractions Choose how students should play with these cards. You may have students simply sort the cards to match or have students play a memory game with a partner. We have also included a recording page that can be used with the two word cards. Students choose a card with two words and write the contraction the pair forms.
Synonym Puzzles This is the set with the smaller snowflakes. Students complete the puzzles by matching the synonyms.
Antonym Puzzles This is the set with the larger snowflakes. Students complete the puzzles by matching the antonyms.
You can download this free set of centers here:
Looking for other winter themed activities? Try these freebies:
Your students might also have fun completing a Winter Write the Room Activity.
As with all of our resources, The Curriculum Corner creates these for free classroom use. Our products may not be sold. You may print and copy for your personal classroom use. These are also great for home school families!
You may not modify and resell in any form. Please let us know if you have any questions.