If you are ready to focus on writing newspapers in the classroom, be sure to start by looking at our collection of free lessons for the classroom.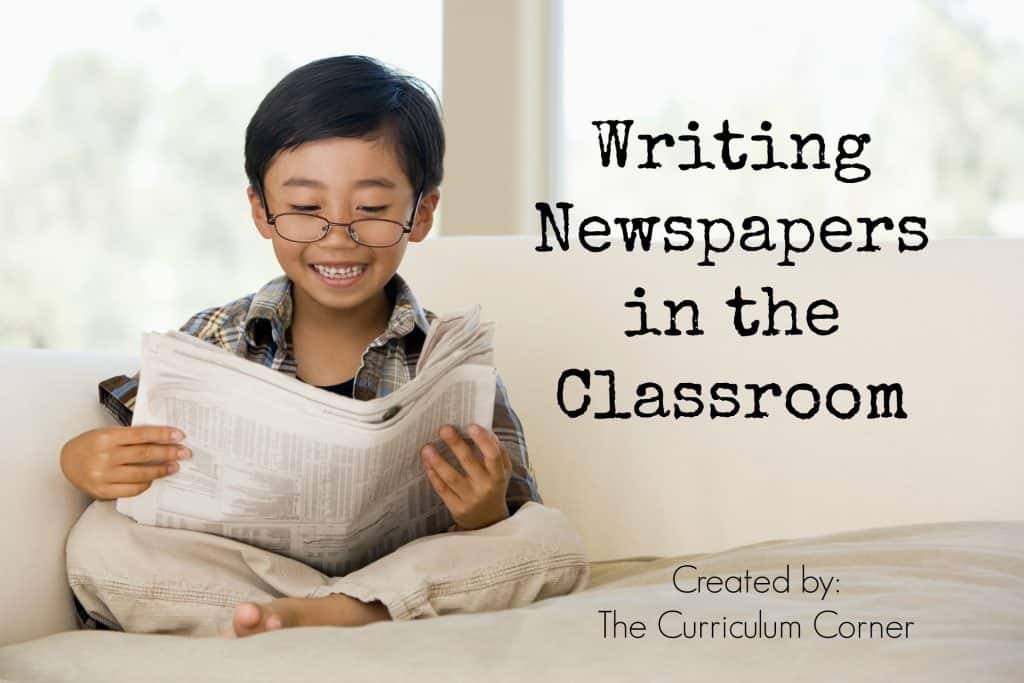 We have worked to create a series of lessons that will help you instruct your students on writing newspapers in the classroom.
Our hope is that these lessons can be used in helping your students learn about the features of a newspaper, newspaper vocabulary and then how to begin writing their own newspaper.
You might choose to have your students begin their own class or even school newspaper by using these lessons as a starting point.
This collection is a round up of a series of five posts we put out to help you teach your students about newspapers and the different types of writing in newspapers.
**To view each separate post, click on the bold & underlined green

words for each one and it will take you to the post and resources for that part.**
The purpose of these resources is to get your students familiar and comfortable with newspapers and their parts.
Within this post you will find
a scavenger hunt

labels for the parts of a newspaper

task cards

an idea for fluency practice

summarizing a newspaper

a vocabulary hunt

visualizing an article
This post also contains a link to a set of vocabulary resources that contains 14 newspaper words & definitions (practice and/or display cards & a student reference page).
This post gives you ideas to help your students with beginning interviews.
Not only does it give you an idea to be able to emphasize what it will mean to be "professional" during the interview, but provides a word wall, a practice interview page and an interview template your students can use to record their questions ahead of time.
The third part in this series helps students learn to write effective captions for newspaper pictures.
This post helps students understand captions by finding and reading them in real newspapers, provides them with a writing checklist for their captions and also contains real photographs so that students can practice writing their own interesting captions before you create a class newspaper of your own.
This lesson begins by focusing on purpose, audience and topic and moves through the writing process.
For this post we suggested taking your students through the entire writing process for creating a feature article, starting with determining the P.A.T (purpose, audience, topic) to drafting the article, by modeling how to use each graphic organizer provided.
The post contains ideas for four sequential lessons along with the graphic organizers and also provides an anchor chart for you to use to help your students understand how to write good leads.
This post provides you with resources to teach students about opinion writing in newspapers.
There are two kid-friendly examples of editorials to read with your class, a graphic organizer to use as you examine the editorials and five suggested editorial topics for your students to try their hand at opinion writing in a newspaper.
You might also be interested in our vocabulary collection focused on newspapers: