This free sports word work collection is a literacy set that has been created to boost student engagement during your reader's workshop.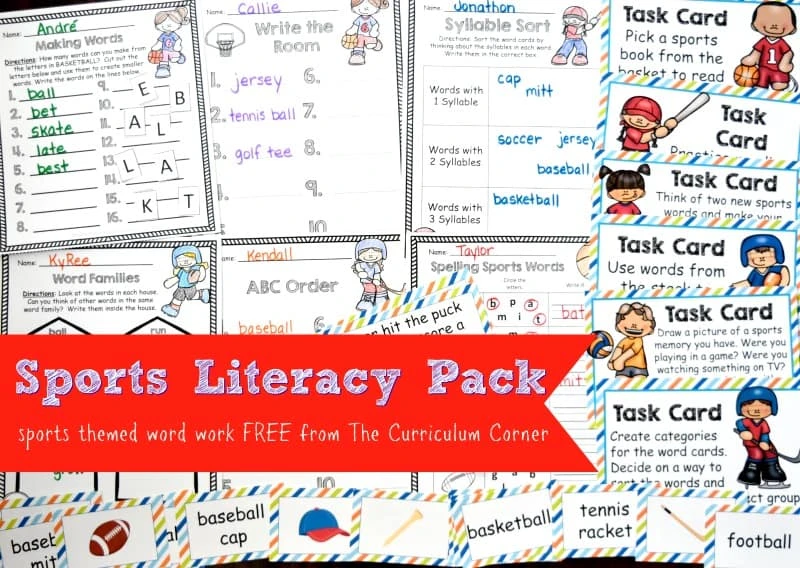 The activities we have included focus on literacy and word work.
You can download the collection by clicking on the bold link at the bottom of this post.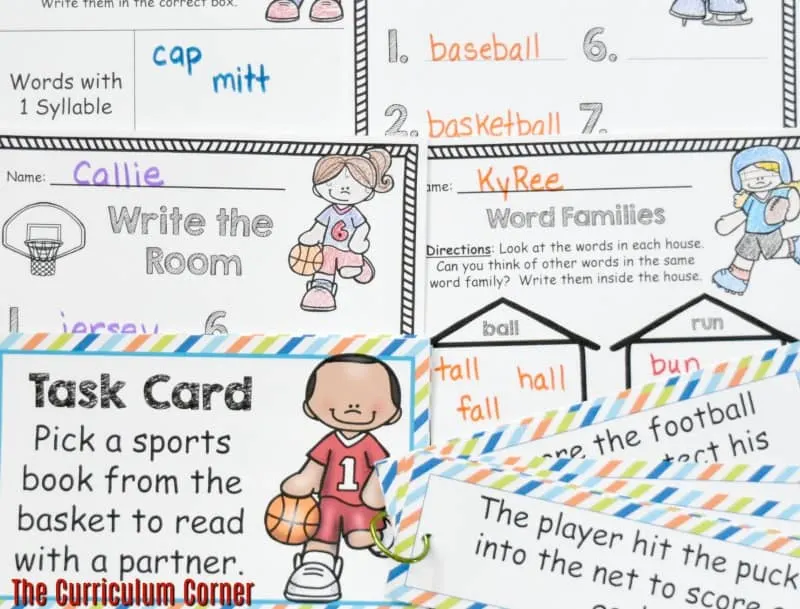 You will find the following sports word work activities within this collection:
Task Cards for Centers – You will find several task cards with directions for centers that accompany the resources. Some teachers like to place the directions at each center as a reminder to students about expectations.
Fluency Sentences – We have centered these slightly to the right so that they can be printed, cut apart, hole-punched and placed on a ring for center work. Students may practice these at a center, but you might also send them home for fluency practice or place in a student's book bag for silent reading time.
Word Cards & Pictures – Place the word & picture cards in a pocket chart so students can match the word with a picture or put them in a basket at a center for students to play a matching game. A page of blank cards has also been provided in case you want your students to create additional sports words with matching pictures.
The following four activities can be used with the word and/or picture cards as well:
Write-the-Room – Students choose 5 or 10 sports word cards. You can use a Vis-a-Vis mark the cards and number them 1 to 5 or 1 thru 10. Place the cards around the room. Students use the "Write the Room" recording page as they search the classroom to fill the page.

ABC Order

– Choose the words you want to include. We have included two recording pages so you can choose between five and ten words for the activity.

Syllable Sort

– Students search for word cards that contain 1, 2 or 3 syllables.
Vowels & Consonants – Students choose words from a stack and then count the number of vowels and consonants.
Create the Category – Students look at the word and/or picture cards and come up with various categories groups of words could fit into.
Pocket Chart/Scrambled Sentences – Print, laminate and cut apart these cards to use as a guided class activity or place them at a center and have students put them in the correct order to make a logical sentence. We have created each of the six sentences on a different background to make sorting easier. Students can write the completed sentences on the "Sports Sentences" pages provided or have them write the sentence and draw pictures to "Show Meaning" on that page provided.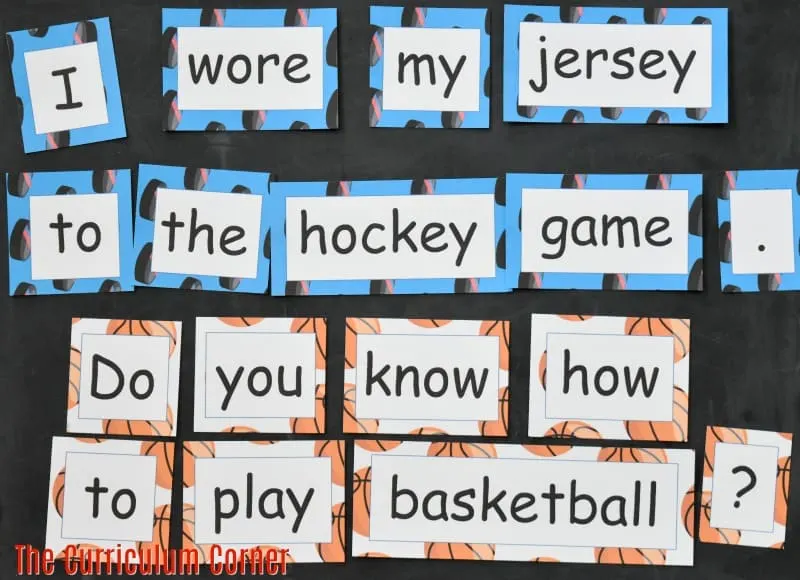 Making Words – Students use the letter squares at the bottom of the page to form words.
Lined Writing Papers – These pages can be used for all kinds of things. We have provided one idea for a sports related memoir that some students might enjoy.
Skills Pages – We have provided two skills pages that might be appropriate for some of your students. One is a sports related spelling page and the other is for creating word families.
Extra Resources – We have included some additional blank templates for fluency sentences and task cards in case you want or need to individualize your centers to suit the needs of your classrom.
You can download these weather word work literacy activities here:
If you would like the sports pack without the colorful backgrounds, you can find it here: