Download this 4th grade geometry vocabulary set to help your students practice math terms.
You can add this 4th grade geometry vocabulary set to your math resources.
These vocabulary cards focus on 4th grade math standards.
This is another free resource for teachers and homeschool families from The Curriculum Corner.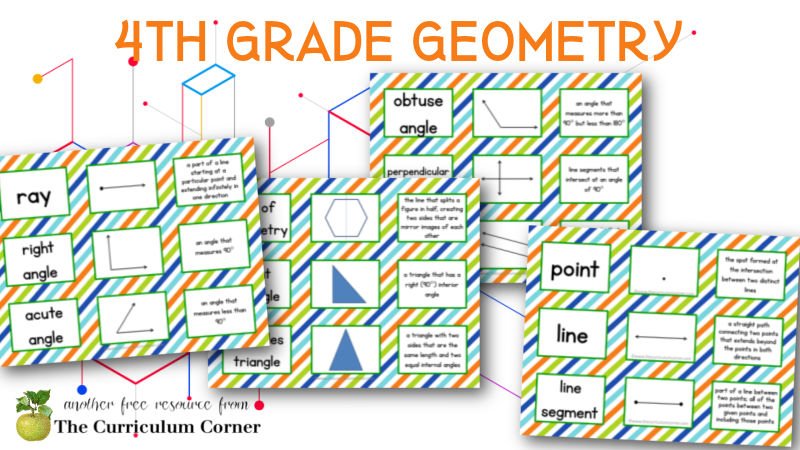 4th Grade Geometry Vocabulary
| | |
| --- | --- |
| point | the spot formed at the intersection between two distinct lines |
| line | a straight path connecting two points that extends beyond the points in both directions |
| line segment | part of a line between two points; all of the points between two given points including those points |
| ray | a part of a line starting at a particular point and extending infinitely in one direction |
| right angle | an angle that measures 90 degrees |
| acute angle | an angle that measures less than 90 degrees |
| obtuse angle | an angle that measures more than 90 degrees but less than 180 degrees |
| perpendicular lines | line segments that intersect at an angle of 90 degrees |
| parallel lines | line segments that never intersect and are always the same distance apart |
| line of symmetry | the line that splits a figure in half, creating two sides that are mirror images of each other |
| right triangle | a triangle that has a right (90 degree) interior angle |
| isosceles triangle | a triangle with two sides that are the same length and two equal internal angles |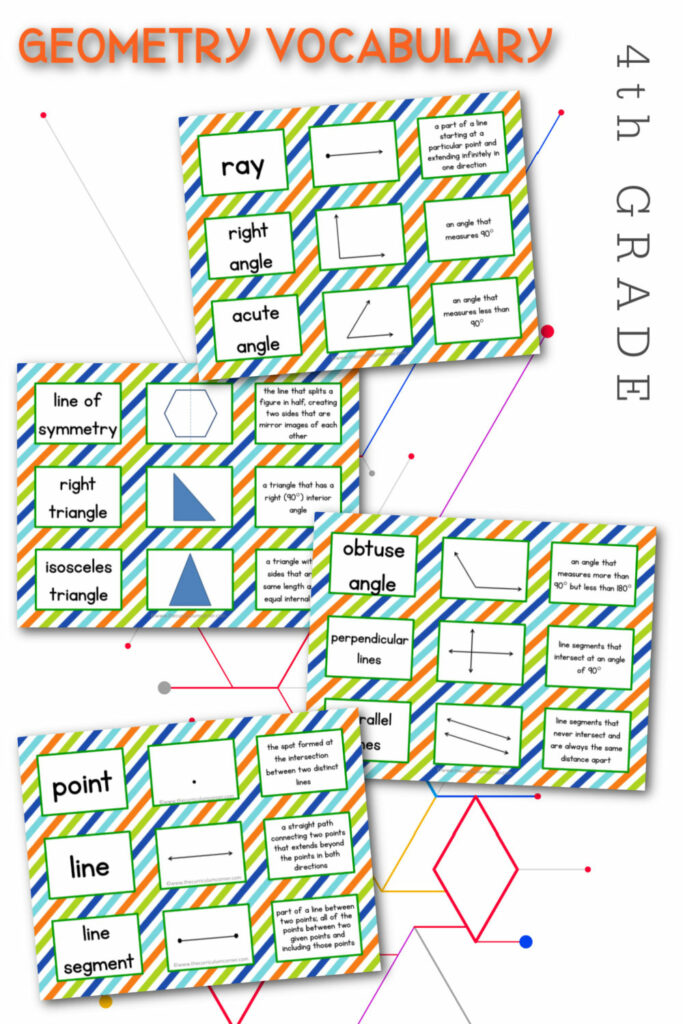 About these cards
This set of cards contains all of the geometry related words for 4th grade geometry.
These geometry vocabulary cards were creating using the CCSS. All geometry words covered in the standards are included in these matching cards. There is a picture, word and definition card for each one.
After introducing the terms during math class, these cards can be used at a center to help students practice their vocabulary.
You can place them in a basket and have them sort on the floor. Or, place them in a pocket chart where children can sort and display the cards.
You can download this geometry set here:
As with all of our resources, The Curriculum Corner creates these for free classroom use. Our products may not be sold. You may print and copy for your personal classroom use. These are also great for home school families!
You may not modify and resell in any form. Please let us know if you have any questions.