COPYRIGHT INFORMATION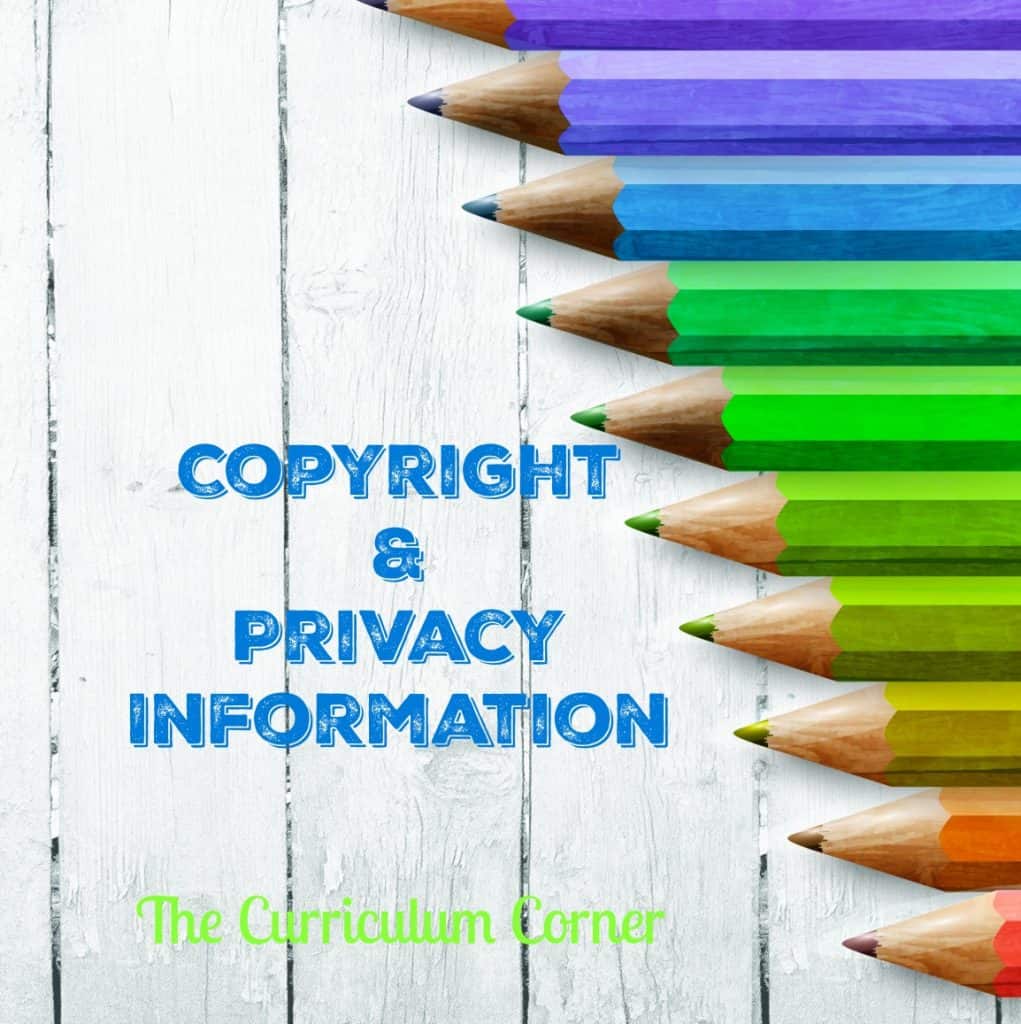 The goal of The Curriculum Corner is to provide free resources for teachers. In order to do so, the protection of our materials is very important to us.
This website and its content is copyright of The Curriculum Corner- ©www.thecurriculumcorner.com 2016. All rights reserved.
Any redistribution or reproduction of part or all of the contents in any form is prohibited other than the following:
you may print or download to a local hard disk extracts for your personal and non-commercial use only
you may copy the materials for use within your classroom or the classrooms of your teammates and school
You may not, except with our express written permission, distribute or commercially exploit the content. Nor may you transmit it or store it in any other website or other form of electronic retrieval system.
PRIVACY POLICY The Curriculum Corner believes in keeping your personal information confidential. Below you will find what information we collect and how it is used and shared.
Information We Collect: The Curriculum Corner collects very little information from users who post comments on our site. We ask for a name (either real or alias), personal website (if desired), and an email address. This information will not be distributed to others.
Cookies / IP Address Tracking: The Curriculum Corner uses cookies to uniquely identify users for the purpose of log files and the posting of comments. No personal information is stored in these cookies and it is simply a way to identify your computer.
Sharing Information with Other: None of your information will be shared with third parties. The Curriculum Corner will only use your email to contact you if a request to your comment is needed. Your name (real or alias) and website (if provided) will be displayed on the site if you post a comment. Your email address will not be shared.
Opting Out: The Curriculum Corner provides a free newsletter available to subscribers. To opt into the newsletter, you will share your email address. You may unsubscribe at any time. These emails are never shared with others outside of The Curriculum Corner.
Third Party Advertising
The Curriculum Corner allows third-party companies to serve ads and/or collect certain anonymous information when you visit our web site. This is done to keep all of our resources free as opposed to charging for materials. These companies may use non-personally identifiable information (for example, click stream information, browser type, time and date, subject of advertisements clicked or scrolled over) during your visits to this and other sites in order to provide advertisements about goods and services likely to be of greater interest to you. These companies typically use a cookie or third party web beacon to collect this information. To learn additional information about this behavioral advertising or to opt-out of this type of advertising, please visit networkadvertising.org.