Students can create their own ancient Greece magic folder to share their learning using this project.
This Ancient Greece Magic Folder project has been designed to help your students practice reading and research skills.
This is another free resource for teachers and homeschool families from The Curriculum Corner.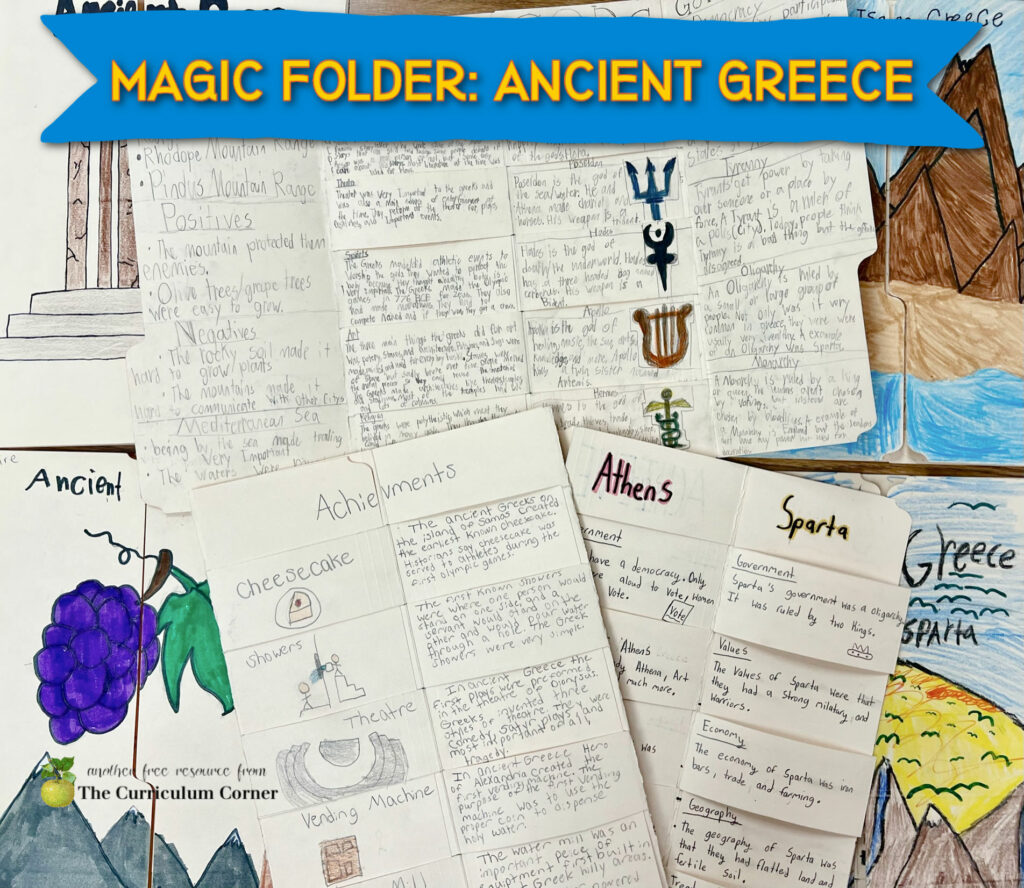 Studying Ancient Greece
Since this is my first year teaching sixth grade, I have been learning right along with my students. It has been years since I took time to study ancient civilizations.
I have spent many nights reading and learning and then creating resources that fit what I have learned.
It has been a challenge to narrow down the most important aspects but I am getting there!
I am so excited about how this project I am sharing today turned out. I spent an afternoon working with Brittany, another sixth grade teacher, and we brainstormed to come up with the format and ideas. I'll share our plans below.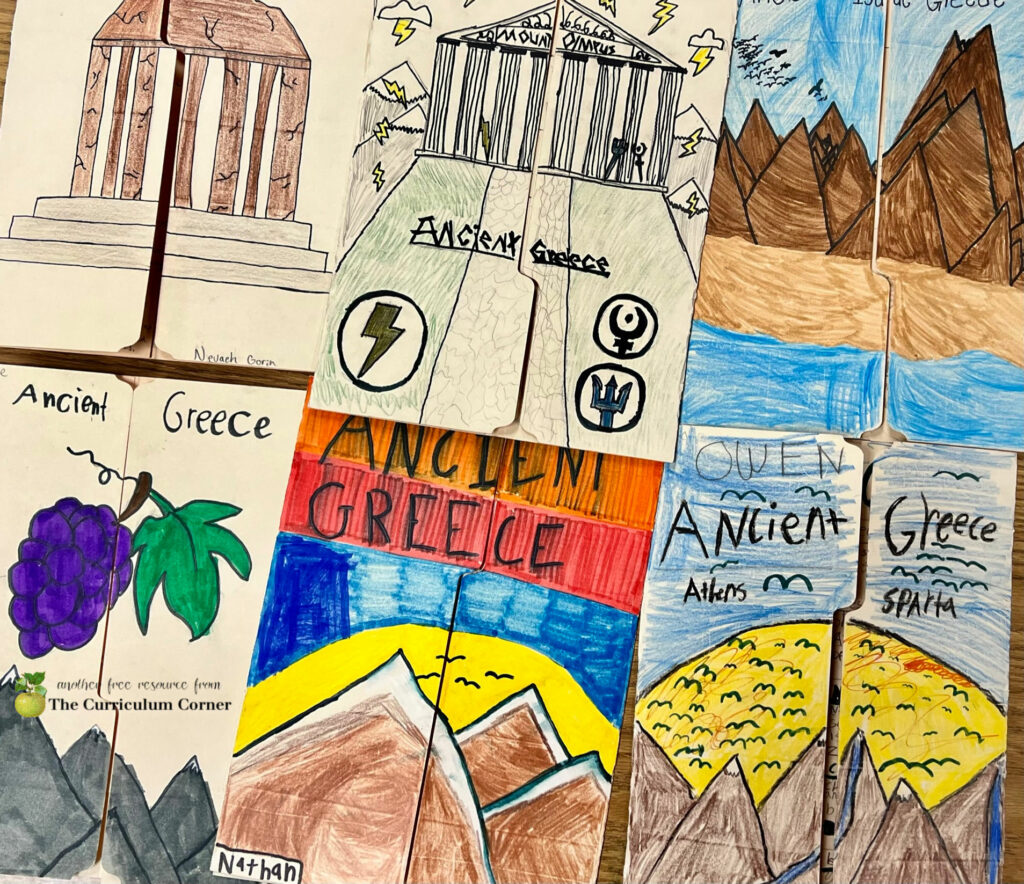 Creating a Magic Folder
First of all, you will need to know how to help students create their folders.
A teacher in my building shared the following video he made:
He used large construction paper but I used manilla file folders instead. These were nice and sturdy but also more expensive.
How to make a magic folder video by Mr. Spidel
My initial plan was to have the students make their own folders. It would have been a good measurement activity. It also would have required them to pay close attention to detail.
However, I ran out of time. I wanted to complete the projects for our family showcase night. I knew if we spent the time to create the folders, we wouldn't be close to done.
So, I made the folders and have plans to start earlier next year.
The Rough Draft
The first step was for students to create the rough draft. This involved pulling together all of our previous learning plus researching more.
I felt like the work was hard but engaging. It was good research practice for the students.
When I introduced the project, I went over the outline with them. For each section, I shared my requirements.
In some sections, I said that students could bullet point their responses. In other spots, I required two complete sentences.
Students took notes as we went through it, so they knew what was needed for the final project.
Along with the pages for the rough draft, you will find pages students can use when learning and researching. These pages have the design on the outside border. I used some but not all of these in my classroom.
Research Skills
One thing I observed over and over was a lack of knowledge about completing an internet search.
Students would type in their question in the search bar. They would then scroll through the responses to find their answer, never opening the actual article to read and find the facts.
Many times students would find the correct answer. On other occasions, the summary provided would group wording together inaccurately. So, something they would record as a fact, was not at all true.
I tried to catch them as we did this and shared examples when students would record incorrect facts because they did not open and read the article.
This has not stuck yet – one thing I am thinking over is how to create a study where we practice this.
Final Copy
Once students completed their rough draft, they were able to start on their final project.
I encouraged students to work slowly and carefully so that others could read their work.
I had been struggling with the getting students to slow down and put their full effort into work. We talked a lot about the audience – their families.
I couldn't believe how the students stepped up to the challenge. The end products were amazing. Other teachers stopped in to see and my classes saw that their hard work and effort really paid off.
You can download these free materials by clicking on the apples below:

As with all of our resources, The Curriculum Corner creates these for free classroom use. Our products may not be sold. You may print and copy for your personal classroom use. These are also great for home school families!
You may not modify and resell in any form. Please let us know if you have any questions.