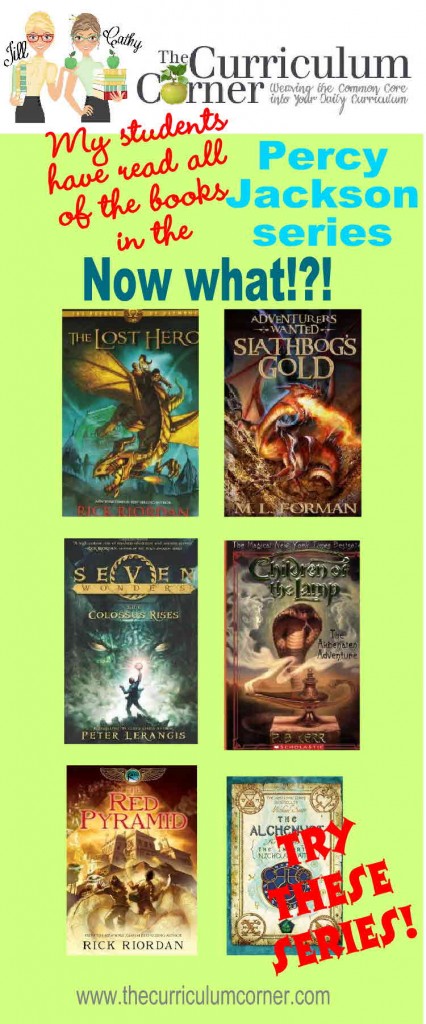 My son, Grant, loves to read but it takes some work to find those just-right books for him.  He has to REALLY want to read a book to get started.  For this reason, series are great for him.  I was thrilled when he finally gave in and read the Percy Jackson series.  However, he chose to tackle this stack of books during our extended winter break last year and was finished in a week!  Yikes!  We were already in need of new books.  To help out other teachers and moms struggling to find those next books, I put together this list.  Hope it saves you some time!
1.  Heroes of Olympus  This was an easy next step!  These books are written by Rick Riordan (same author as Percy Jackson) and Percy even makes some appearances.  There are 4 books out right now with another one being released in the fall.  The first book in this series is titled The Lost Hero.
2.  The Kane Chronicles  Again, this series is written by Rick Riordan.  It is a set of three books that will keep your reader engaged for a little longer.
3.  Seven Wonders  A series that again brings in mythology and action.
4.  Adventurers Wanted  Time travel and mythical creatures come together in this action packed series.
5.  Children of the Lamp  This series of 7 books kept Grant engaged from beginning to end!  The main characters are genies who travel to amazing places.
6.  The Secrets of the Immortal Nicholas Flamel  A fantasy series full of action!