Use this chapter book notes as a resource to help your readers.
This chapter book notes download is designed to help your students work on reading longer books.
You will find this resource helpful for your intermediate students.
This is another free resource for teachers and homeschool families from The Curriculum Corner.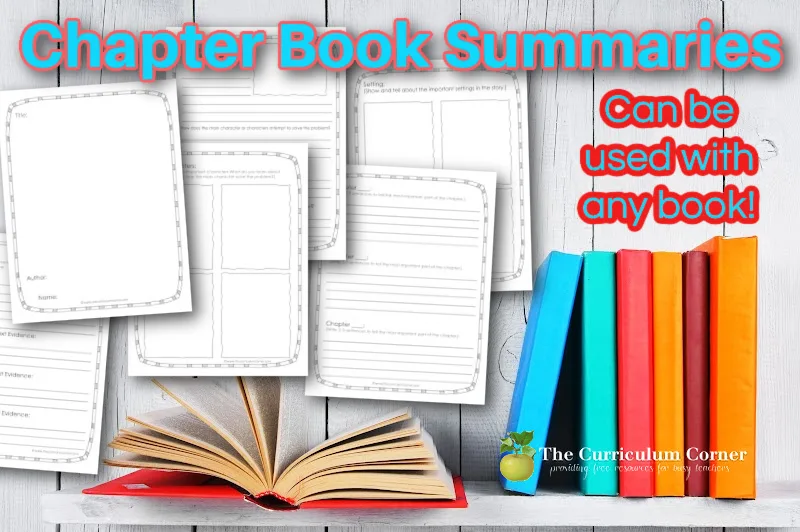 Reading Longer Books
This past year, I found that my students really struggled with reading longer books. When we read short stories, they were engaged and many times enjoyed the story. However, getting them to find and finish a chapter book was a challenge. I needed to find a way to help them track their reading each day. This was important because I found that they were not often engaged in their reading and then not remembering what had happened.
I wanted something simple and quick. I did not want students writing a page each day they read.
I created this resource and worked with students to understand the expectations.
They were given 15 spots when I copied the booklet. I had them break their book into 15 different days of reading. They put the chapter numbers in each spot when we did this.
(You can also choose to copy enough pages so that students have one spot for each chapter. Some of my students had books that had two or three page chapters so I didn't want them to write a summary for such a small amount of reading.)
After independent reading, I gave students five minutes to write. They were to record the most important even that happened in their reading. We practiced this with the current class read aloud so they understood what was expected.
As they worked through their books, they filled in the first pages on setting, characters, and other parts of the story.
This helped keep most of my students on track. Because I was not expecting a great deal of writing about the reading, they were not overwhelmed with the task each day.
You can download this free booklet by clicking on the green apples below:

As with all of our resources, The Curriculum Corner creates these for free classroom use. Our products may not be sold. You may print and copy for your personal classroom use. These are also great for home school families!
You may not modify and resell in any form. Please let us know if you have any questions.