These free figurative language cards will give your students practice identifying and sorting.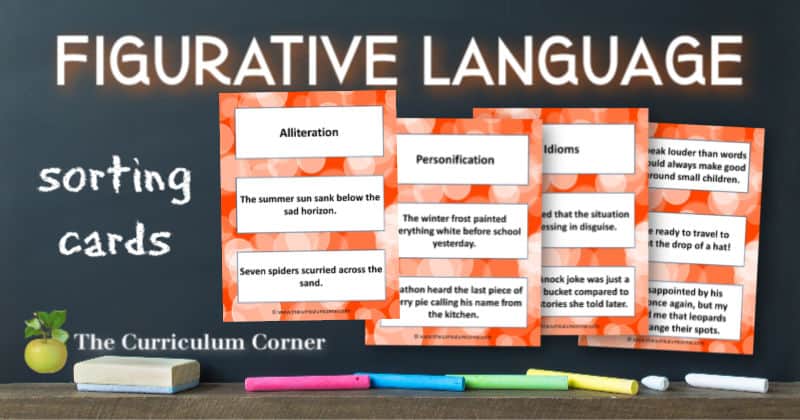 This is another free resource for teachers from The Curriculum Corner.
Help children begin to understand and use figurative language with these sorting cards for your classroom.
These cards will help students who have been taught the skill. These will not be a teaching tool.
What is figurative language?
Figurative language is when you use words in a way that differs from their literal meaning. In writing, figurative language can add interest to what you create.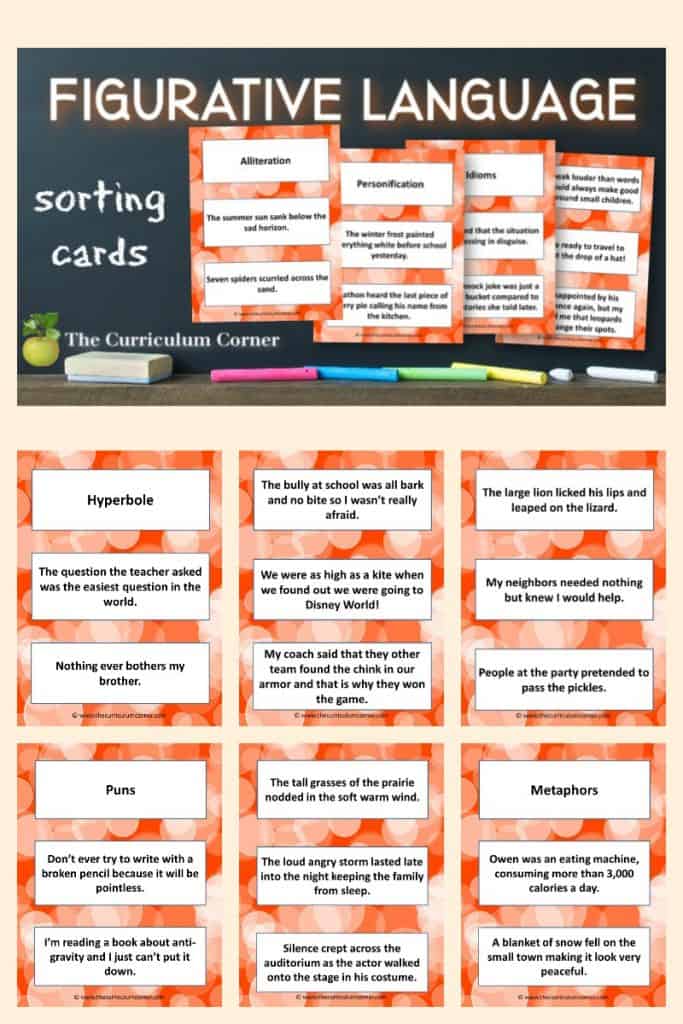 Categories Included
alliteration
hyperbole
idioms
metaphors
onomatopoeia
oxymoron
personification
puns
similes
Each set of cards contains a title card. You will then find 14 examples on the accompanying cards.
Creating your Cards
Print on card stock
Laminate the cards for durability
Cut apart
Attach magnets on the back for sorting on a board
Using your Figurative Language Example Cards
Use these cards individually to go with specific mini-lessons. Or, have students sort the cards to see if they understand all of the concepts after teaching.  
To get students up and moving, place the title cards around the room and give each student a card.  Their job will be to go stand near the sign that describes the example on their card.  Check them together once all students have a spot by having students read them aloud.
To extend the learning, have students keep track of phrases they find in their own reading.
Even better, encourage writers to add figurative language to their current writing project.
We have also provided a blank page of cards with each set in case you would like to write your own examples or have students write them.
As an extension at a literacy center, encourage students to add their own to each collection.
Download these free figurative language sorting cards here:
You might also like this other free resource from The Curriculum Corner
Figurative Language PowerPoint
As with all of our resources, The Curriculum Corner creates these for free classroom use. Our products may not be sold. You may print and copy for your personal classroom use. These are also great for home school families!
You may not modify and resell in any form. Please let us know if you have any questions.