These Super Summer Language Arts Centers for intermediate classrooms are designed for summer themed reading practice in fourth and fifth grade classrooms.
These summer intermediate language arts centers will provide students with a fun way to practice a range of reading skills.
These summer intermediate language arts centers will fit into your 3rd, 4th and 5th grade classrooms
This is another free resource for teachers and homeschool families from The Curriculum Corner.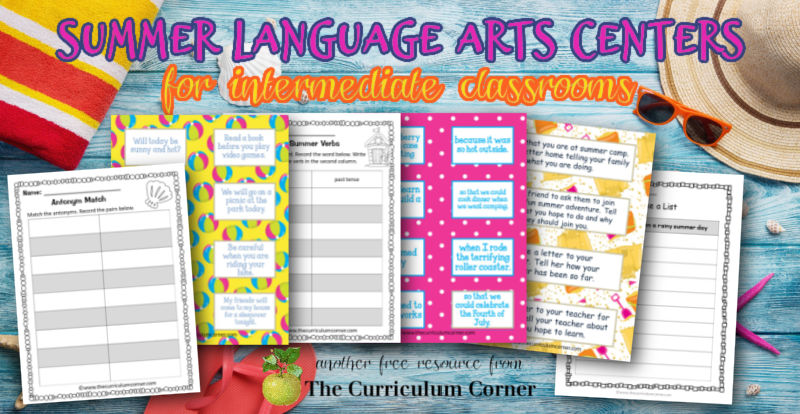 Heading towards summer!
As we are approaching summer, we know teachers are looking for new centers to help keep their students engaged.
Use these summer literacy centers when you need to pull together an engaging center for your students that meet standards.
This collection covers a range of standards. Hopefully you will find some great centers that will meet the needs of your students.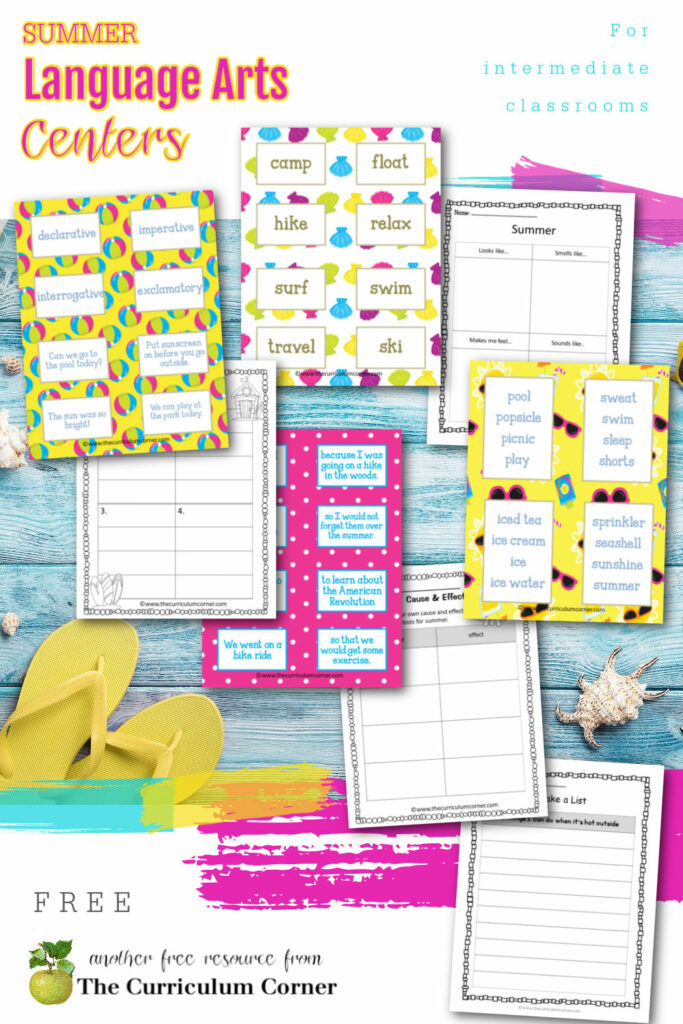 This summer language arts centers collection:
Antonym Match Students match the antonym cards – you can use these as a simple sort or as a matching game. There is also a recording page.
Sentence Sort Students sort the summer sentences into the correct category depending on the type of sentence.
Summer Phrases We have provided four different sentences. Students choose one, record the sentence and draw a picture to show what they visualize.
ABC Order Practice This center gives students practice alphabetizing up to the third letter. Includes two recording pages for you to choose from.
Past Tense Verbs Students record the verb and then write the past tense of each verb.
Cause and Effect Students match the cause and effect cards. As an extension, students can write their own cause and effect sentences on the recording page.
Be an Author Encourage students to focus on word usage. Children choose a sentence card and then expand the sentence by adding adjectives, more exciting verbs and anything else to make the sentence easier to visualize.
Friendly Letter Writing Students choose a letter prompt and write a friendly letter. We have included lined paper that can be used if desired or have students write in their journal.
Make a List These simple brainstorming activities are provided with four different topics.
Spring Thoughts Students complete this spring page with what spring means to them.
Make a Word Wall Students word in groups to make personal word walls with creative winter words.
You can download this complete set of centers here:
You will find our Summer Math Centers for Intermediate Grades Here: Super Summer Math
You might also be interested in our Splash Into Summer Centers found on our 123 site.
As with all of our resources, The Curriculum Corner creates these for free classroom use. Our products may not be sold. You may print and copy for your personal classroom use. These are also great for home school families!
You may not modify and resell in any form. Please let us know if you have any questions.
You may not modify and resell in any form. Please let us know if you have any questions.