Practice the vocabulary of ancient Greece with this download for your 6th grade classroom.
This free set of vocabulary of ancient Greece will help introduce your students to words associated with the study of Greece.
This is another free resource for teachers and homeschool families from The Curriculum Corner.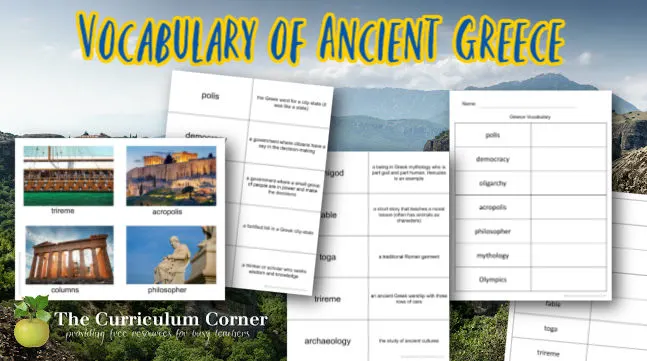 Vocabulary walk
In my room, I began by printing the vocabulary words and definitions on bright cardstock. I then laminated the pages and cut them apart.
I taped the words around the room. Next, I handed out the definition and picture cards to students.
Students had to work together to figure out which definitions went with which words. I did not allow them to use their ipads or other resources.
As students worked, I checked their matches. I did not point out which words were matched incorrectly but did give clues like there are four words that need changed.
When students talked, they did a good job of figuring out the correct matches.
It ended up being an activity I will repeat in the future. When they were finished, we talked about each word and the meaning. I explained words they were unsure of.
As a follow up, I gave students the page containing the words. They were able to use the vocabulary cards but were encouraged to write the meaning in their own words and to add pictures.
The following vocabulary words are included:
polis
democracy
oligarchy
acropolis
philosopher
mythology
Olympics
tyrant
polytheism
column
demigod
fable
toga
trireme
archaeology
You can download this set by clicking on the green apples below:

As with all of our resources, The Curriculum Corner creates these for free classroom use. Our products may not be sold. You may print and copy for your personal classroom use. These are also great for home school families!
You may not modify and resell in any form. Please let us know if you have any questions.