These 100th day of school activities will help you plan your 100s day celebration in the classroom.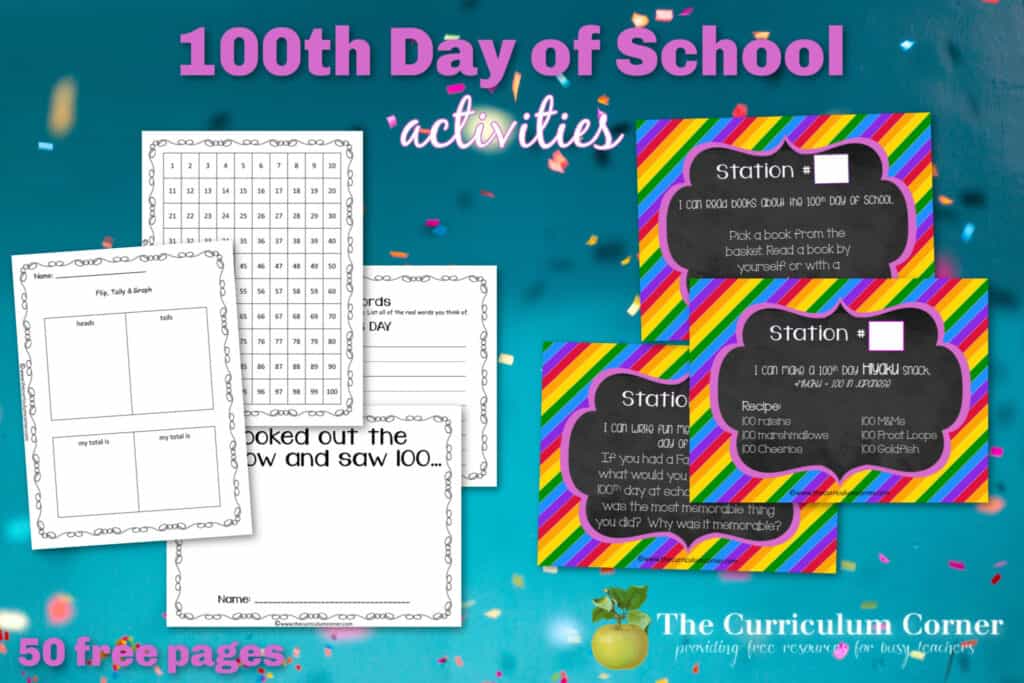 This is another free resource for teachers and families from The Curriculum Corner.
Our collection of 100th day of school activities is designed to make your planning easy.
We hope these 100 day of school ideas make your planning easier!
What is the 100th Day of School Celebration?
If you are new to teaching you might be wondering why everyone is making a big deal about the 100th day of school.
Many times teachers ask us when the 100th day of school is. Because all schools start on different days, this is one we can't help you with.
The 100th day makes for a great classroom celebration because it gives teachers the opportunity to review many math skills that have been taught throughout the year.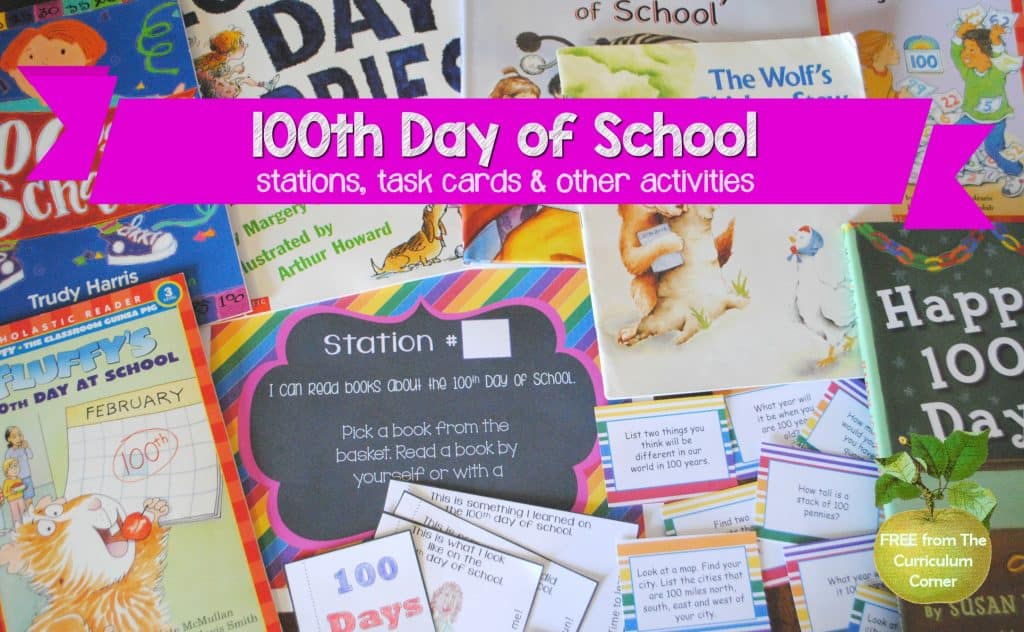 Setting Up Your 100th Day of School
You can create centers for students to rotate through on the 100th day or do the activities as a class or in small groups all at the same time.
If you choose to do centers, we have created signs you can post at each one.
All you need to do is fill in the number of the center in the white box on the sign.
100th Day Costume
Before your 100th Day celebration tell your students that they can come to school in a 100th Day costume if they wish.
To do this, all they need to do is attach 100 of the same object to a shirt and/or pants in some way.
Reminder: before giving this as an assignment, make sure it is something students have support for at home. This might be a financial or time strain on some families.
If this is an activity you choose to do, maybe have a couple of extra white t-shirts available for students who might be in need of one.
Flip a Coin a Hundred Times
For this center, your students will flip a coin 100 times. They will then record the results (heads or tails) of those flips using tally marks on the page provided.
Once they have finished, they will total their tally marks, add the totals (to be sure there have been a hundred flips) and then graph the results by coloring in a graph.
We have created two graphs – one with increments of 5 and one with increments of ten. You can choose the one you wish your students to use or provide both and let students choose.
100 is a Lot!
This is a popular poem by Meish Goldfish.
One way to use the poem in your classroom is to have students read it and fill it in with rhyming words they think fit the poem.
They can do this individually, at centers with small groups or you can do it as a class.
Once the page with blanks is completely filled in, read the original poem and compare the rhyming words the author used with the ones the students chose.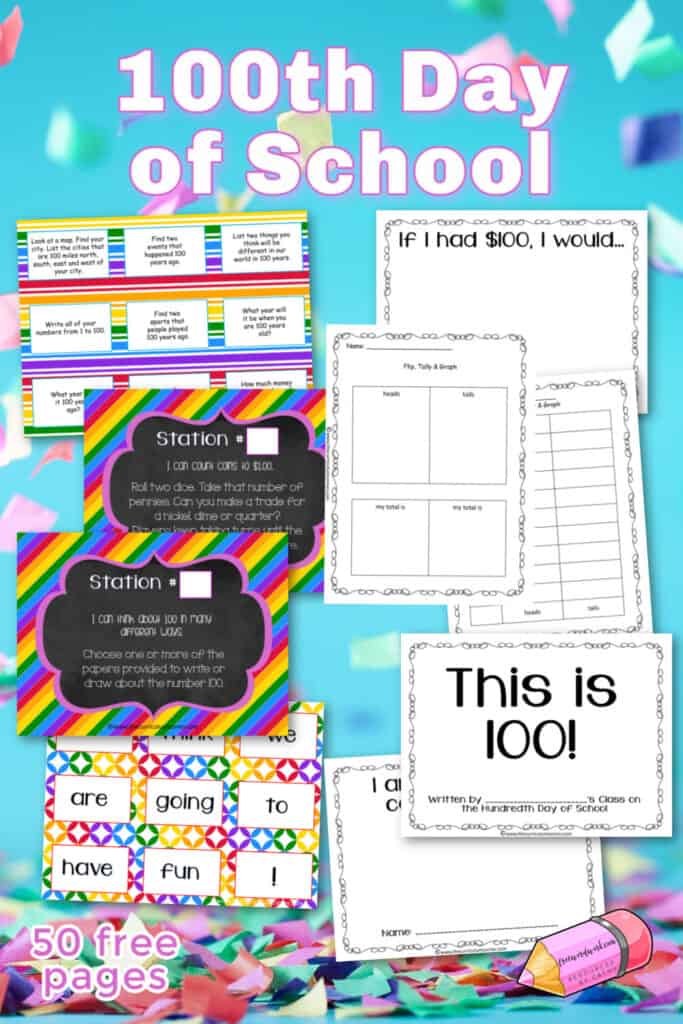 Counting Coins to One Dollar
This activity is a way for students to practice counting and trading coins up to $1.00 as well as reinforcing the concept that 100 pennies equals one dollar.
Students simply roll dice, take that number of pennies and trade for nickels, dimes and quarters as they are able.
The first student to reach $1.00 (100 pennies) is the winner.
Hiyaku (he-ah-koo; 100 in Japanese) Snack
This is a fun way for your students to learn how to say the number 100 in a different language and also make a fun 100th day snack!
For this activity, copy and laminate the 100s chart provided.
Students will follow the recipe on the station card to place small snack items on their charts.
Once they have filled their chart with one of the items they can carefully slide the snacks off the paper into a bowl or baggie.
(We have created one station card with a recipe already provided and another with a blank box for you to write in your own recipe depending upon what is donated or you are able to purchase. Some suggestions are Cheerios, Goldfish crackers, M&Ms or chocolate chips, fruit cereal, raisins, or Cheez-It crackers. You could also use small pretzel sticks and have students create "tally marks" with them to reach 100.)
Once they have all their "hundreds" in the baggie they can enjoy their Hiyaku snack!
Disguising 100
We found this artistic idea online.
Students use their creativity to transform the number 100 into something different simply by drawing and adding details.
This is 100! Book
There are two ways this book can be done.
The first is for students to gather 100 items from somewhere in the classroom (paper clips, Legos, pattern blocks, crayons, etc).
Once they gather the items they will take digital pictures and then you can put them into a class book.
Another way to complete this book is for students to think of an item and then actually draw 100 of that item on their page.
Gather all the pages once students are finished and put them into a class book. (You could also choose to do a mixture of drawings and digital pictures if you wish.)
We have provided a book cover and blank page for drawings.
Get Active for 100 Seconds
This center is to help your students grasp an understanding of what 100 seconds feels like and also to work some additional movement into their day.
You will need a few stopwatches and be ready for some controlled chaos!
At this center students time each other doing various physical activities for 100 seconds.
You can add some small balls, hand weights or other props to make this center more fun if you want.
Reflective Writing/Drawing Pages
These pages are open-ended in nature and are intended to get students thinking, drawing and/or writing.
You can copy several of each of them and have students choose the one(s) they would like to complete.
Here are the included topics:
This will be me at 100 Years Old…
I wish I had 100…
If I had $100 I would…
I am so hungry I could eat 100…
I looked out the window and saw 100…
This is What 100 Looks Like? Discovery Center
This is meant serve as a discovery center.
You will need several types of materials for students to work with and/or count out as well as several different types of containers and measuring devices.
Students can work to count out 100 drops of water, 100 teaspoons of sand, 100 cotton balls, 100 pounds of books, 100 ounces of water, etc.
For this center you don't want to necessarily direct them to carry out specific tasks with the materials you provide, but let them come up with tasks of their own.
Did your students love the above activity? Try this!
Have students take digital pictures of the tasks they create to show 100.
Print out the pictures, use the book cover (from the above "This is 100!" center) and create another class book from the pictures they took.
What Can You Build With 100 Legos?
This simple center will be wonderful for your kinesthetic students!
Bring in or borrow a large amount of Lego blocks.
The students task is to count out 100 Legos and build something to display for a 100th Day Lego Museum.
(You might also want to place 100s charts at this center to help them count out their hundred Legos before they begin building.)
100 Thing Sort
Gather 100 random items in a box and have groups work together to determine some way to sort them.
They can record their categories and you can discuss all the ways the groups sorted them when you come together for a class community circle.

100 Days Flip Book
Students cut out the pages and staple them to create a 100 Days memory flip book.
Writing 100 Words
Students will be amazed that they actually know how to write 100 different words on these pages!
Making Words
Students use the words in "HUNDREDS DAY" to create new words.
We have provided strips of letters you can cut out and then the students can cut them apart if they need or want to.
Facebook Posts
Students can write pretend Facebook posts about their 100th day at school.
Basket of 100th Day Books
As always, an easy and engaging center is to gather a collection of books surrounding the theme or topic of your teaching and let students spend some time independently reading.
We have created two simple reading response pages (one for informational text and one for literature).
Additional Class Activities for the 100th Day of School:
100th Day Task Cards
These task cards can be used in many ways.
They contain activities, inquiries or thought provoking questions for your students to attempt to do or answer.
We have also provided a blank template with the same background so that you can create or add your own 100th day tasks.

Scrambled 100th Day Sentence Word Cards
This set of five color coded sentences has each word on a card.
Students can sort them and then unscramble them to create sentences about their 100th day celebration.
We have also provided a blank template that you can print multiple copies of to create your own sentences for students to unscramble.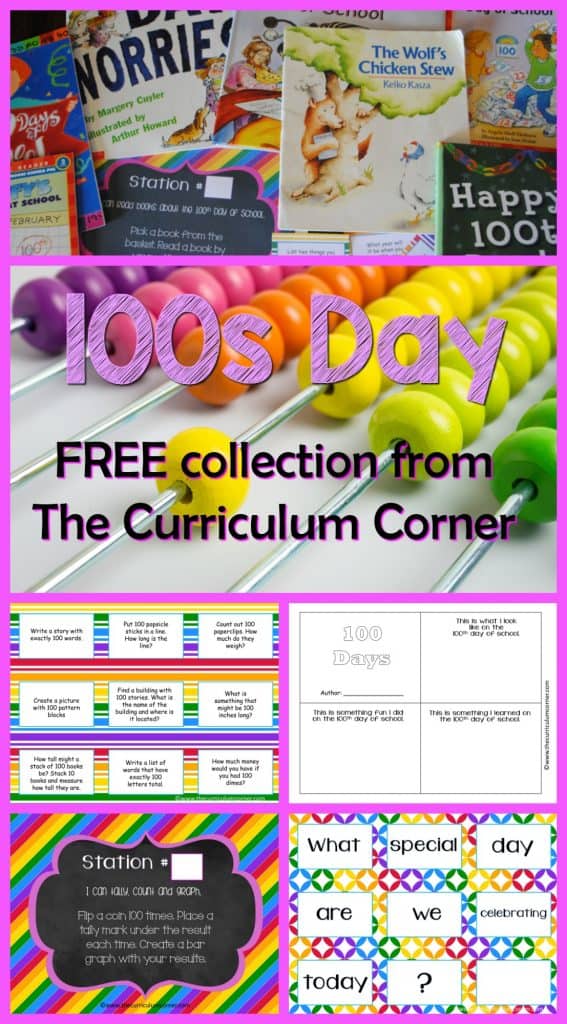 100 Pieces of Popcorn
Show students what 100 popcorn kernels look like in a small cup. Next, pop them in an air popper so that they can see what 100 popped kernels look like.
(Then of course you need to, perhaps, pop some more and enjoy a 100th day snack!)
100 Item Jars
A week before the 100th day of school, place five same-sized jars filled with different items in a spot in the classroom. Only one of the jars will have 100 items inside. The rest should have some number of items less than 100. (Some suggestions are large paper clips, candy pieces, buttons, beads, rocks, erasers, etc.)
Label the jars A, B, C, D & F.
Throughout the week students can look at these jars and try to determine which one actually has 100 items inside.
On the 100th day take a vote to see who thinks what jar actually has 100 items.
Separate your class into five groups and give each one a jar of items to count to determine which one truly has 100 items.
100 Acts of Kindness for the New Year
Challenge students to come up with 100 acts of kindness they can carry out at school in the new year.
Type up the list and enlarge it on a poster.
Each time one of the acts of kindness is carried out, place a check mark or sticker next to it on the list.
The goal is to accomplish all 100 acts of kindness before the end of the school year.
Our 100th Day Charity Event
Another idea for a challenge is to have your students brainstorm items that they can collect and donate to a special place or cause.
The idea can be simple, like canned food or more creative like new pajamas, new socks, new toiletry items like toothpaste and toothbrushes.
Once they come up with their idea and know where they can donate their items, draw a thermometer shaped graph (with tick marks to show 100) and have students color it in each time items are brought in.
They can even share their idea with the school to get donations from other classrooms.
100 Letters to 100 Heroes
One last idea to get your students thinking about helping others is to set a goal to have them write 100 letters to deployed soldiers.
You can find sites like www.amillionthanks.org and www.operationgratitude.com to give you ideas of how and where to send the letters if you don't already have something in mind.
You can download the complete collection of 100s day printables here:
Looking for other resources to add to your winter collection? Check out these freebies:
If you are looking for new books to add to your library, we've included links to a few of our favorites below. (Contains Amazon affiliate links.)
Thank you to Red Strawberry Design on Etsy for the fun, rainbow backgrounds!
As with all of our resources, The Curriculum Corner creates these for free classroom use. Our products may not be sold. You may print and copy for your personal classroom use. These are also great for home school families!
You may not modify and resell in any form. Please let us know if you have any questions.