Use this 1st grade geometry collection to help your students learn about 2D and 3D shapes.
When helping your students master 1st grade geometry, this collection for teaching 2D and 3D shapes will be helpful.
This download includes a variety of printables to help with teaching and practice.
This is another free resource for teachers and homeschool families from The Curriculum Corner.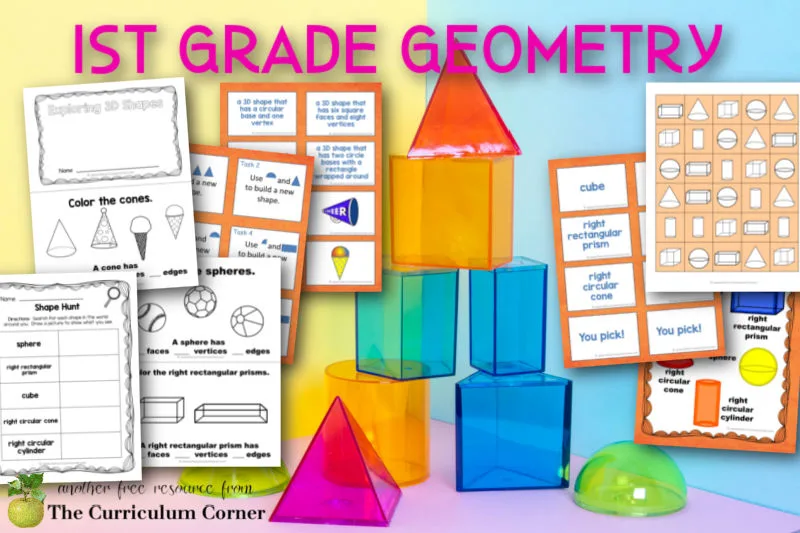 Introducing 2D & 3D Shapes
If you are looking for additional work with 2D shapes, take a look at this free collection on Plane Shapes.
Once students have been introduced to 2D shapes, you might add in 3D shapes. This collection is designed specifically for 1st grade standards.
Be sure your students have access to materials for hands-on practice. You might bring in items from home or purchase shapes to be used – or both!
(Contains an affiliate link where I earn a small commission from your purchase.)
If you are looking to purchase a set, try this natural wood shape set or these colorful wooden shapes. These 2D shapes for pattern practice are also fun for students and you can use them at a center.
It's always a good idea to let students begin by just playing with the shapes. They will want to explore and build – if you try to jump right into teaching, they might struggle with focusing. Let them play and explore first.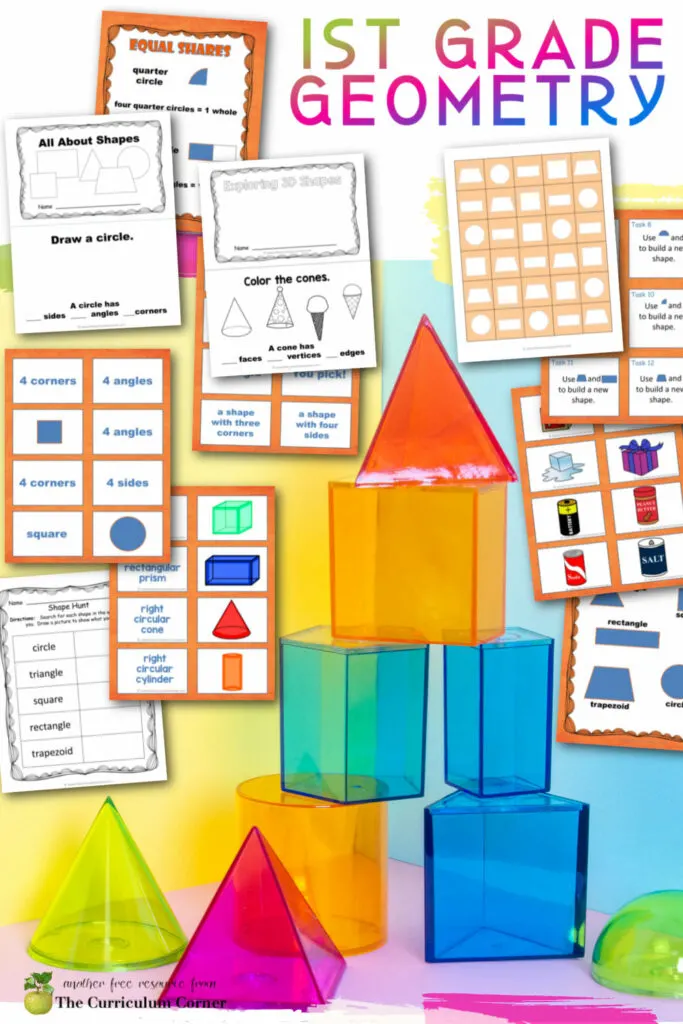 These 1st grade geometry activities:
Anchor Charts There are two anchor charts, one for 2D shapes and another for 3D shapes.
Shape Matching Cards The next seven pages contain cards for students to match definitions with shapes and examples. There are three pages for 2D shapes along with four pages for 3D shapes.
Task Cards Students will draw the shape described on each card. There are 12 task cards and a recording page. The 2D cards give students attributes and they will then draw the shape to match.
4 in a Row Game There is a 2D and a 3D version of this game. This game has a board that shows black and white shapes. Each student draws a card and then colors in a shape on the board that fits the description on the card. Whoever is able to color four in a row first is the winner. Both 2-D and 3-D versions of this game have been created.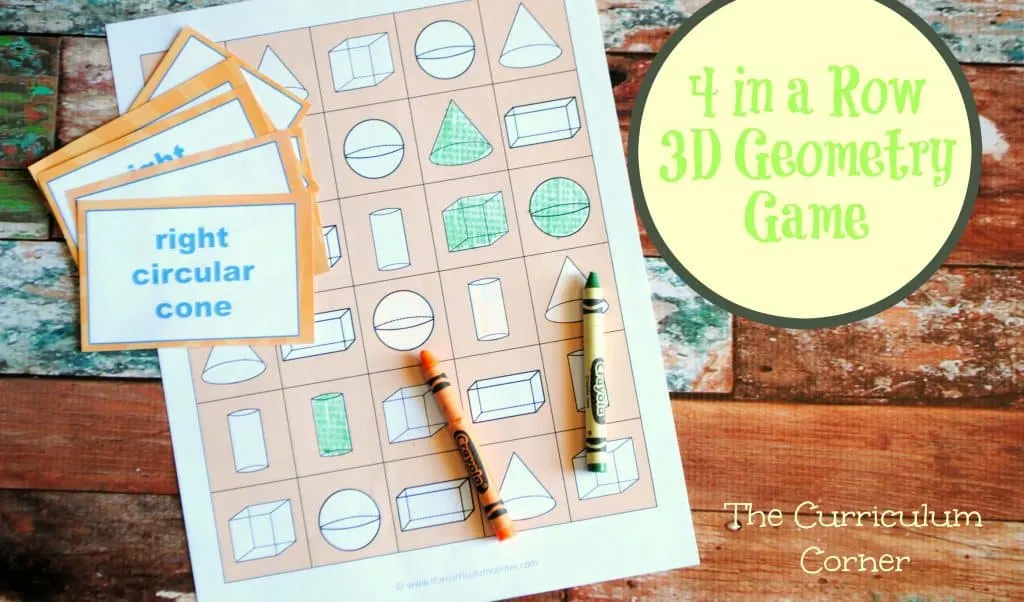 Shape Hunt Have students search the classroom for the 2D or 3D shapes listed.
All About Shapes & Exploring 3D Shapes Booklets Two different booklets so students can work on the skill they are practicing.
Building Shapes Task Cards Students follow the directions on the task cards and record their new shapes in the booklet.
Equal Shares This portion includes an anchor chart. It shows circles and rectangles divided into halves and quarters (fourths) to show equal shares. Next, you will find inserts. These inserts will help students understand the concepts equal shares with halves and quarters/fourths. Have students begin by cutting out the shapes. Then, they can glue them into their math notebooks. Finally, students will label the equal shares.
At the end of the collection, I have provided all of the printables with a white background to help you save color ink if needed.
You can download this free geometry set here:
1st Grade Geometry Standards
CCSS.MATH.CONTENT.1.G.A.1
Distinguish between defining attributes (e.g., triangles are closed and three-sided) versus non-defining attributes (e.g., color, orientation, overall size); build and draw shapes to possess defining attributes.
CCSS.MATH.CONTENT.1.G.A.2
Compose two-dimensional shapes (rectangles, squares, trapezoids, triangles, half-circles, and quarter-circles) or three-dimensional shapes (cubes, right rectangular prisms, right circular cones, and right circular cylinders) to create a composite shape, and compose new shapes from the composite shape.1
CCSS.MATH.CONTENT.1.G.A.3
Partition circles and rectangles into two and four equal shares, describe the shares using the words halves, fourths, and quarters, and use the phrases half of, fourth of, andquarter of. Describe the whole as two of, or four of the shares. Understand for these examples that decomposing into more equal shares creates smaller shares.
These books might make a good addition to your classroom library. Contain affiliate links: