Use these writing continuums for assessing writers and student writing – they are also a useful tool for tracking student progress.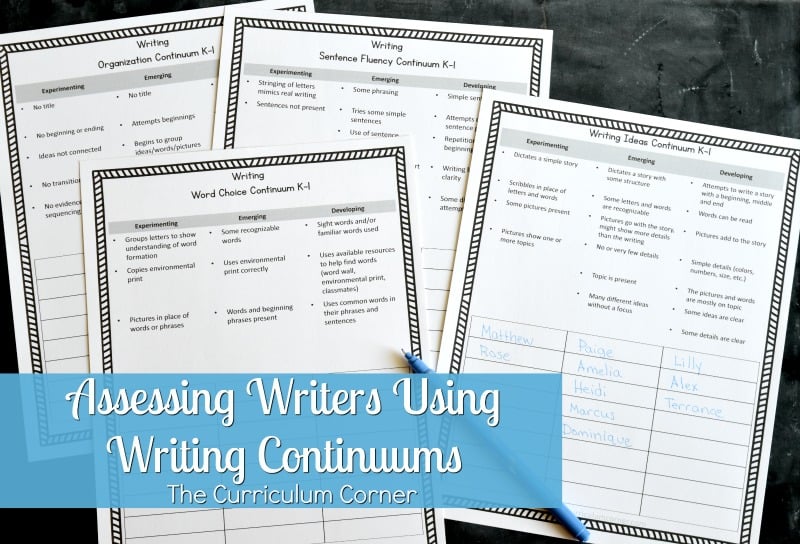 These continuums are designed to be a free resource as you are looking for tools that are helpful when assessing writers.
Teachers have to keep track of student writing progress for many reasons. Whether the data is for instruction purposes, PLC planning, RTI tracking or to provide information to parents, keeping up to date and relevant information about individual students is important.
We have created these continuums for assessing writers based on the following six traits of writing: ideas, organization, voice, word choice, sentence fluency and grammar & conventions.
Our intention for the continuums is that are used as benchmarks for the writers in your classroom.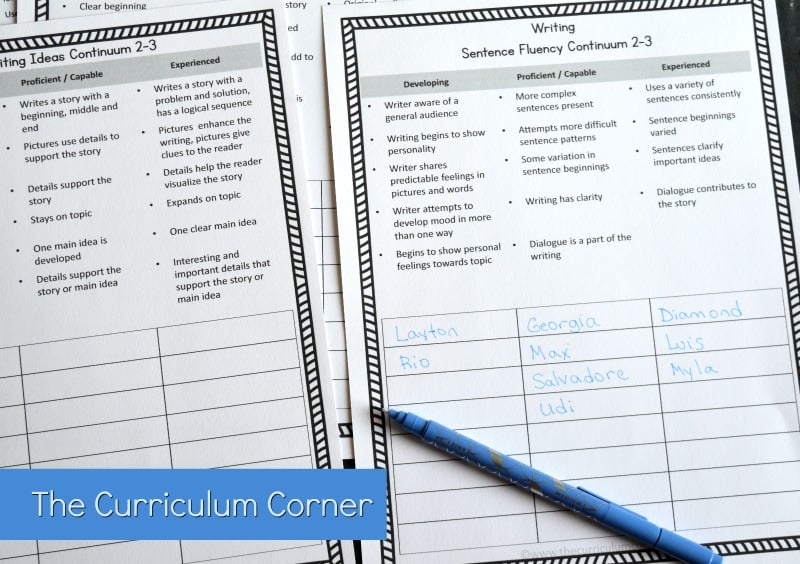 Initial Placement on the Writing Continuums
At the beginning of the year, and after students have completed a few writing samples, use the pieces to place students on one or more of the continuums (based on the data that you need to keep). Once the names of all the students in your class have been placed on the continuum in their appropriate spots you can analyze the data to gain a solid sense of where your instruction might need to start for mini-lessons, small group work and even one-on-one conferencing.
Mid-Year Placement on the Writing Continuums
We suggest you take the time to follow the same procedure at some point in the middle of your school year. That way you can see overall progress of your class and individual students for each writing trait. This information can be used to show growth (or lack of) at meetings with parents, administration and colleagues if needed. And again, it can be used to inform your overall instruction in writing.
For instance, if you see that a big proportion of your students are still weak with one of the traits, you would choose to focus on that trait a bit more within your writing units of study in the coming months.
Final Placement on the Writing Continuums
At the end of the year, use some final samples of student writing to once again place your students on the continuums. This final placement will help you to show/prove growth over time. It can be used in many ways as subjective data for a number of reasons. It can also help teachers reflect upon their own instruction and the professional development that may need to occur to address some of the weaknesses that might be present in student writing.
You can download this set of free writing continuums here:
If you are interested in learning more about writing workshop and the plan we have created for adapting to your writers, look at our post here:
Creating a Dynamic Writing Workshop.