The Chicken Chasing Queen of Lamar County Book Study –
A free literacy center set created by The Curriculum Corner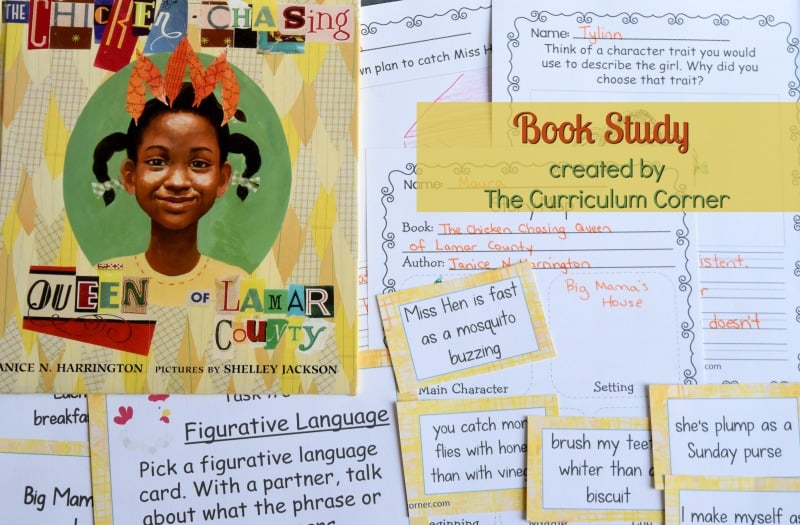 I taught at an environmental focused school for a few years. Because of this focus, we had chickens in our courtyard. The students would help take care of them and gather the eggs. Once a year, we would have a special French toast in my classroom breakfast using the eggs.
I stumbled upon the book The Chicken Chasing Queen of Lamar County by Janice N. Harrington and it quickly became a classroom favorite. The pictures, the language used and the story made it a book that children just loved. If you haven't read it yet, I highly suggest checking it out!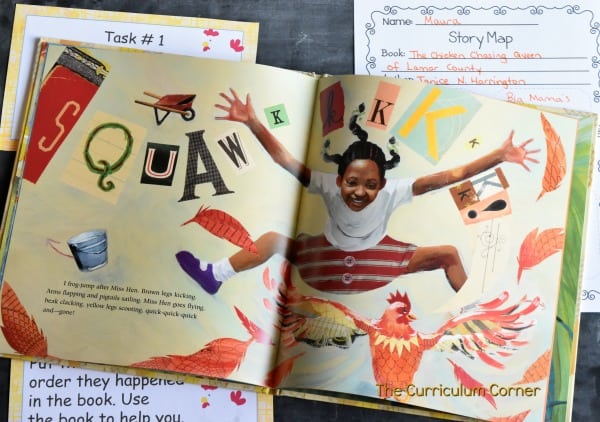 This resource is designed to accompany The Chicken Chasing Queen of Lamar County by Janice N. Harrington.
You can download the set of centers designed to go with this book at the bottom of this post. Click on the bold link.
Students will enjoy the mischievous little girl – the author does an amazing job of helping the reader become a part of the story.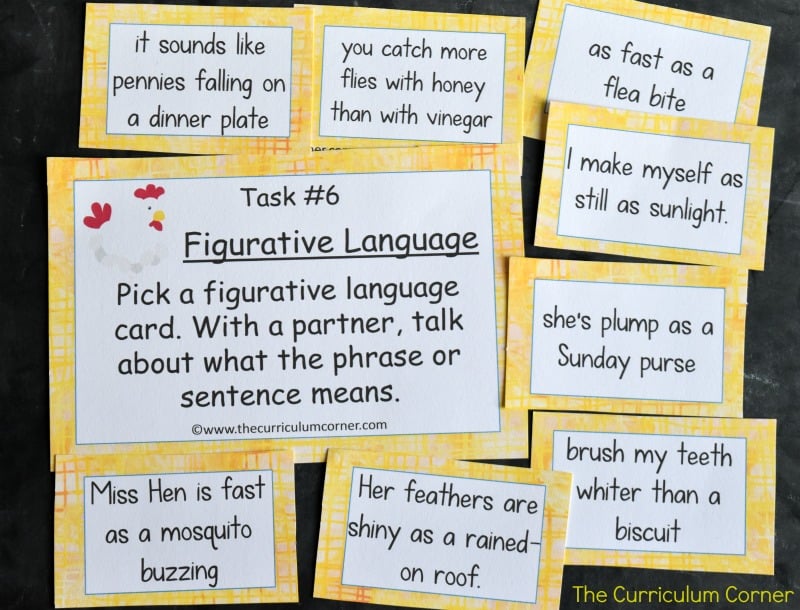 In this book, the girl loves chasing chickens. Big Mama discourages her from doing this but the girl persists. Her biggest goal is to finally catch Miss Hen. She then discovers that Miss Hen is a new mom and begins taking care of the chicks instead of chasing them.
Before using the materials provided at literacy centers, this book would make a great read aloud. A read aloud of this book will ensure students are able to understand the figurative language used throughout the book.
If you are looking to make a literacy basket for this center of a variety of books, include books on chickens.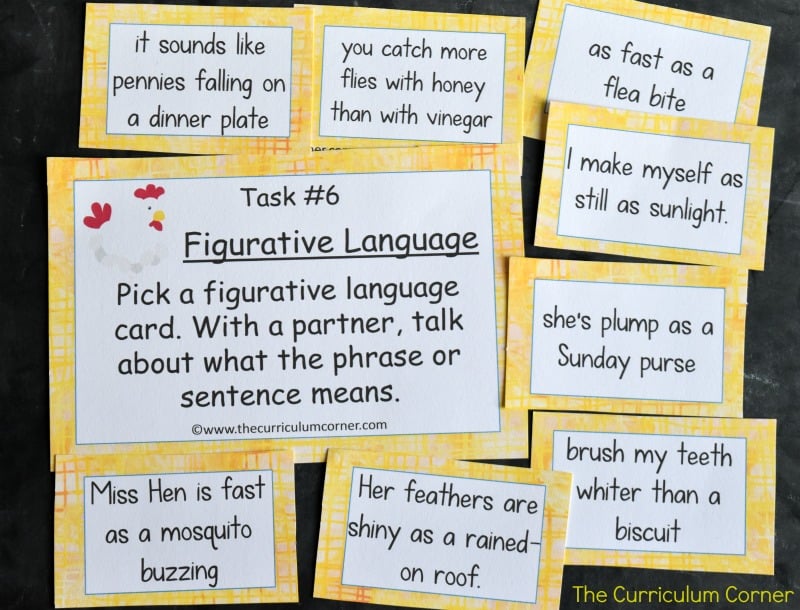 The Chicken Chasing Queen Collection
Task Cards The first part of this collection is a set of task cards. These are designed to accompany many of the printables we have created. They will be the directions you place at each center for your students to use as a reminder.
Story Maps There are two of these so you can choose which fits your students best.
Flip Book This flip book is designed to go in an interactive notebook. Students cut the outside shape and then cut on the dotted lines. They will lift the flaps and write about the main character, problem and solution under the flaps. On top they will draw a picture to show each.
Sequencing Sentences These cards have the most important events from the book. Students can use the book to help them place the events in the correct order. You might also have students use these cards for fluency work.
Figurative Language You'll find word maps for recording new words, a syllable sort recording page and a collection of 24 word cards.
Writing Prompts There are five different writing prompts along with two blank lined papers.
You can download this The Chicken Chasing Queen of Lamar County collection here:
If you are looking to purchase The Chicken Chasing Queen or other books you might add to your center, you will find the links below (contains affiliate link)