Help your students work on writing sentences with a collection of centers and worksheets.
Writing sentences is a task that can be challenging for many students.
Students can practice this skill with these materials.
This is another free resource for teachers and homeschool families from The Curriculum Corner.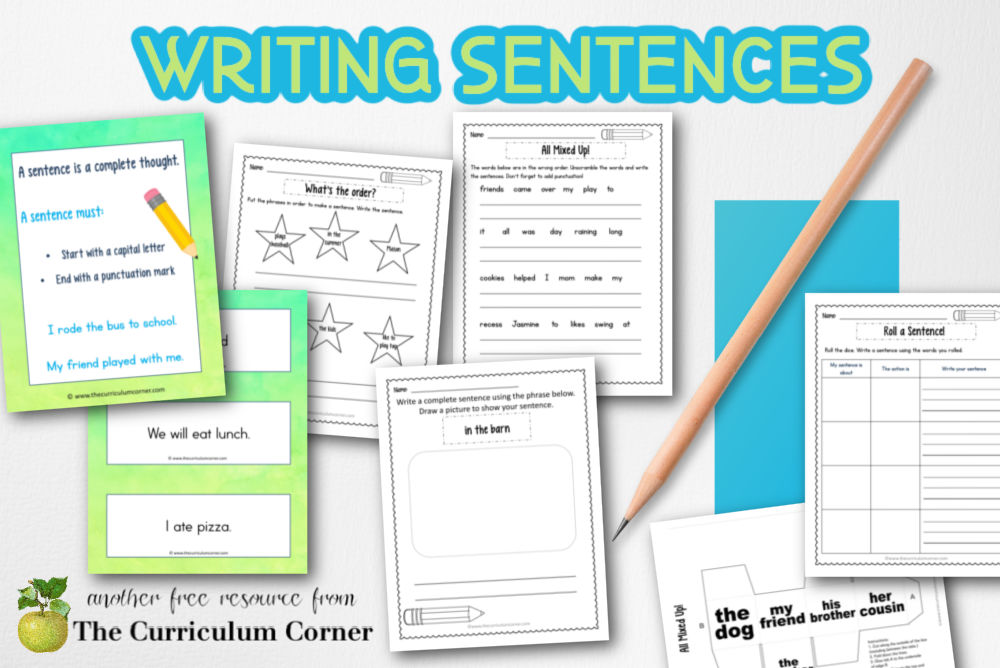 Working on writing
Use this along with your writing workshop to help your students build sentence writing skills.
We love the writing that is created during a writing workshop time. Students learn to write like real authors. So often what we see makes us think our children are well on the road to becoming published.
One thing that we struggle with during writing workshop is finding the time to give students direct instruction on sentence writing. Some students will pick this skill up through repeated exposure, but many will need more guided practice.
You can use this collection as you work with your students to write using complete sentences.
These resources might be used during small group instruction or during a writing center.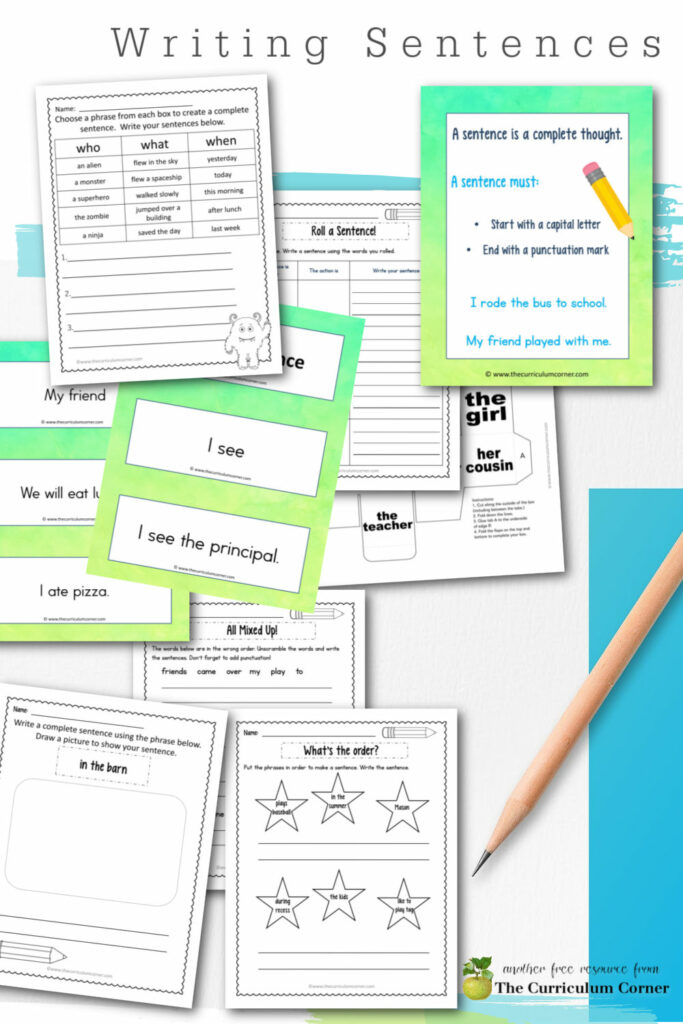 About this writing sentences collection
You will find the following materials in this download:
Anchor Chart This can be printed as a poster, a reminder at a center or displayed on your SmartBoard.
Sentence Sort Cards This sorting activity contains both complete and incomplete sentences. You can choose to use the cards that are labeled complete / incomplete or sentence / not a sentence.
A Sentence About Me! This is a good beginning page where children practice writing and illustrating a sentence about themselves.
Complete the Sentence Students start with the given phrase and turn it into a complete sentence. They will then illustrate their sentence. There are ten page choices for this.
What's the Order? Children unscramble the phrases to create complete sentences.
All Mixed Up This is another sentence scramble page.
Roll a Sentence Have children create the two dice by cutting and gluing. They will then roll the dice and record their words or phrases. Finally, children will write a sentence using what they rolled.
Who, What, When Sentences Children will choose a phrase from each category and create silly sentences.
You can download this writing collection here
As with all of our resources, The Curriculum Corner creates these for free classroom use. Our products may not be sold. You may print and copy for your personal classroom use. These are also great for home school families!
You may not modify and resell in any form. Please let us know if you have any questions.