Help children learn about and practice forming possessive nouns with this free collection of language printables.
Use these free printables and lessons to help teach your students how to form and use possessive nouns.
This is a collection of resources you can use as you are teaching students about identification and forming of possessive nouns.
This is a free resource for teachers and homeschool families from The Curriculum Corner.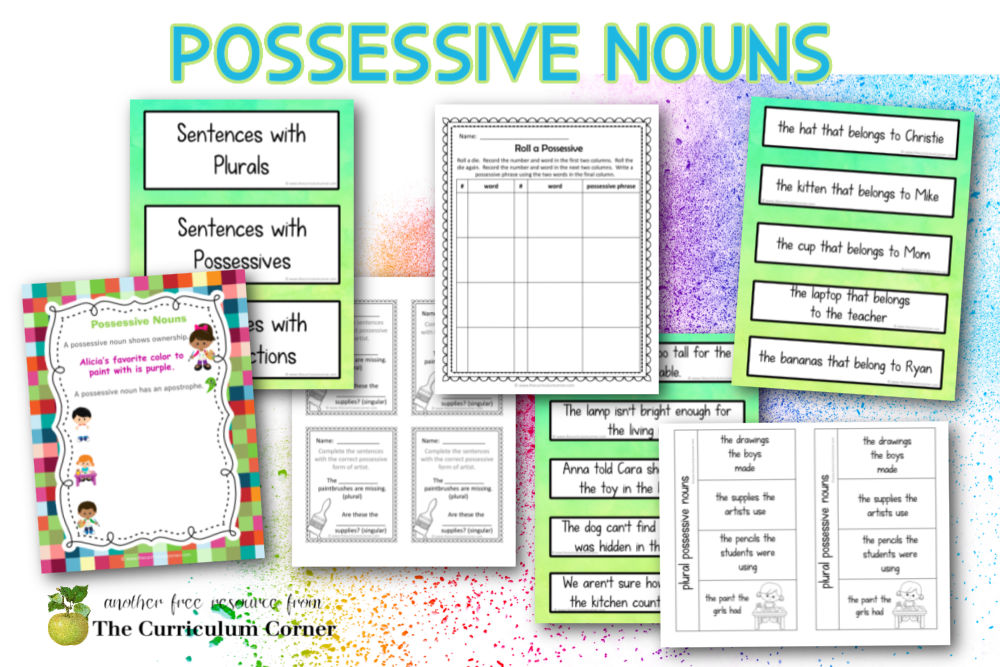 Working on possessive nouns
Helping children learn how to correctly form possessive nouns can be tricky. It often feels like once the skill is introduced, students want to add an apostrophe to all words ending in an s.
It will require lots of practice and many reminders to help this new skill stick.
What is a singular possessive noun? This is when a noun is owned by one. For example, the cat might have one bowl. It would be the cat's bowl. If the cat has two bowls, it would be the cat's bowls.
What is a plural possessive noun? This is when an object is owned by two. For example, there might be two cats that have a bowl of water to share. This would be the cats' bowl. Or, they could have one bowl of food and one of water they share. This would be the cats' bowls.
You can introduce the skill by finding examples in some favorite books in your classroom. Have children go on a search. They can find examples and non examples (these might be contractions.)
Next, have students practice forming singular possessives. List ten nouns that are objects. Then, add who the owner of each can be. They will then write the singular possessive. For example, they might say the teacher's cat or my brother's book.
After students have an understanding of singular possessive, you can work on plural possessives.
Try to find ways to weave extra practice throughout your day.
You might add an example for students to complete to your morning message or ask children to share a response during a time filler.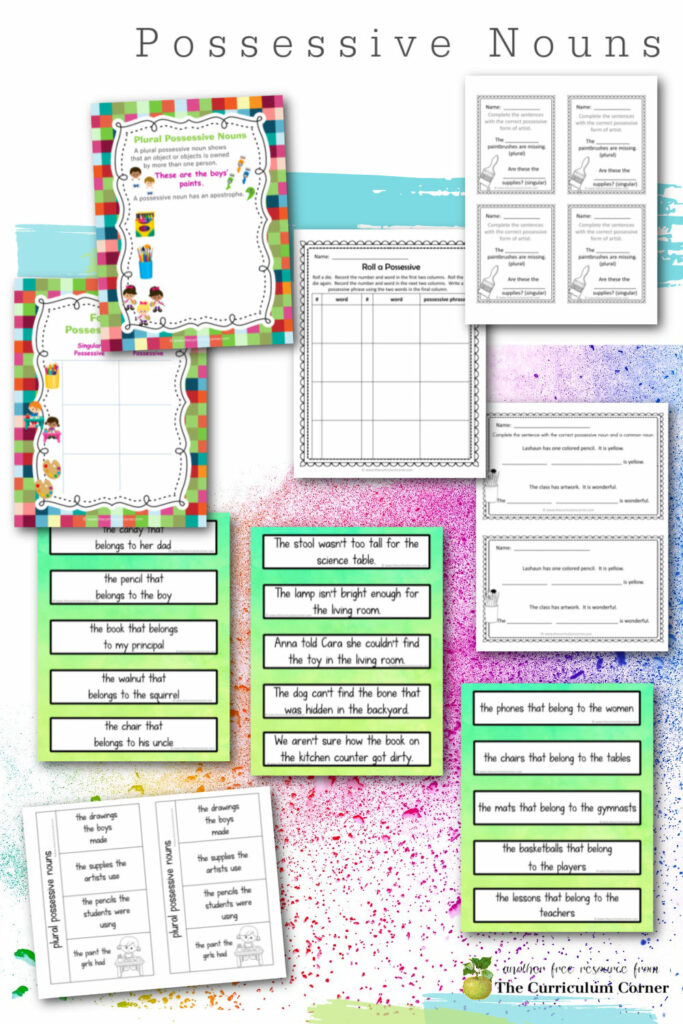 About these resources
Anchor Charts These three anchor charts can be used to help students begin practicing the skill. As a class, you will work on filling in the correct responses.
Write the Possessive Cards Pages 4 – 9 will give you cards for practice. Students will read the phrase and then write the possessive noun. Provide students with the Write the Possessives recording page – there are two to choose from.
Sentence Sort Pages 10 – 13 can be used as a sort. Students will sort the cards into sentences that contain plurals, possessives or contractions.
Roll a Possessive Dice Game You will need this game board: Roll a Possessive Dice Game. It is an editable PDF. You will find the recording pages students also need in the main download below. This game has students rolling dice to determine a subject and an object. Then they write a phrase or a sentence using those words.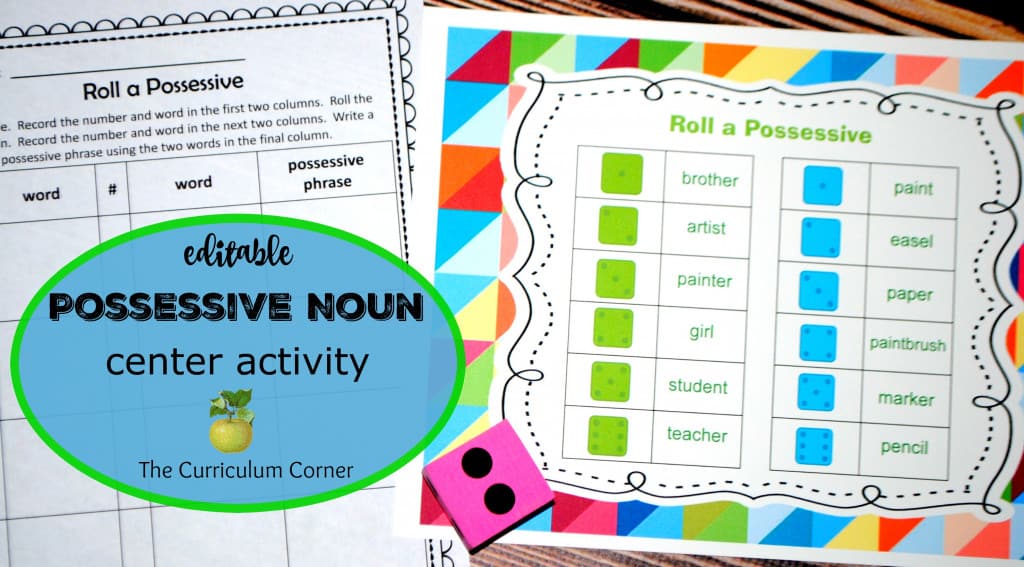 Exit Tickets These can be used as a quick check. You can assess if students are understanding the concept.
Interactive Notebook Pages There are a few options you can provide for students. You will also find a couple of blank pages in case you want to program your own.
You can download this complete collection here:
As with all of our resources, The Curriculum Corner creates these for free classroom use. Our products may not be sold. You may print and copy for your personal classroom use. These are also great for home school families!
You may not modify and resell in any form. Please let us know if you have any questions.