Book Study: Apples
A collection of resources to help your students study the book Apples by Jacqueline Farmer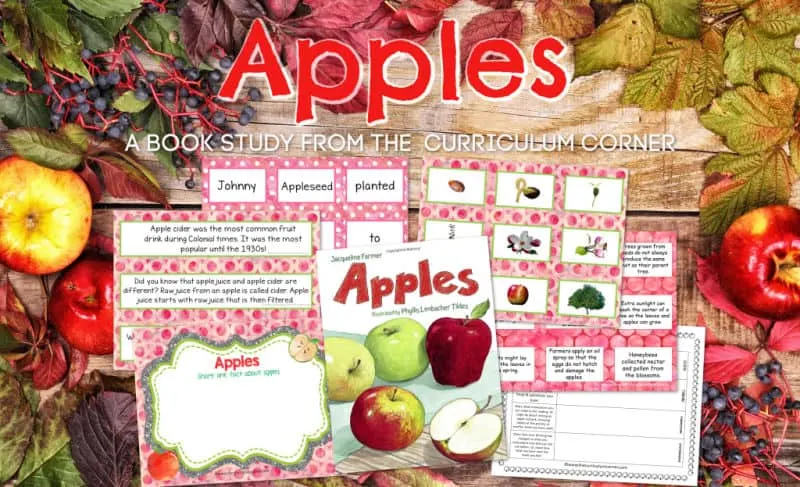 This is another free resource for teachers from The Curriculum Corner.
This collection of Book Study: Apples by Jacqueline Farmer resources will help guide a study in your classroom.
(**This is not the same as the book Apples by Gail Gibbons although that book would be a fun one to add to your book basket!)
This book gives students an introduction to how apples are grown. It talks about pollination along with highlighting different varieties of apples.
This book can fit into your fall field trip to the apple orchard.
You can find the book on Amazon. (contains affiliate link)


**You will find the full set of Book Study: Apples resources described below in one download at the bottom of this post in BOLD font.**
Apple Anchor Chart You will find two styles of this anchor chart. One with a black background for displaying on your smart board and one with a white background for printing. You can have students write directly on the poster or board or use post it notes.
Apple Life Cycle Chart Have students label the life cycle of an apple using this blank illustration.
Fluency Sentences These sentences are for fluency practice. Many contain facts learned in the book.
Pocket Chart Sentence Cards These six pocket chart sentence cards can be used during a mini-lesson or as a scrambled sentence center. The borders are color-coded for easy sorting and storage.
Vocabulary Use this set of vocabulary words and definitions for an easy sorting center. There are a range of words so choose the words that fit your students.
Apple Life Cycle Cards These cards can be used to help students identify the steps a growing apple passes through. They can order and match each picture with the names.

Thinking about apples Encourage children to think as they read with this guide. Includes close reading skills of activating schema, thinking, connecting and synthesizing.
Problem & Solution After reading the text, students will think about why pollinating apple blossoms can be a challenge for farmers. They can use words and pictures to share their thoughts.
Support Your Beliefs This page is intended for use as a mini-lesson as you read the book together with your students. Students share three words that they feel describe farmers. They will then use ideas from the book to support their answers.
Cause & Effect Students can sort the cards into cause and effect events. Also included is a recording page.
Making Connections Encourage your students to make connections using these three printable pages.
My favorite apple… Extend this book with an apple tasting party. Have students bring in an apple or pick up a few varieties at the grocery. Students can share their favorite on the slip of paper. Integrate math by having students turn the data into a graph.
Lined Papers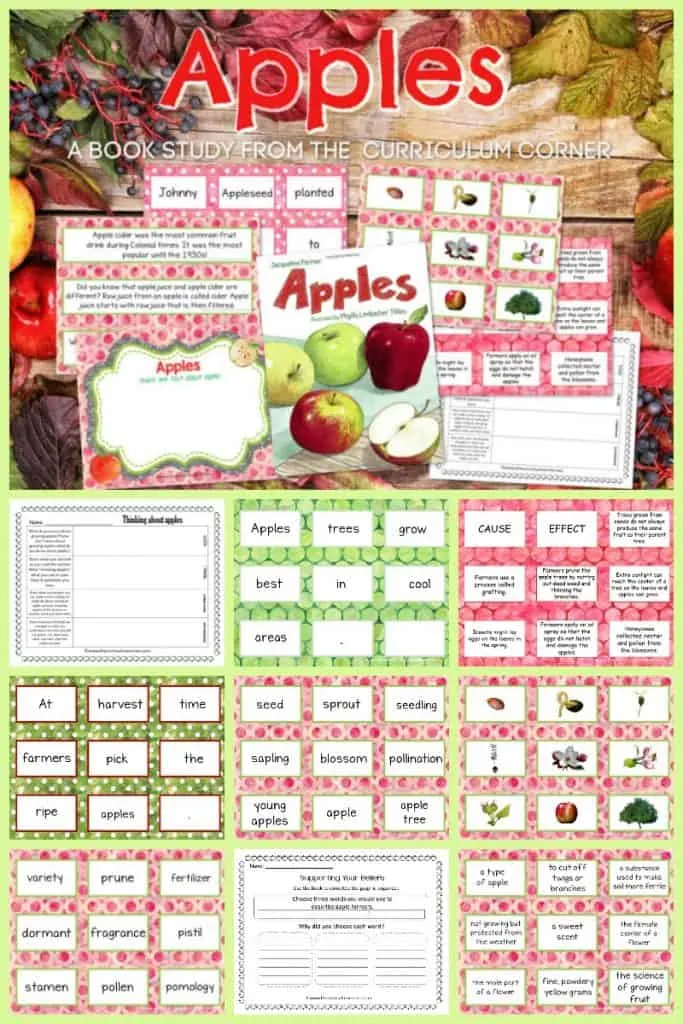 You will find all of our Book Study: Apples resources here:
Book Study Collection
Here are additional free fall resources:
Writing Interventions for Fall
Fall Subtraction Color Key Math
One Green Apple (A book study about a girl who is new to America)
Here are a few other apple books you might want to add to your library (contains affiliate links):

If you are looking to add a little more apple fun to your classroom this fall, check out the ideas we found here: 40 Apple Activities.