One Green Apple by Eve Bunting is a story that will encourage students to think about the feelings of a child entering a new school in a new country.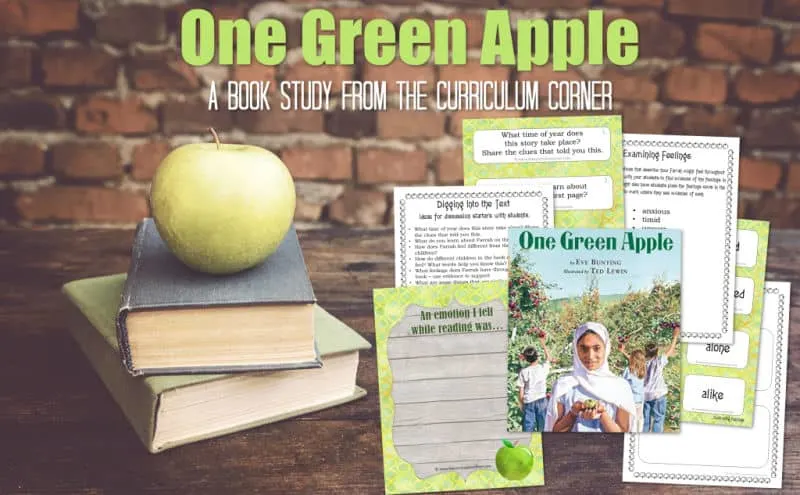 This is another free resource for teachers from The Curriculum Corner.
Children will love the story told in One Green Apple along with the beautiful pictures by Ted Lewin.
This is a simple story that children in the primary grades can read. However, the themes in the story can make this a meaningful read even for older students.
In this story, we learn that a Muslim girl has moved to America. It is her second day at her new school and she is attending a field trip to an apple orchard. We learn about the girl, Farrah's, feelings as she is exploring a new culture and beginning to make new friends.
This book will be a meaningful addition to your classroom library!
This literacy set focuses on exploring the text. Students will be encouraged to dig into the text along with thinking about the feelings of the girl. There will also be opportunities for visualizing and making connections.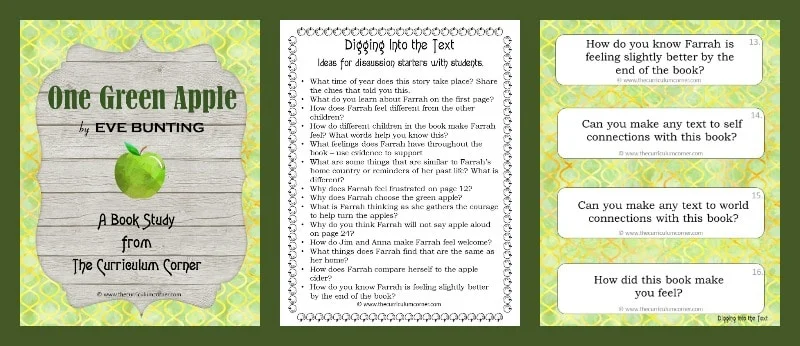 Within our One Green Apple collection you will find the following resources:
An emotion I felt while reading was… Anchor Chart
Print as a poster and have students add an emotion they felt while reading. Instead of printing, you might choose to display on your smartboard.
Digging into the Text
Use the provided questions to help start discussions. This page is not designed to be used as a worksheet where students simply write out answers. Choose questions that fit your students and take time to discuss.
You will also find question cards containing each of the questions. You might provide a small group with a card to lead a discussion.
Visualizing the Text
Encourage students to work on visualizing while they read with these phrases. You can have students sketch what they see on a piece of blank paper or on one of our recording pages in this set.
You will also find the phrases on colorful cards. These can be a part of a literacy center. Or, have partners or small groups work together to create a group visualization response.
Examining Feelings
The reading of One Green Apple can evoke many emotions. Students can explore these feelings using our set of emotions cards.
You can choose to give students an emotion card. They can then find a place in the book where the feeling fits.
Recording Pages
Our recording pages can accompany the other resources in this set. Along with pages that contain prompts, there are also blank pages to fit the theme.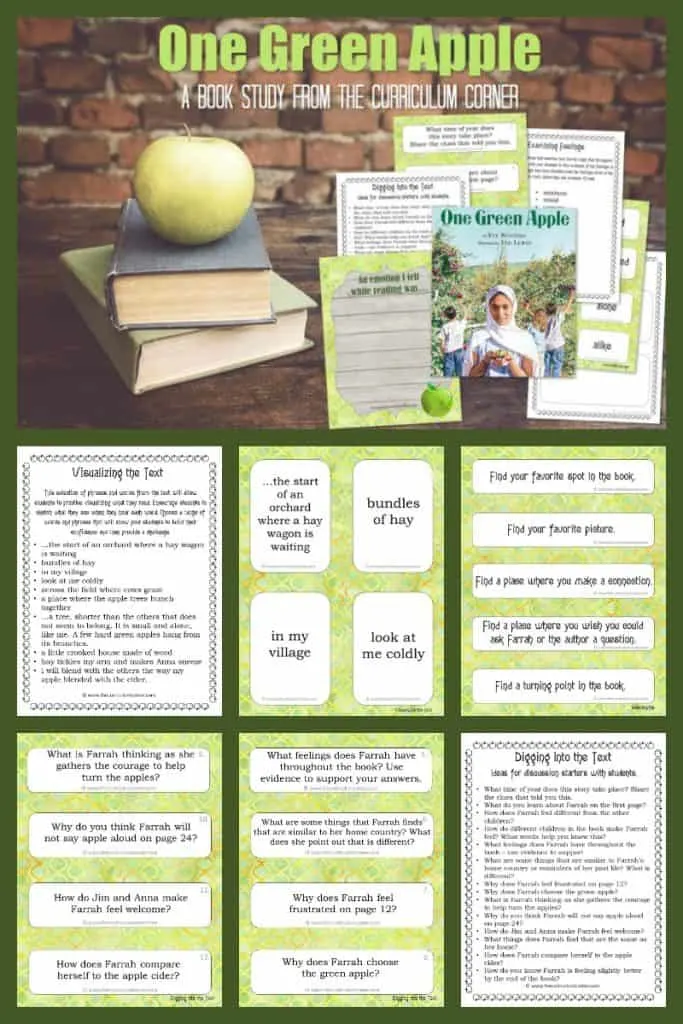 You can download your free One Green Apple set here:
Book Study
If you are looking to purchase the book, you can find it below (contains affiliate link):