Come On, Rain! Book Study –
A free literacy center set created by The Curriculum Corner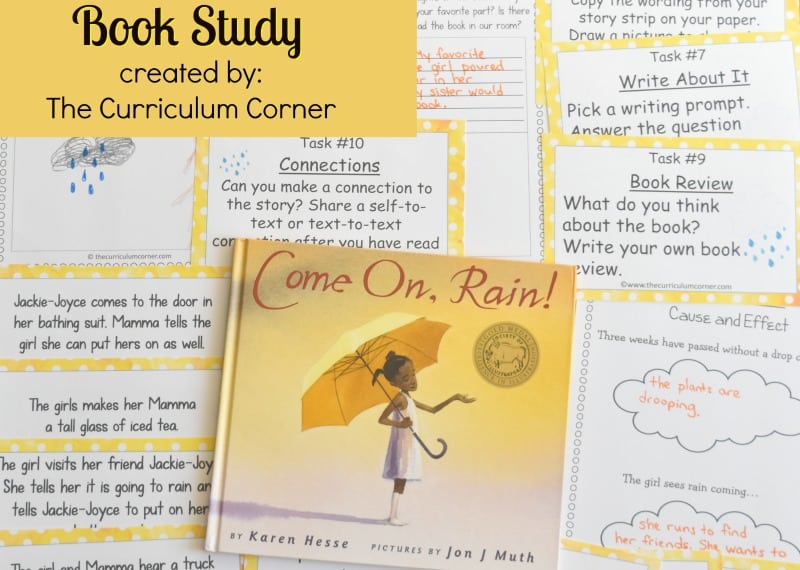 This is another free resource for teachers from The Curriculum Corner.
It's summer and so hot outside which made me pull out this book to read with my daughter at bed time last week. I had forgotten how much I love the words and art throughout this book.
It's a perfect book to share when heading back to school during the steaming hot days of August or a good read aloud during your weather unit of study.
This resource is designed to accompany Come On, Rain! by Karen Hesse.
You can download the set of centers designed to go with this book at the bottom of this post. Click on the bold link.
The language used by the author is unique and helps the reader feel that they are a part of the story.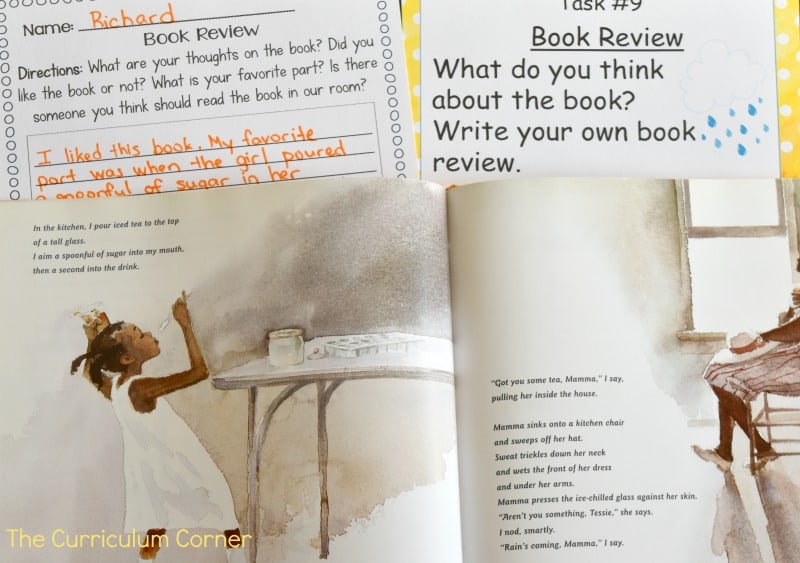 In this book, the city has been without rain for three weeks. Mamma is trying to tend to her dried out garden and the girl is wishing for rain. When the storm arrives, she gathers her friends in their bath suits. They dance in the rain with their mammas joining them.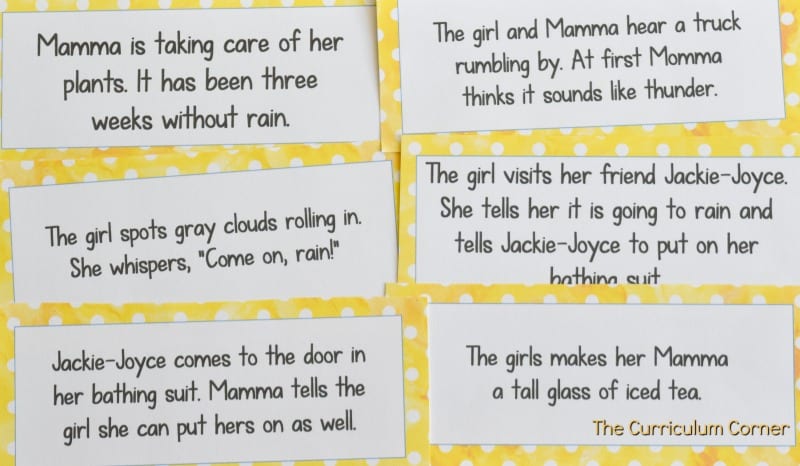 If you are using this book at a literacy center, we suggest first sharing it as a read aloud so the children can just sit and enjoy the story.
Come On, Rain! Collection
Task Cards The first part of this collection is a set of task cards. These are designed to accompany many of the printables we have created. They will be the directions you place at each center for your students to use as a reminder.
Story Map Students will complete the story map using what they have read.
Flip Book This flip book is designed to go in an interactive notebook. Students cut the outside shape and then cut on the dotted lines. They will lift the flaps and write about the main character, problem and solution under the flaps. On top they will draw a picture to show each.
Sequencing Sentences These cards have the most important events from the book. Students can use the book to help them place the events in the correct order. You might also have students use these cards for fluency work.
Synonyms You'll find a collection of words from the book along with synonym matches. You can have student match the words with their synonym.
Writing Responses & Prompts There are an assortment of pages for written responses and writing prompts. You can choose the ones that fit your current focus. Another option is to provide choices for your students.
Lined Papers The collection of lined papers can be used along with the provided activities at the center.
You can download this Come On, Rain! collection here:
If you are looking to purchase Come On, Rain! or other books you might add to your center, you will find the links below (contains affiliate link)