This collection of resources is designed to help guide a study of Malala Yousafzai: Warrior with Words in your classroom.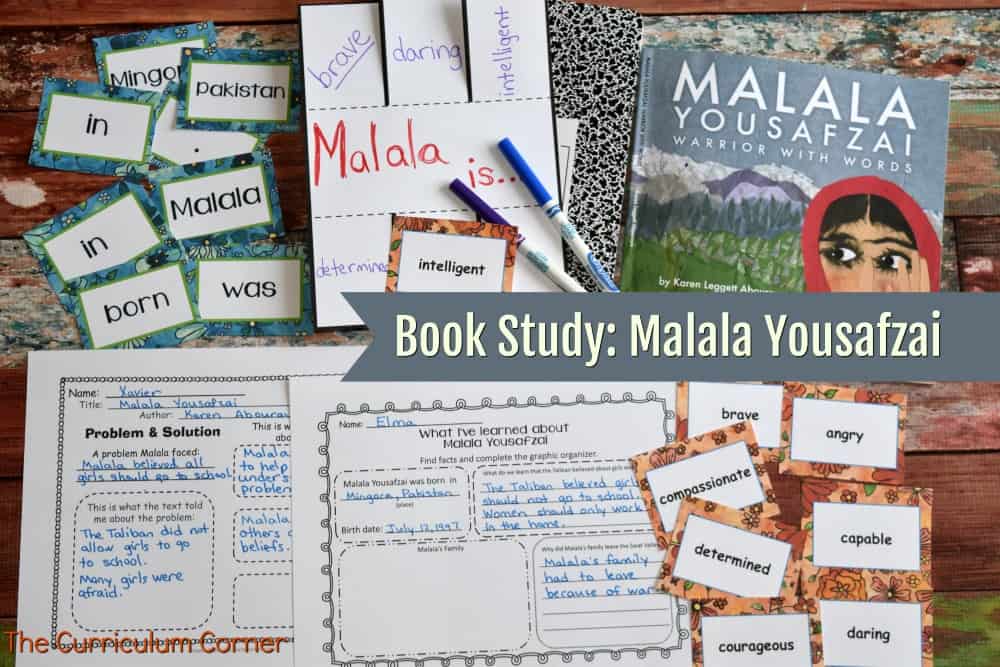 There are a variety of books that you might choose to use in your classroom. One of our favorites is Malala Yousafzai: Warrior with Words but there are others that can be used as well.
Malala Yousafzai: Warrior with Words by Karen Leggett Abouraya tells the story of a young girl from Pakistan who used her words to help change the world. Malala stood up against the Taliban to help girls continue to receive an education. She has received many awards for her actions. Because of the subject matter within the book, we feel that this book might fit best into a third or fourth grade classroom.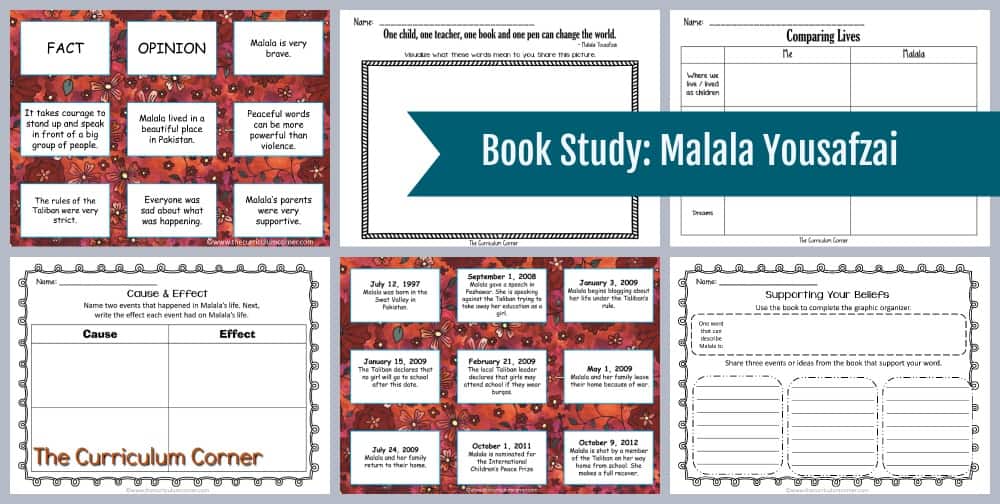 **You will find the full set of resources described below in one download at the bottom of this post in BOLD font.**
What I Have Learned About Malala Yousafzai – This is a simple and open-ended graphic organizer students can use at a center after the book has been read aloud. Place the book at the center so students can use it to check the accuracy of their claims about what they have learned.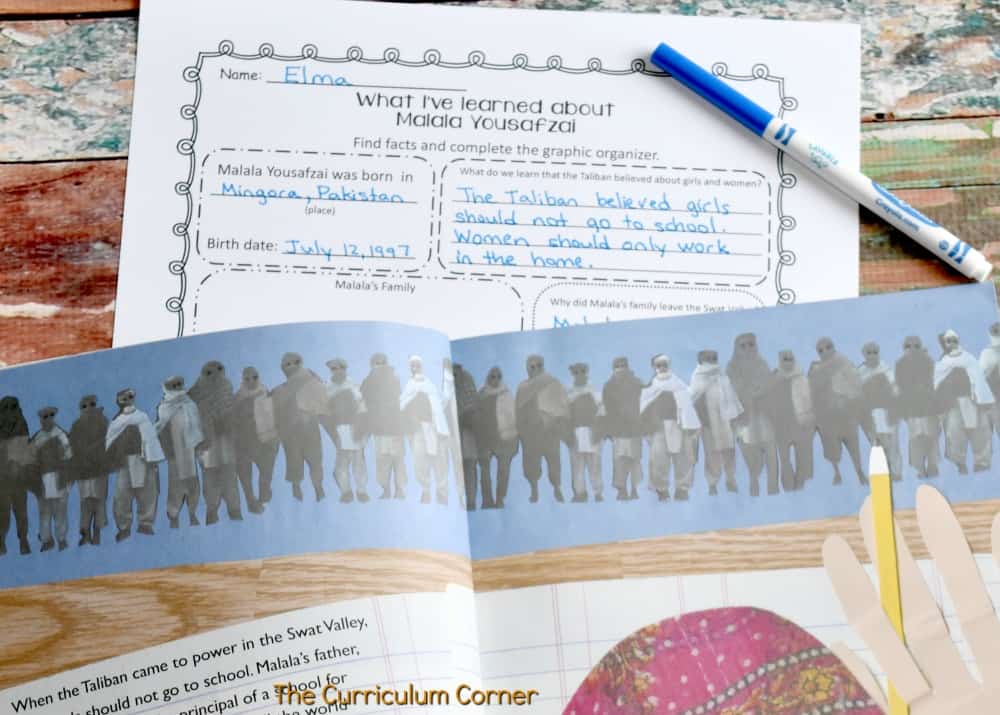 Support Your Beliefs – This page is intended for use as a mini-lesson as you read the book together with your students. Students share one word they feel describes Malala. They will then find three ideas from the book that will support the word.
Malala's Family Flip Book – For students to create this flip book they will need to cut on all the bold lines, then stack the pages and staple them along the left side of the book. You can direct students to share words, pictures or both to respond to the prompts on each page. Students may use only the book as a resource or find additional facts on their own.
This Flip Book would also work well at a computer center. You can have students search for additional information to include in their flip books.
Timeline Activities –
Timeline Cards – These cards list 11 significant events in Malala's life. We have also provided blank cards for students to add other events. Students can practice putting the events in order while working to research other important events.
Activity #2: Timeline – Students can use the cards provided or research on their own. They are asked to share seven key events from Malala's life. They must also write the dates at the top.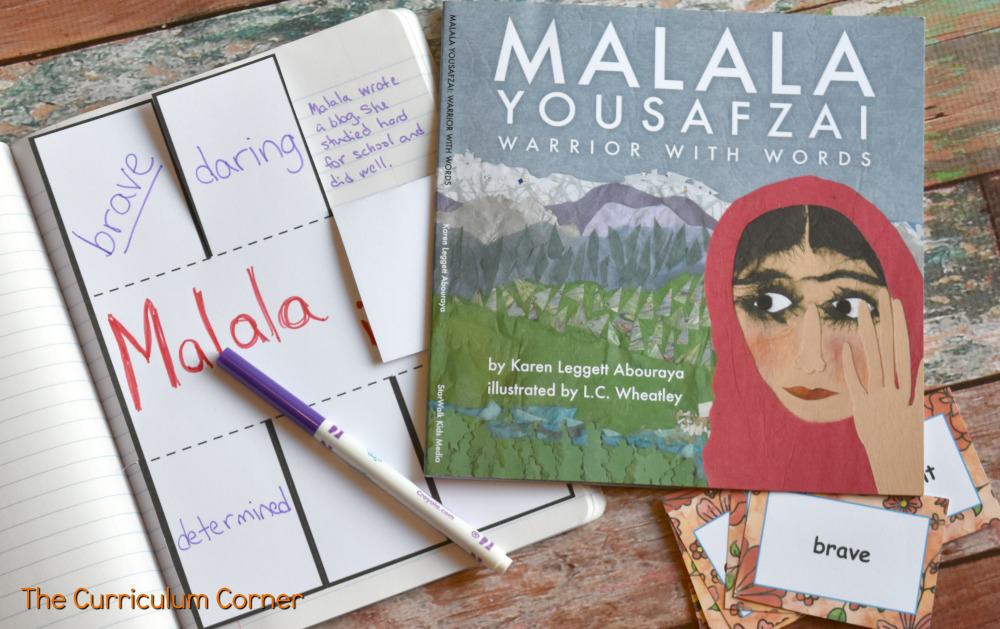 Character Traits – If you want students to think more deeply about Malala Yousafzai and the type of child she was, get them thinking about the different character traits that describe her best. We have provided nine words on cards with a floral background. Students can use these at a small group where they choose a card and must then share evidence to support the trait they chose.
Interactive Notebook Directions: Students cut on bold lines and glue the middle vertical rectangle to their notebook pages. Next, they write Malala's name in the part they glued down and fold the flaps fold over it. On the outside of each flap, students write a character trait they believe describes Malala. Under the flap they will share support for the trait from their reading.
Thinking About Malala – Synthesizing Activity Students share their thinking about their reading following the prompts. This organizer might be best completed during class discussions depending on your students.
Problem & Solution Students are asked to share a problem Malala faces. Students are then to share ideas and steps to the solution in the three boxes on the right.
Making Words – Students use the letters in the word EDUCATION to create smaller words. Comes with a page of letters for students to cut out and manipulate to make the words.
What Would Malala Yousafzai Say? – This page requires students to use what they have learned about Malala, and think about how they believe she would use social media to share her beliefs.
Fact & Opinion Sort – These cards contain eight facts and eight opinions about Malala Yousafzai and her life. Use them for a center or a small group guided activity to teach or review the difference between fact and opinion.
Reading Response Pages – These two pages have simple reading response questions to be completed after the learning. The first involves simple fact recall and the second asks students to think of a characteristic that made Wilson Bentley a great scientist.
Pocket Chart Sentence Cards – These five pocket chart sentence cards can be used during a mini-lesson or as a scrambled sentence center. They borders are color-coded for easy sorting and storage.
You will find all of the Malala Yousafzai resources described here: Malala Resources
Need to purchase the book or other resources to accompany your study? We are sharing a couple links below (contains affiliate links)