Download this free set of Digital November Bell Ringers to add to your morning welcome collection this fall.
You will be able to use this digital download to display bell ringers on your SmartBoard. Or, put on computer stations for students to work on at a center.
This is another free resource for teachers and homeschool families from The Curriculum Corner.\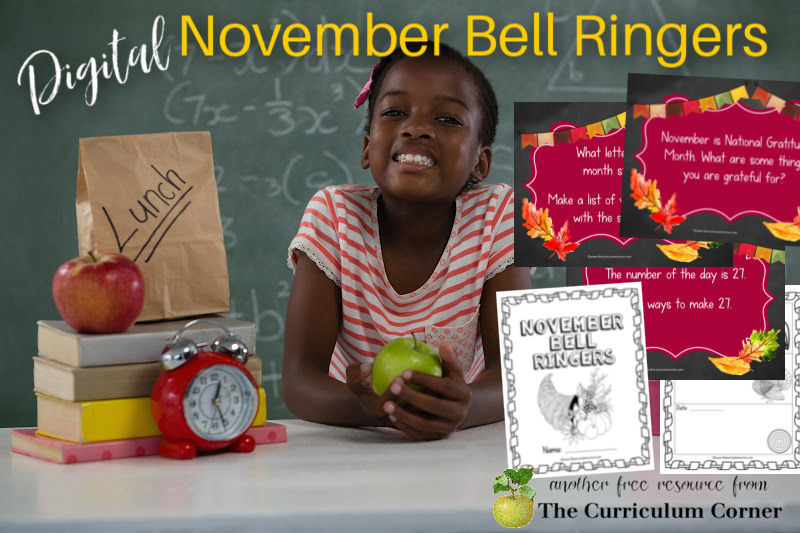 Setting up your morning entry time
When preparing for your morning entry time, think about providing students activities that will keep them engaged.
Some students enjoy paper and pencil tasks while others need to talk with their classmates to get ready for the day.
I like to provide a variety of options so that students can choose what will work for them.
While some students are completing a paper and pencil task, others are having conversations and some are reading independently or with a partner.
Digital November Bell Ringers
This continues our monthly digital bell ringer collection. We will be adding a set for each month of the year.
If this digital version is not a good fit for your students, you might like our Printable November Bell Ringers.
This download will give you 29 digital preprogrammed slides along with 1 blank slide.
Some slides will coincide with specific dates while others can be used at any time.
You will display the slide of your choice on your electronic whiteboard each day.
When students enter the room, they can read the slide and discuss their thoughts with their classmates.
You will also find response journals for a printed option. For students who like to record their thoughts and doodle, this could be something they enjoy.
You can download this free set here:
As with all of our resources, The Curriculum Corner creates these for free classroom use. Our products may not be sold. You may print and copy for your personal classroom use. These are also great for home school families!
You may not modify and resell in any form. Please let us know if you have any questions.