We've made teaching character traits easy with this collection of free resources for your reading workshop.
Introduce the concept of character traits to your readers with these anchor charts and graphic organizers.
Children often benefit from learning about character traits.
This is another free resources for teachers created by The Curriculum Corner.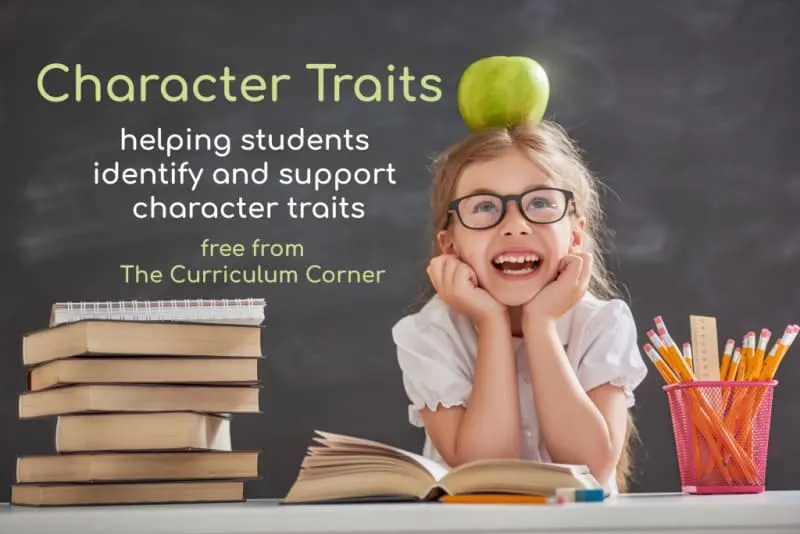 Why should you focus on character traits?
Helping children understand character traits is an important part of helping children grow as readers.
The resources supplied here are meant to be used with students already able to identify the main character.
This set focuses on resources to help students understand what character traits are.
Readers will also learn the difference between the physical and character traits of the characters in stories.
We have added a few organizers at the end that will help your students begin to understand how to compare characters using their knowledge of character traits.
Also, students will be identifying and describing how a character might have changed within a story.
Traits Organizer
This organizer is meant to help your students begin thinking about the difference between actual physical traits and internal character traits of the characters in their stories.
Model this organizer in front of the class as you ask students to begin to think more deeply about the characters in their stories.
Character Traits Lists
Looking for character traits lists? You will find them in this collection!
There are two anchor charts which give your students some ideas for beginning character traits.
These lists will help to move students away from describing their characters using only their appearances and will get them to focus on the personalities of the characters in their stories.
We have created two anchor charts so that you can choose the one that is best for your students. You might use both as a means to differentiate among your students.
List of Character Traits
afraid
babyish
brave
careful
clumsy
confused
dishonest
fair
friendly
giving
grouchy
honest
impatient
jealous
lucky
noisy
angry
bored
brilliant
cheerful
concerened
curious
disrespectful
fearless
funny
grateful
happy
hopeful
independent
lazy
mean
smart
annoyed
bossy
calm
clever
confident
daring
excited
foolish
gently
greedy
helpful
imaginative
intelligent
lonely
mysterious
embarrassed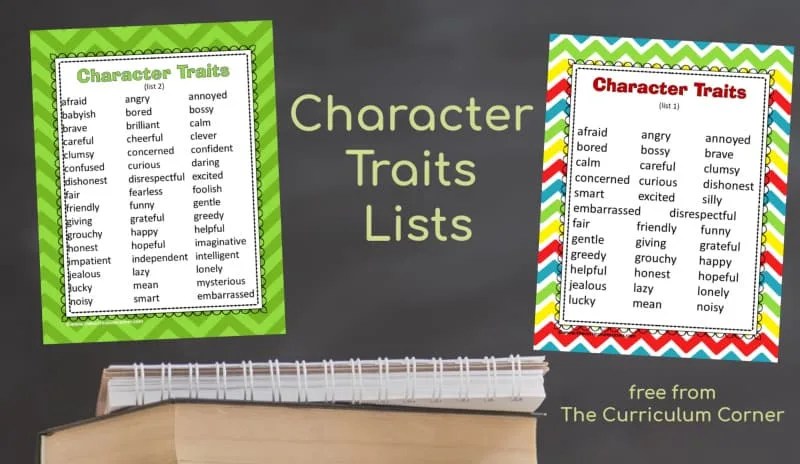 Character Traits vs. Physical Traits Sorting Cards (with Recording Page)
If you feel some of your students might need more practice with distinguishing between physical and character traits, use the set of 36 trait cards for students to sort.
These could be used for a mini-lesson, a small guided reading group activity or even a literacy center.
We have included a recording page if you want students to write the words they are reading as they sort.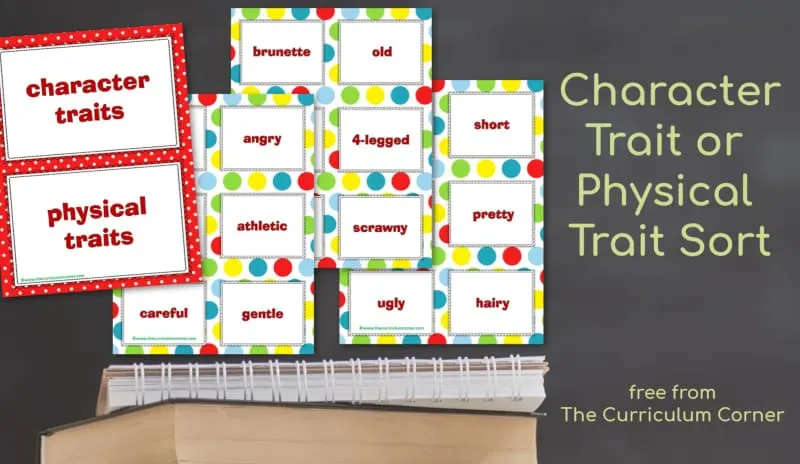 Traits Organizers
There are four graphic organizers you can model for students during mini-lessons to further discuss and/or review character traits.
Use these during independent reading so that you can talk with students during reading conferences to check for understanding.
Traits Exit Tickets
This is a set of three different exit tickets focused on characters.
They vary in level so you can use them as you move through your teaching or you can differentiate for the needs of students in your classroom.
The first has students simply identifying the main character.
The second requires students to identify the main character along with a physical and a character trait.
The third has students identifying a character trait while supporting evidence from their story.
Comparing Characters
This graphic organizer has students using what they've learned about the characters' traits to compare characters from the same story or different stories.
As always, model this for students before expecting them to work independently.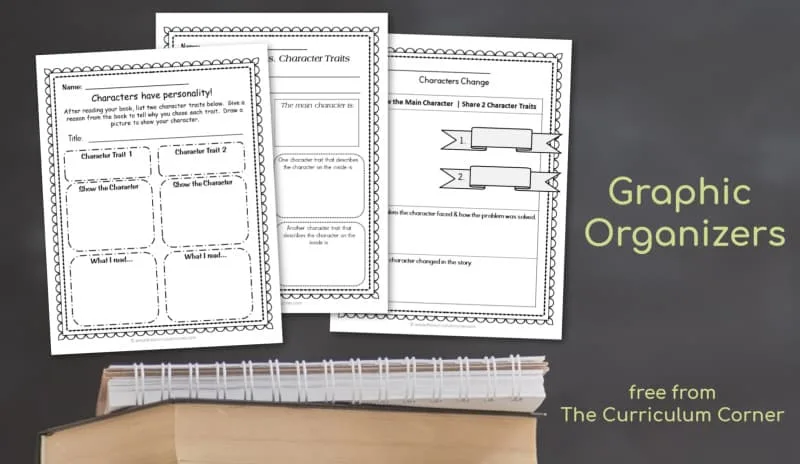 Characters Change
We also need to get our students thinking about how characters may change in the fiction stories they read. (This will be the basis for understanding static vs. dynamic characters as their reading level grows.)
Have students choose a book where the main character changes in some way from the beginning to the end. A book where the character learns a valuable lesson and then changes is a good idea.
Read the story aloud and model this organizer. It will require your students to pinpoint a character's traits, describe the problem the character faced and decide how the character has changed in the story.
Be sure to remind students that not all characters change in stories. You want them to think carefully about their specific characters in order to be able to complete this organizer.
Story Map
This is a simple story map that includes a review of elements such as main character, setting, problem and solution. It also contains a section for students to list traits.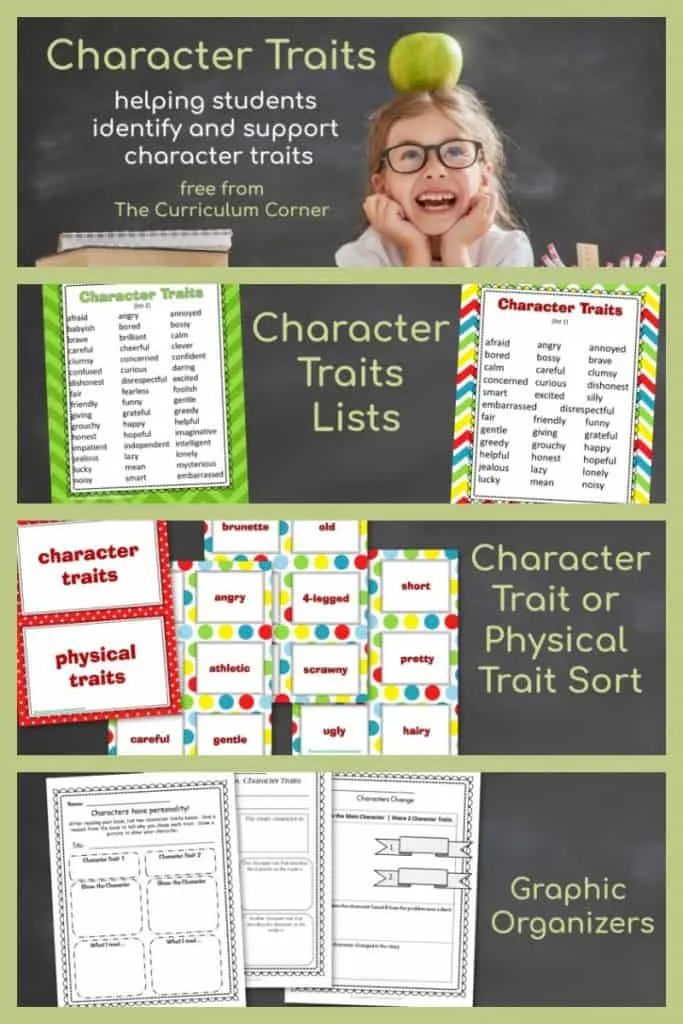 You can download this free collection here:
Below you will find some of our favorite books for teaching this skill (contains affiliate links)
As with all of our resources, The Curriculum Corner creates these for free classroom use. Our products may not be sold. You may print and copy for your personal classroom use. These are also great for home school families!
You may not modify and resell in any form. Please let us know if you have any questions.