This collection of free resources for writing workshop is designed to help you create an author study on Gail Gibbons in your classroom (using Gail Gibbons as a mentor author.)

Why We Chose Gail Gibbons
A newer unit of study our district has incorporated into our writing workshop over the last couple of years is literary nonfiction.
Weaving facts with storytelling can be a difficult concept for young authors to apply to their own writing.
We believe that the best approach is immersing children in good examples of this writing style. One of our favorite authors when it comes to literary nonfiction is Gail Gibbons.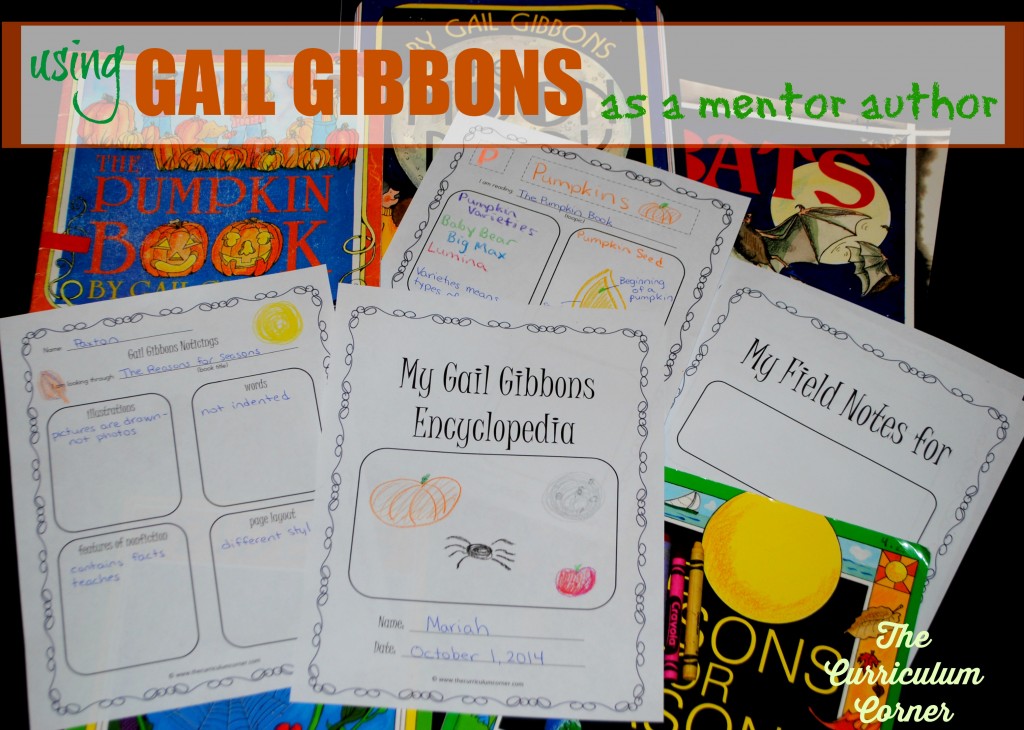 Getting Ready
Before beginning this study, we like the idea of putting together an exploration center centered around her work. Include a large selection of books written by Gibbons. We also suggest including travel brochures as she likes to research her topics by going to the source. Maybe add a map!
Include beautiful items from nature such as leaves, small pumpkins and other items that fit with her books. Provide yarn for binding books as Gail once did along with other materials that could be used in writing books like hers.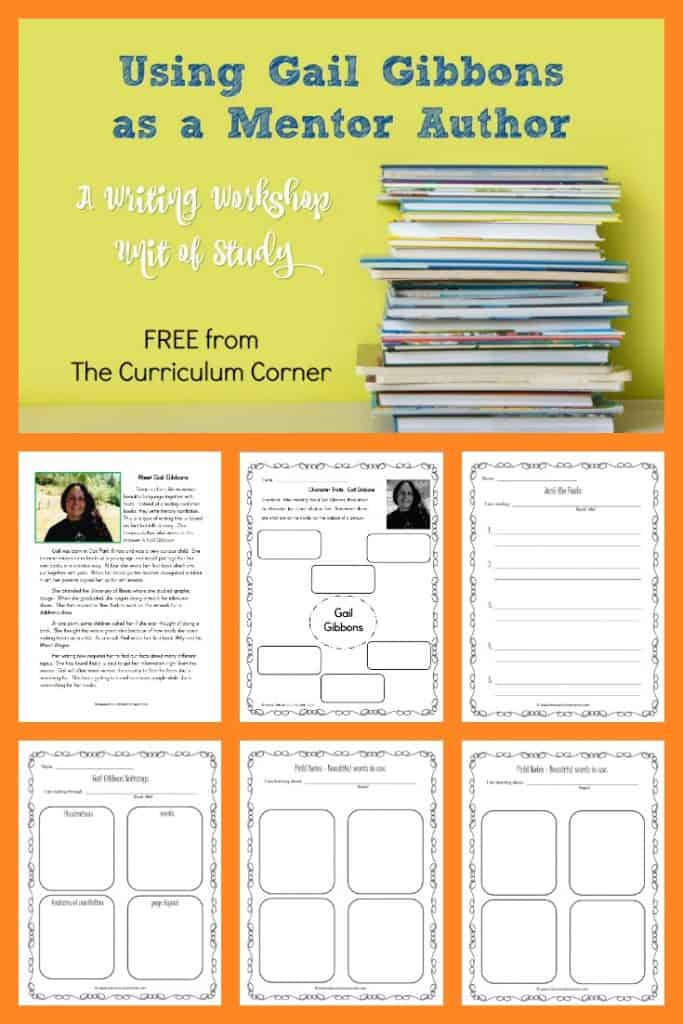 Please Note: You will find that many of the lessons below will stretch over two or three days.
The materials provided within this free unit of study are provided as individual downloads. You can access each resource by clicking on the bold titles of each resource. As this is an older unit of study, it is not available as a single download.
Lesson 1: All About Gail Gibbons
We like beginning a study on Gail Gibbons with helping the students learn about her life. Her web site is one source for this task: www.gailgibbons.com.
We have also put together our own biography and graphic organizer:
Encourage students to create their own I Wonder questions about Gail Gibbons. What would they like to know about her to understand her better as an author? This could become an anchor chart that students can refer to throughout the study.Lesson 2: Noticings
If you have never began a writing unit of study with noticings, we highly recommend it. The idea is that children are given a stack of books that fit the theme. In this case, you would supply students with a range of books by Gail Gibbons. Students go through the books to see what they "notice" about Gail's writing style. (If writing workshop is new to you, start here to learn more about noticings: Launching your Writing Workshop.)
You might choose to use this recording sheet: Gail~Gibbons Noticings.
Or, students can simply use post-it notes to mark spots in the book that stand out. It is important to encourage children to focus on the style and not the words. It can be very difficult for children to begin to look deeper in to the writing and not report facts. This skill takes a great deal of practice so be patient when you first introduce the idea. If it is your first time asking your students to do noticings, you might share a book aloud and work through the ideas together and then allow students to explore farther in small groups.
This is ready to print and can be used as a resource in your room. However, we find that it is important to ask children to notice without giving them the answers. You might choose to use this as your guide and create an anchor chart using your students' ideas.
Lesson 3: Just the Facts
Gail Gibbons books can be a good source for information as you are studying a new topic in the classroom. Help students see that facts are woven into her writing by using one of the recording pages.
Just the Facts (lined with room for 5 facts)
or
Just the Facts Boxes (contains for boxes for students to include words and/or pictures)
Depending on the age of your students, you might complete one of the pages during your mini-lesson with the students. For older students, they might work with partners or individually to complete their own page.
Lesson 4: My Gail Gibbons

Encyclopedia
Gail Gibbons writes about an endless number of topics. You can have students create their own encyclopedia with what they learn as they explore her books. This can even be done during a literacy center.
Print the cover and students can add as many encyclopedia pages as they need: Gail Gibbons Encylopedia.
The box on the top left is for the letter the topic starts with and to the right, have students record the topic. When students have completed their pages, they can alphabetize and staple. This could even be used as a resource for facts when students are writing.
Lesson 5: My Field Notes
Gail Gibbons doesn't just research from her computer and by reading books, she gets out and talks to experts on the subject she is writing about. Plan an excursion for your students so that they may practice researching their own topics. Or, ask families to go on their own outing to allow their children to research a topic that he or she chooses. Either way, you can use our field notes booklet to get your students started.
My Field Notes Booklet 1 (contains multiple pages, one for sights, one for sounds and one for beautiful words to use.)
My Field Notes Booklet 2 (contains one page for each idea, students record their sights and sounds on the same page, they will need a separate page for each idea.)
Lesson 6: Standing on the Shoulders of Gail Gibbons
Using their field notes, students use what they have learned about Gail Gibbons to write their own book about their chosen topic.
You will find our collection of blank books here: Blank Books for Writing Workshop.
You might also have students use our planning page to get them started:
Students might use one page for their book. Or, you might have students use one page for each section of their book.
Do you have a favorite Gail Gibbons book? Or, other ideas for using Gail Gibbons' work in your room? Please share your ideas in the comments below.
Some of our favorites (contains affiliate links):