This free set of Digital April Bell Ringers is designed to be an engaging morning entry option for the month of April.
You can download these free Digital April Bell Ringers to help you plan for your morning.
This is another free resource for teachers and homeschool families from The Curriculum Corner.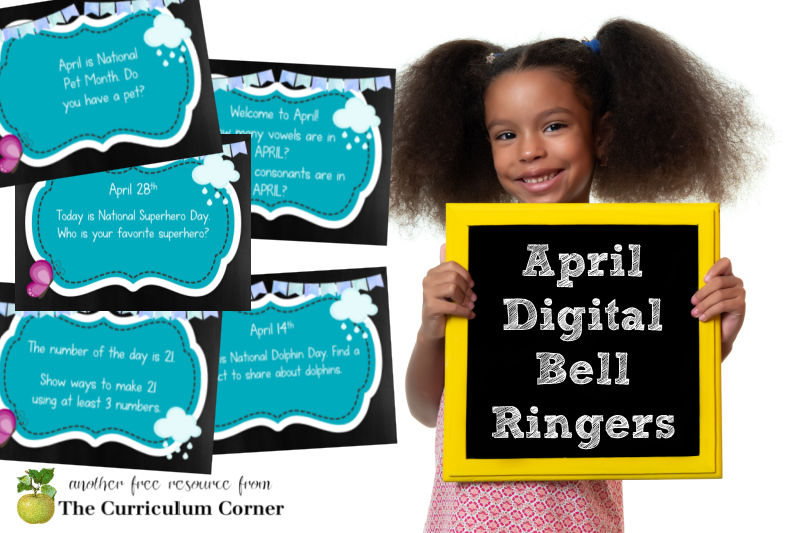 Morning entry time
As your students enter the classroom, what plan do you have in place? I always try to think about what teachers do as they enter the school.
They often say hi to colleagues, unpack their belongings and begin the day with a simple task.
Often our children benefit from a similar plan for the morning.
These bell ringers can contribute to your morning options you offer students. They are great because they can help be a starter for those conversations children can have as they enter each morning.
Simply display a slide on your SmartBoard and your students will have a new question for each day of the week.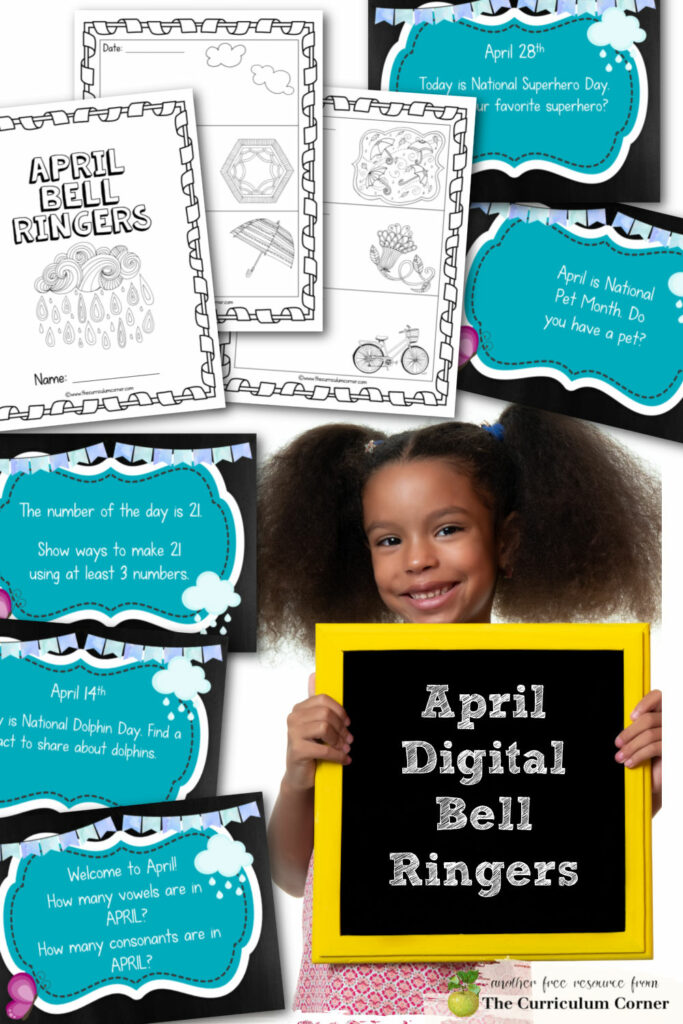 Digital April Bell Ringers
You will find a set of 32 preprogrammed slides along with a blank slide where you can add your own text.
The slides contain an assortment of topics. Children will learn about important people, special celebrations in April and encounter math and language skills.
There are extra slides so that you will be able to choose a slide that best fits your students each day.
Along with the slides, you will find printable journal pages. These are just in case you have students who prefer writing and drawing their responses over talking about their responses.
The journal can be provided as an option for students who choose to use it.
I hope your students enjoy these slides!
You can download this free set for April here:
As with all of our resources, The Curriculum Corner creates these for free classroom use. Our products may not be sold. You may print and copy for your personal classroom use. These are also great for home school families!
You may not modify and resell in any form. Please let us know if you have any questions.