These editable classroom supply labels are just what you need for back to school.
This is another free resource for teachers from The Curriculum Corner.
These editable supply labels will add a colorful touch to your classroom decor!
Most of us can agree that, though we may be cringing a bit to see all those school supplies out in stores already, it also makes us a little giddy!
(Some of us might even lose our heads a bit and start buying already!!)
Seriously…what IS it about teachers' love of brand new school supplies?!
Get us around new markers, sharp crayons, fresh notebooks and all things organizational and we kind of lose our minds a little, right?
Once you have all those wonderful new supplies, you'll want to organize them, right? Exciting stuff!! (At least for us! LOL!)
To help with this, we have created super cute EDITABLE classroom supply labels which can be great for helping to organize everything in your classroom.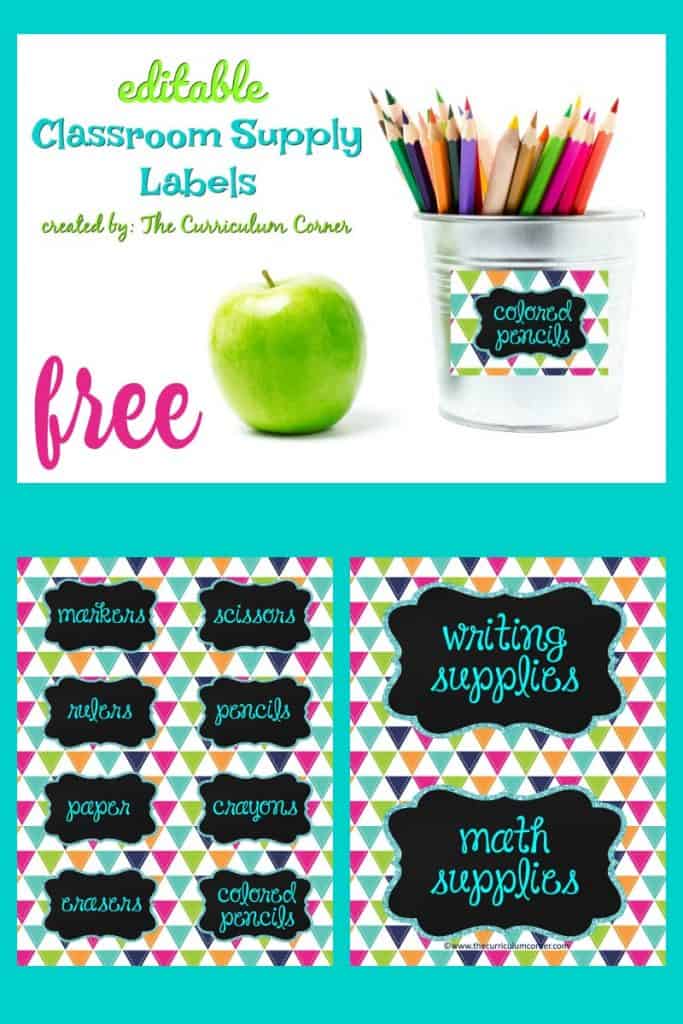 How to Edit these Classroom Supply Labels
The text of these labels are editable in PowerPoint.
You will need to download the font Janda Happy Day but you can change the font to fit what works with your classroom! (We have a commercial use license for KG Fonts but they are free for personal use. Click here to download the free font: Janda Happy Day.)
Open the file in PowerPoint and type over the existing names.
For the first week, edit the classroom supply labels to match your supply list, place them on baskets/bins and have students place community supplies in each one as they arrive at school.
(Helpful Hint: If your students are younger and may not be able to read yet, you might want to think about placing one object in each basket before students arrive so they can see what goes in each basket/bin without having to read the words.)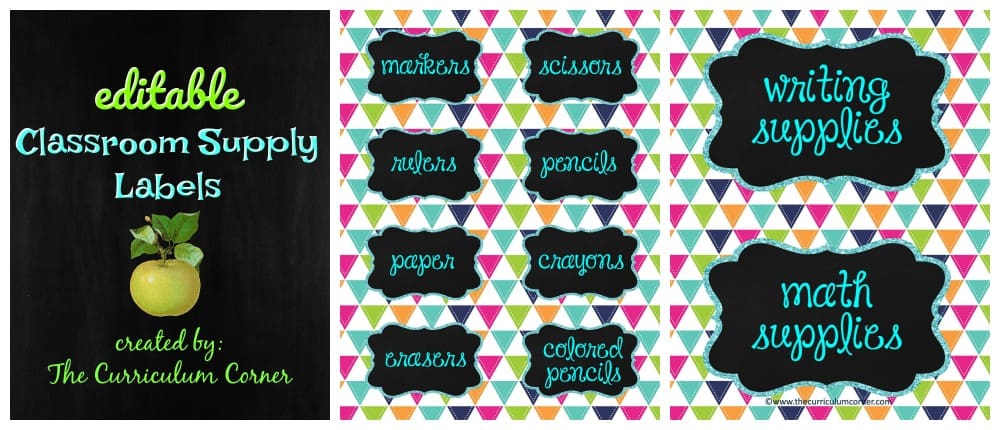 You can then edit a new set of classroom supply labels to use on all kinds of storage containers and organizers in your classroom for the rest of your school year.
Attach to baskets, bins, pencil cups and more to add a little color and style to your classroom!
To download your own copy of our editable supply labels, click here:
Looking for more editable items to help you get organized? Try these!
Editable Binder Covers