Download these motivational screensavers to add a little color, style and encouragement to your computer screen.
You will find a set of 12 motivational screensavers to add a little flair to your computer.
These are designed for your laptop or desktop computer
This is a free resource for your classroom or home office from The Curriculum Corner.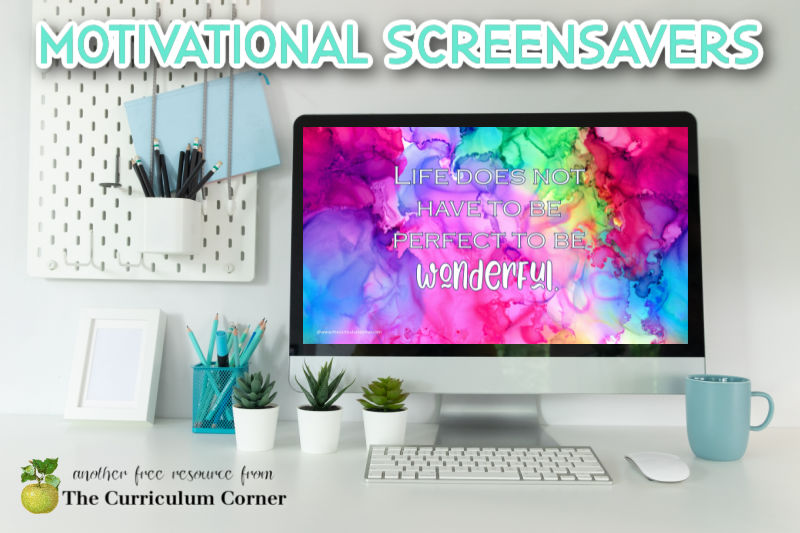 Inspiring Quotes
You will find the following quotes on the slides:
Choose Joy! Don't wait for things to get easier, simpler, better. Life will always be complicated. Learn to be happy right now. Otherwise, you'll run out of time.
Attitude is the difference between an ordeal and an adventure.
Forget all the reasons why it won't work and believe the one reason it will.
If not now, when…
Great things never come from comfort zones.
Life does not have to be perfect to be wonderful.
Two things you are in control of in life are your attitude and your effort.
A negative mind will never give you a positive life.
Don't wish for it, work for it.
The most important decision you will ever make is to be in a good mood.
It's better to look back on life and say: "I can't believe I did that." than to look back and say: "I wish I did that."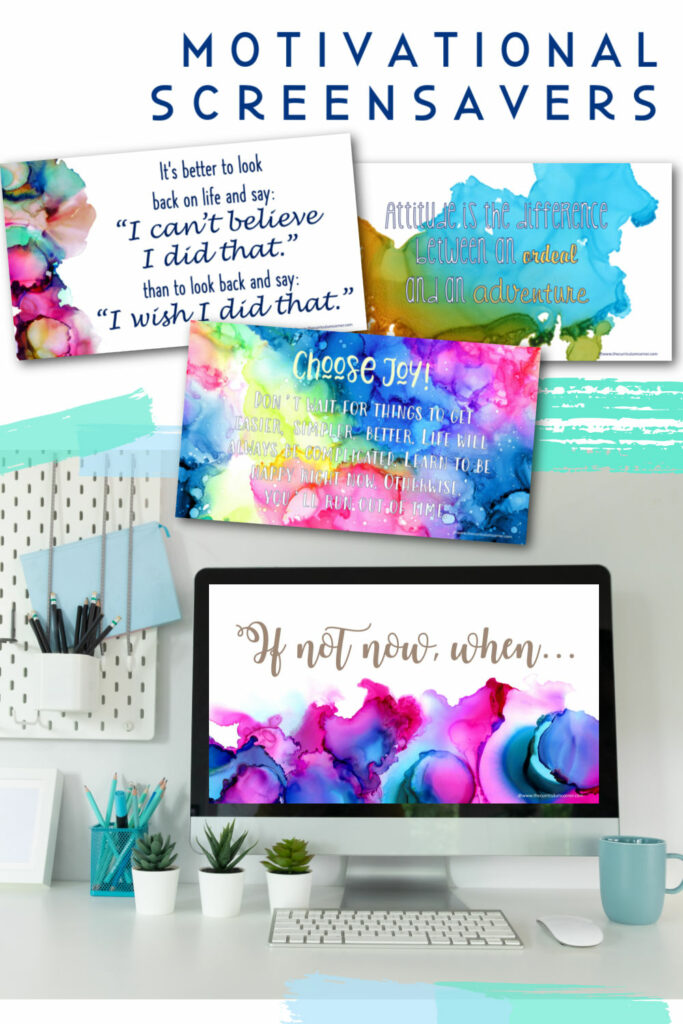 How to install the screensaver
First, you will click on the "Download" link below. This will save a zipped photo file to your download folder.
After downloading, you will want to double click on the file and select "Extract all".
All of the images are now available in an unzipped file.
If you are going to choose just one, this will be super easy.
Click on the image you choose and save it to your computer – often files downloaded will simply be saved in your "Download" file.
Now, you will go to the "Type here to search" box on the bottom left of your screen. Type "screensaver" and press enter.
From the drop down box, you will select "Photos" and then click on "Settings…"
A pop up box will say "Use pictures from:" You will select "Browse…"
Next, find the file you unzipped in your download folder.
Click on the folder and select save on the pop up box.
You have created your screensaver!
Adjust the timing so the slides move faster or slower. You can also adjust the amount of time before the screensaver comes on.
You can download this file here:
As with all of our resources, The Curriculum Corner creates these for free classroom use. Our products may not be sold. You may print and copy for your personal classroom use. These are also great for home school families!
You may not modify and resell in any form. Please let us know if you have any questions.