Add these free Digital October Bell Ringers to your morning welcome collection for the fall.
This download will provide you with Digital October Bell Ringers that can be used on your SmartBoard each morning.
You can download this resource to add a new and engaging resource to your collection.
This is another free resource for teachers and homeschool families from The Curriculum Corner.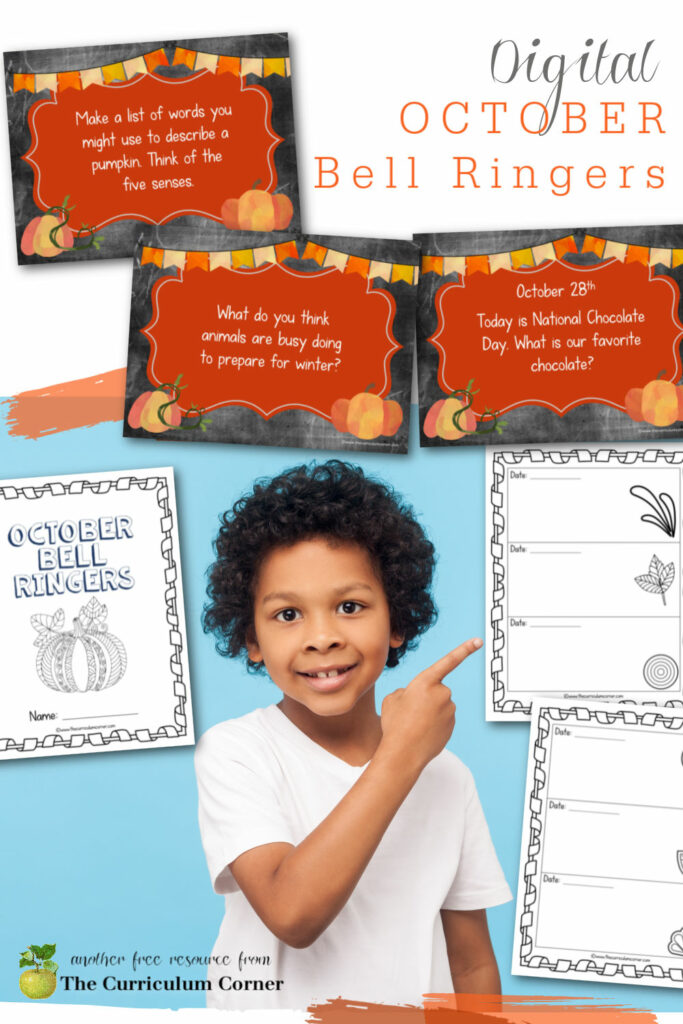 Planning your morning entry time
Often we used to provide students with some sort of pencil and paper activity as they entered the classroom each morning – this morning work often ended up being busy work.
While it did get students working right away, it might not have been the most engaging way to start the morning.
Today morning tubs and bell ringers can be a great alternative. Your goal is to get the stunts thinking while also allowing them to ease into the day of school.
I'm all about providing students with options. You might choose to display a slide for those who would use it to spark a conversation.
Other students can choose an activity from a tub or some might prefer to read a book.
You might also like to try these Printable October Bell Ringers or this Digital October Calendar.
Digital October Bell Ringers
We will be adding a set of digital bell ringers for each month of the year.
Be sure to also check out our other sets if this one isn't a good fit for your students.
This download will provide you with 31 slides for the month of October. While some are date specific, many can be used any day you would like.
Simply display your slide of choice on your electronic whiteboard each day.
When your students enter the room, they can read the slide and discuss their responses with classmates.
Or, provide the printed journals. Students can doodle and record words to share their response. Remember, this is supposed to be a welcoming activity so it's not the time to require complete sentences and strict guidelines.
You can download this free set here:
As with all of our resources, The Curriculum Corner creates these for free classroom use. Our products may not be sold. You may print and copy for your personal classroom use. These are also great for home school families!