This free set of ordinal numbers worksheets will help your students develop an understanding of ordinal numbers.
This download can be used as individual practice pages or to create a workbook for students.
This is another free resource for teachers or homeschool families from The Curriculum Corner.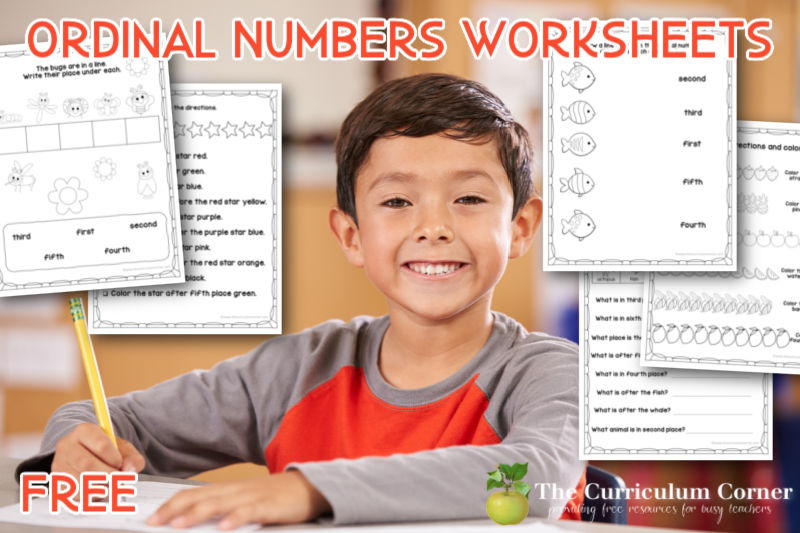 What are Ordinal & Cardinal Numbers?
Cardinal numbers are numbers that tell how many of something there are. Examples are one, two, three or four.
Ordinal numbers are numbers that show the position of an item. Examples are first, second, third or fourth.
Most ordinal numbers end in the letters th. The exceptions to this rule are 1st, 2nd and 3rd. This is also true for two-digit numbers like 21st.
Here are examples of each type of numbers:
Cardinal Numbers
1 One
2 Two
3 Three
4 Four
5 Five
6 Six
7 Seven
8 Eight
9 Nine
10 Ten
11 Eleven
12 Twelve
13 Thirteen
14 Fourteen
15 Fifteen
16 Sixteen
17 Seventeen
18 Eighteen
19 Nineteen
20 Twenty
Ordinal Numbers
1st First
2nd Second
3rd Third
4th Fourth
5th Fifth
6th Sixth
7th Seventh
8th Eight
9th Ninth
10th Tenth
11th Eleventh
12th Twelfth
13th Thirteenth
14th Fourteenth
15th Fifteenth
16 Sixteenth
17 Seventeen
18 EIghteenth
19 Nineteenth
20 Twentieth
About these ordinal numbers worksheets
This download contains a cover page for creating a math workbook. You will then find 12 different pages for skill practice.
Some of the pages provide practice with places first through fifth. Others continue to the tenth place.
You will find matching pages where students draw lines to match the ordinal number with a picture.
Others contains reading and comprehension practice. Students will read the sentences and then follow the directions.
You can download these free pages here:
---
You will find additional practice is this Numbers, Counting & Ordering Unit of Study: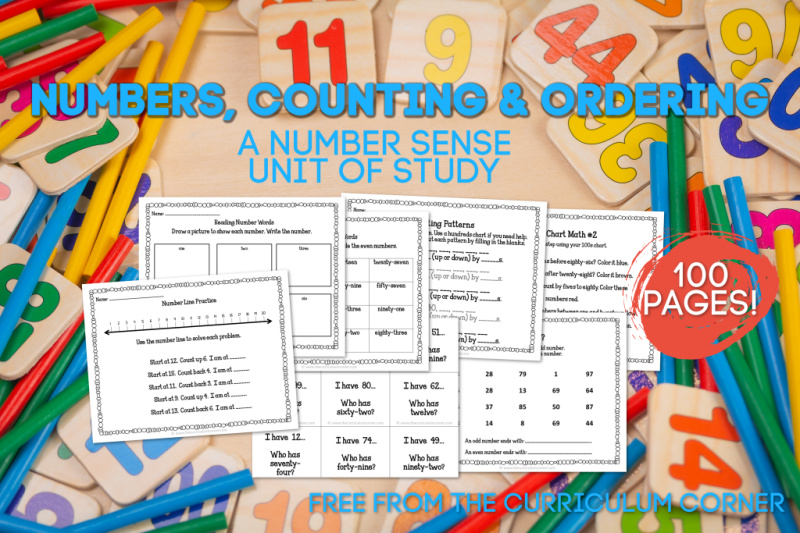 As with all of our resources, The Curriculum Corner creates these for free classroom use. Our products may not be sold. You may print and copy for your personal classroom use. These are also great for home school families!