These free resources will help you work on Dolch Sight Words with your students.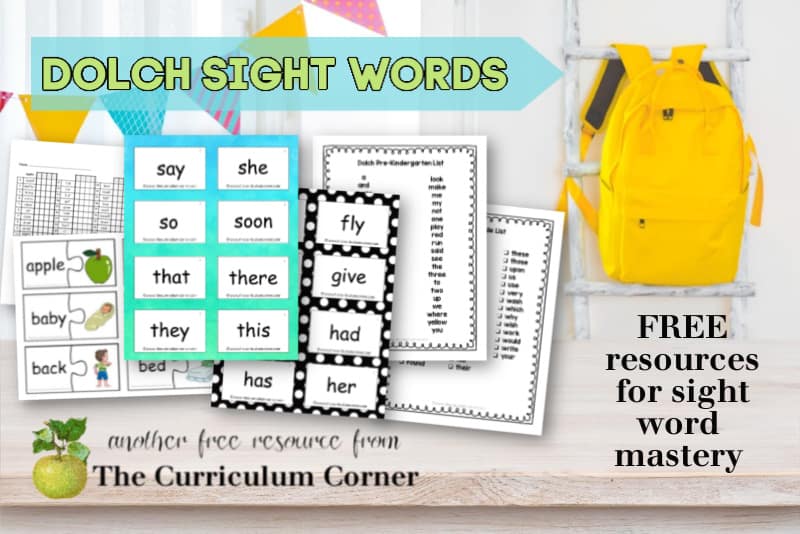 This is another free resource for teachers from The Curriculum Corner.
If you use Dolch Sight Words in your classroom, this collection of free resources will assist student learning.
In our own classrooms, we have focused on Fry words. For this reason many of our materials use Fry words. We've received many requests for similar resources to accompany Dolch practice If there is a specific resource you would like added to this collection, please send us a request.
We have heard that many teachers use these words for kindergarten sight words and first grade sight words.
What are Dolch Sight Words?
Dolch words are a set of English sight words first developed by Edward William Dolch in 1936.
If you are unfamiliar with the terms "sight words" this simply means that these are words we want students to immediately recognize. Building this base of known words that do not need sounded out will help your students read more fluently.
Wondering how this list was created? Dolch created the list by scanning books for children and finding the most common words.
You will find a collection of 220 words that are common in our everyday language. These words are divided into five lists.
Along with these 220 words, you will find a list of 95 nouns.
You will see the age of this list specifically in the list of nouns where words such as kitty and Santa Claus are found.
Helping your students master the Dolch Sight Words
If you are looking for new ideas to help your students to reach sight word mastery, we have one strategy we have found most effective.
Cathy used this strategy with Fry words instead of Dolch words with great success. She saw struggling readers grow. Also, students who were just learning English benefited from this strategy. Take a look at our tutorial on Creating Fry Word Stacks to get started.
Along with the word stack strategy, try finding fun ways to add sight word practice into your day.
One idea is place a dry erase board on your door. Each day, write a password on the board. Students then read the word as you greet them at the door in the morning.
With our created resources you can also have students play card matching games and go fish. Create rings of words for practice that students can use for home practice.
Free Resources for Dolch Word Mastery
Our collection of Dolch word resources are designed to help you work with your students on sight word mastery. All of these resources focus on these specific high frequency sight words.
You can add our downloads to your instructional resources. Use these for kindergarten sight word practice, first grade sight word practice and second grade sight word practice.
Dolch Word Cards
We are providing choices for you when printing your word cards. You will find plain white cards, black and white polka-dotted cards and watercolor cards.
Click the images below to download each set of cards.
Along with full sets of all of the words, you can also choose to print just the set of words you are working on. The individual sets are available in white only.
Practice Pages
These practice pages can be used for students who need to practice reading and writing the words. These are simple pages to provide basic practice. (Click the image to download the set of 65 pages.)
Additional Dolch Noun Resources
If you are focusing on the noun list of 95 words, you might also find our other resources helpful. We have created puzzles for students to match words with pictures. You can also use our worksheets where students find the word to match each picture.
---
As with all of our resources, The Curriculum Corner creates these for free classroom use. Our products may not be sold. You may print and copy for your personal classroom use. These are also great for home school families!
You may not modify and resell in any form. Please let us know if you have any questions.
Thank you to RamonaM Graphics for the Dolch noun clip art!