These free addition worksheets will give your students practice with a range of addition skills.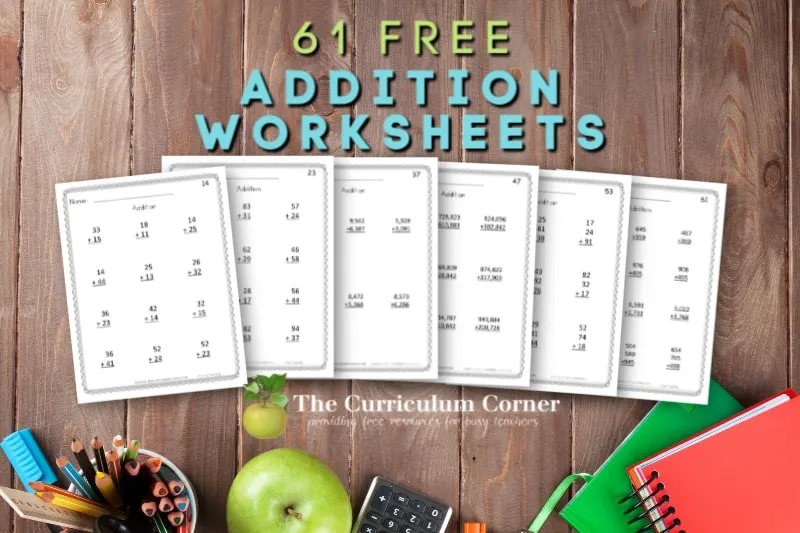 This is another free resource for teachers from The Curriculum Corner.
Our free addition worksheets will give your students practice with a range of addition skills.
In need of more math addition worksheets for your classroom? We've got you covered!
This set of addition practice pages includes 61 pages for you to choose from. Answer keys are also included.
These pages will help your first through fourth grade students practice with addition in the classroom. You will find a range of pages covering to give your students practice.
Teaching Addition with Manipulatives
This collection of pages has not been created for teaching but for practice after the skill has been taught. As always, we like our teaching to include hands-on practice with manipulatives!
If you are starting out teaching and have no supplies yet, base ten blocks are what we would suggest purchasing first. Students can use these to model addition with regrouping.
We also like using Unifix Cubes. These can be great to use for students to make groups of ten.
You might have your students make their own bundles of 10 and 100 using straws and rubber bands. Your children can rebundle 10s and 1s to show regrouping.
Provide students with counters if needed and use white boards with dry erase markers for practice.
Remember, students don't need to complete all of the worksheets we share. Choose worksheets that are appropriate for the specific student. Don't give students who have mastered the skill busywork by making them practice over and over.
This free addition worksheet collection includes:
Addends of 0 – 5
Doubles
Addends up to 10
Adding numbers up to 12
Double digit addition without regrouping
Double digit addition with regrouping
Triple digit addition without regrouping
Triple digit addition with regrouping
More challenging addition problems with regrouping
Adding three numbers
You can download this free collection of addition worksheets here:
You might also be interested in trying our Addition with Regrouping Center Set.
---
As with all of our resources, The Curriculum Corner creates these for free classroom use. Our products may not be sold. You may print and copy for your personal classroom use. These are also great for home school families!
You may not modify and resell in any form. Please let us know if you have any questions.