This Ecosystems Unit of Study is designed to help you plan and implement your own science unit in your classroom.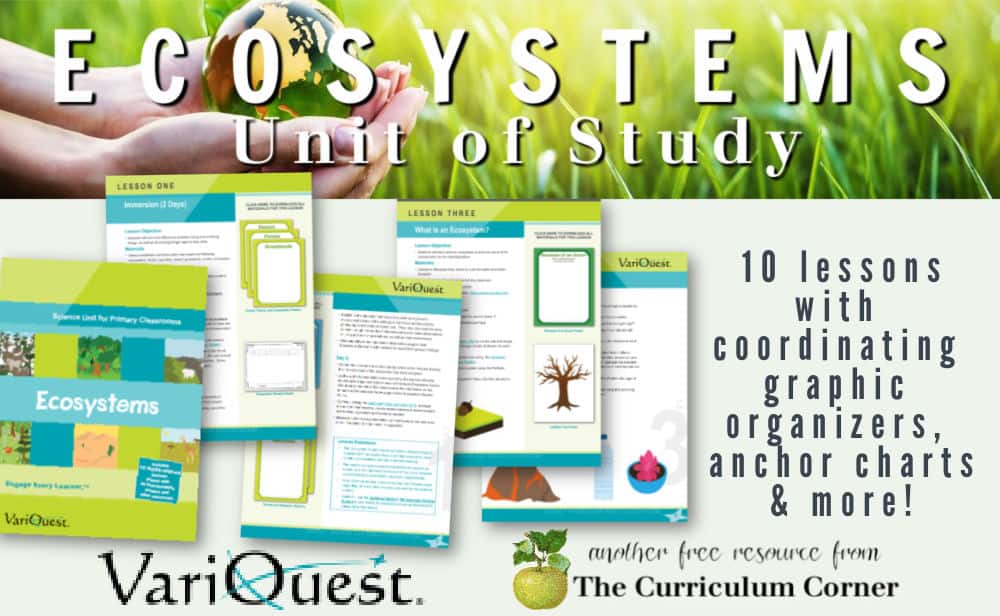 This is a free unit of study from The Curriculum Corner and VariQuest.
Download your free copy of our Ecosystems Unit of Study to help you create a unit for your classroom.
This science unit focuses on helping students learn about ecosystems. You will find a collection of 10 lessons along with a student guide.
Students will explore ecosystems through reading, conversations and hands on learning.
The goal of the unit is to expose children to different ecosystems. They will learn what differentiates living from nonliving objects.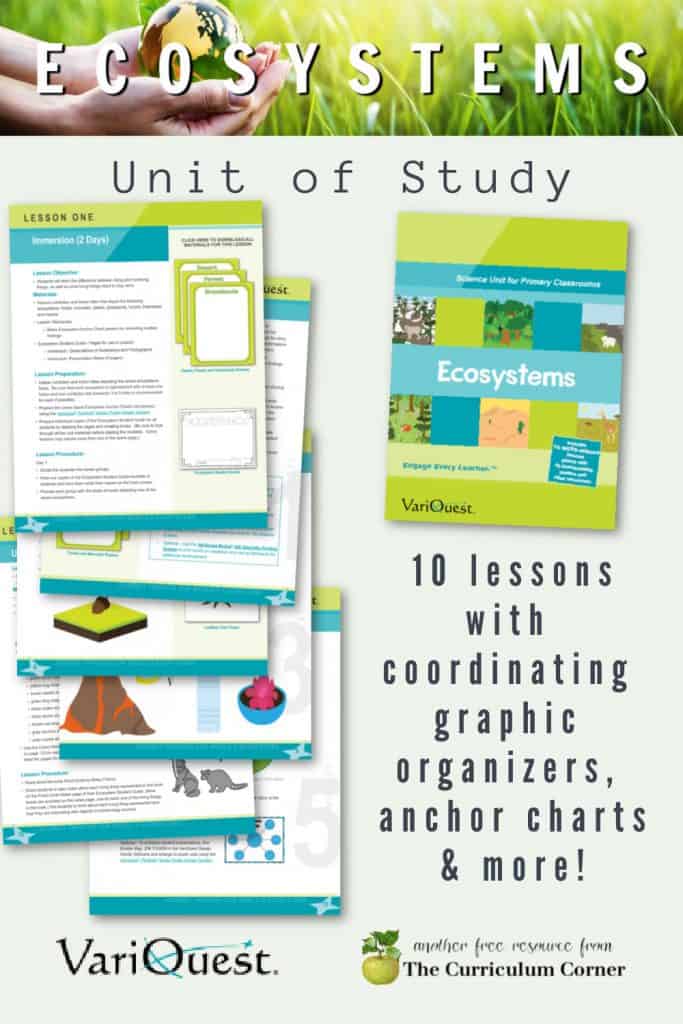 Children will have the opportunity to build and observe their own ecosystem. An understanding of the food chain will be developed. As students begin exploring ecosystems, a more in-depth study of forests and freshwater environments is provided.
You can expand your unit of study by adding in days to focus on other ecosystems. The unit provides a write-the-room style assessment for
students to review their learning.
Children will be able to share with others through the creation of "All About" posters. Conclude the unit with a day to focus on ways the class can work to have a positive impact on the earth's ecosystems.
The student guide can be printed and assembled before beginning the unit of study. This guide provides a place for students to take notes, make observations and share their learning.
Plan out your unit before printing the student guides so you are sure to provide your students with the pages that fit your plans.
Many of the lessons included were created with primary students in mind. However, the lessons included can be adapted to fit into kindergarten through fifth grades. Switch out the suggested books to meet the needs of your students.
You can also expand the learning by encouraging your children to dive further into the standards.
Add hands-on experiments and model building to support the standards
when appropriate.

As with all of our resources, The Curriculum Corner creates these for free classroom use. Our products may not be sold. You may print and copy for your personal classroom use. These are also great for home school families!
You may not modify and resell in any form. Please let us know if you have any questions.